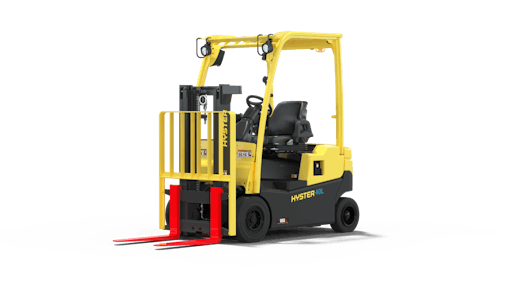 Hyster Company
Hyster Company launched an integrated lithium-ion, battery-powered lift truck built to meet the demands of the fast-paced trucking industry.
The J40XNL supports workflows common in trucking terminals, like loading and unloading trailers, with a strategic open-space design that prioritizes operator comfort and reduces the truck weight to improve acceleration and reduce energy consumption.
"The trucking industry is electrifying quickly, and that trend includes more than just the tractor-trailers on the highway," says Buddy Spurrier, director, major accounts, logistics, Hyster Company. "Our customers are looking across their supply chains, including lift trucks, to find options that can not only reduce their carbon footprint, but also support operator retention and productivity in what are often extremely busy, multi-shift operations."
From PR Newswire:
The J40XNL boasts a four-wheel counterbalanced model with a 4,000-pound capacity.

It's also a fit for other intense industries looking for solutions to help reach zero emissions targets, such as general manufacturing, agriculture, auto and transport manufacturing and more.

A sealed lithium-ion battery eliminates battery cleaning, watering and equalizing and doesn't emit fumes or gasses.