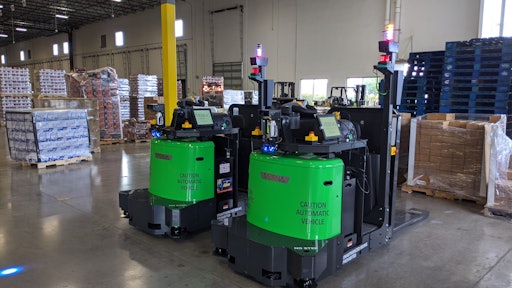 Vecna Robotics
Vecna Robotics released the new Mark 3 software release, designed to help warehouse, distribution and manufacturing organizations double fleet performance to improve efficiency and throughput, while continuing to exceed industry safety standards.
"The last 18 months had driven huge demand for AMRs like autonomous forklifts, but adoption has been held up by both safety concerns and performance-driven ROI," says Daniel Theobald, founder and chief innovation officer, Vecna Robotics. "This software release mitigates these concerns by unequivocally delivering the best AMR performance and safety in the industry."
From BusinessWire:
The Mark 3 software update achieves a top speed of 3 m/s, 50% quicker interactions with pallet pickups and better acceleration and deceleration times to improve average overall speed.

The Free Space Reasoning

feature i

ntroduces proprietary updates to best-in-class path planning and obstacle avoidance to improve performance and handling in tight spaces.
"Now, in addition to Vecna Robotics' AMRs being the only self-driving forklifts equipped with path planning and obstacle avoidance, they are also the only pallet handling AMRs that can deploy cloud-driven updates for immediate in-field performance improvements," adds Theobald.