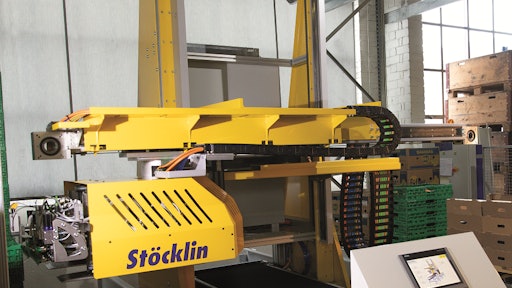 Stoecklin Logistics
Stoecklin Logistics is addressing picking and packaging challenges with a new robotic case picker, CO-PRO, for temperature-controlled environments.
The CO-PRO automatically moves cases, crates and cartons directly from pallets to a conveyor or robotic system, erasing the need for labor for picking operations.
"As the volume of cases in the extended cold chain continues to grow, companies will need to have even more automation in their fulfillment systems to effectively and economically move orders from processing and distribution centers through to stores and customers. Stoecklin's CO-PRO addresses one of the biggest pain points in the product handling flow by eliminating most labor from and simplifying the fulfillment process, resulting in faster throughput and fewer errors," says Danilo Potocnik, Head of Sales US and Canada at Stoecklin.
The Stoecklin CO-PRO is a patented universal gripper holds up to 66 pounds and the loadhandler is flexible enough to transfer multiple units for higher throughput.
It's a scalable solution and is easy to install in new and existing warehouses or processing facilities.