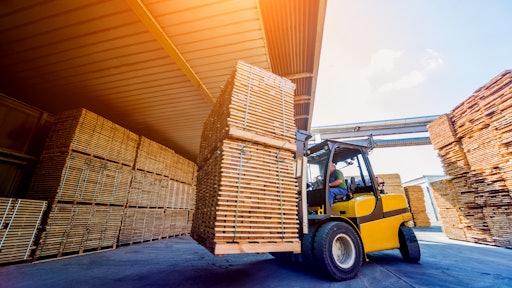 romaset
The global material handling equipment market is anticipated to depict a CAGR of 6% through 2027, having recorded a valuation of $140 billion in 2020. By 2027, the market is expected to hit a remuneration of $200 billion, according to Global Market Insights Inc.
Material handling equipment is used for storage, movement, protection and control of goods, materials and products throughout the process of raw material procurement, manufacturing, warehousing, distribution, consumption and disposal. Industries around the world are increasingly adopting modern machines lashed with advanced technologies to scale up productivity by accelerating the process of material movement.
Increasing expenditure by the government to enhance industrial infrastructure is likely to penetrate advanced handling machines across industries. For example, the U.S. government has recently proposed a $3 trillion package to uplift the economy, which also includes investments for the improvement of manufacturing and high-technology industries. Growing modernization of industrial facilities and infrastructure to uplift the production capabilities is expected to boost material handling equipment industry growth in the coming years.
Wide range availability of material handling equipment
There are different kinds of material handling equipment used for different purposes. The range of handling equipment includes positioning equipment, transport equipment, storage equipment and unit load formation equipment. While transport equipment is used to move goods from one place to another, the positioning equipment is used to arrange goods at a single location. The transport equipment can be subclassified into cranes, conveyors and industrial trucks.
Economic benefits of AVGs and industrial trucks 
Industrial trucks enable the transfer of heavy goods easily, on the other hand, automated guided vehicles (AGVs) efficiently carry loads without being operated by the handler. These material handling machines are operated through integrated systems of software and hardware components. AVGs are duly equipped with sensors that enable their computerized movement. As these machines do not require manual operation, they further help in reducing the labor cost.
Owing to these benefits, there is substantial demand for industrial trucks and AGVs in large-scale industries, whereas, side loaders are highly adopted in industries that require carrying long loads.
Booming food and beverage industry in North America
Latin America material handling equipment industry is slated to witness considerable growth owing to the booming manufacturing sector. Initialization of trade partnerships among major countries is likely to encourage product penetration. Mexico with a valuation of $614.5 billion in total trade ranked first among the U.S. trade partners in 2019. On the other hand, the escalating demand for heavy material handling systems from the flourishing food and beverage and processed food industries in the region is expected to complement the industry outlook in the forthcoming years.
Robust demand in 3PL industries
The rapid expansion of third-party logistics (3PL) industries worldwide is predicted to positively influence the adoption of material handling equipment in warehouses and distribution centers. Companies around the world are increasingly leveraging the services of 3PLs to reduce the burden of supplying goods generated through online retail platforms.
These escalating situations are encouraging 3PLs to upgrade their existing infrastructure to ensure on-time and fast delivery of goods. Material handling equipment facilitates these logistics companies in loading/unloading materials from trucks, storing them in heightened racks and ensuring the easy movement of materials throughout the facility.