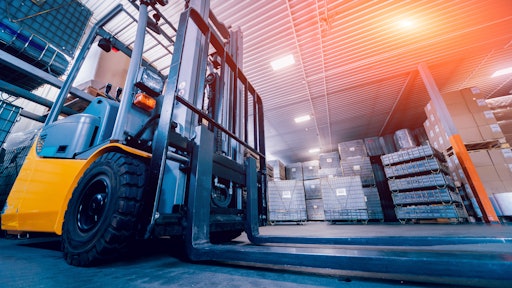 romaset 204797867
The introduction and advancement of e-commerce has almost transformed the logistics and warehousing services to the next level. Since the number of deliveries has taken soar to a significant extent, the amount of workforce and their charges has also mounted substantially. This, in turn, has boosted the automation activities in warehouses.
Manual forklift drivers are often reported to bring about thousands of mishaps in the workplace, including myriad injuries, leaks, slips and waste of resources. Autonomous forklifts come up as a bliss with plenty of benefits on board. Offering high-end efficiency, precision and accuracy, these machines can continue working on a constant pace, are safer than that of human workers and the cost of labor is considerably reduced, thereby proving highly beneficial to the company.
Now, the question arises, what kind of autonomous forklift one should purchase. When some enterprises offer fully fortified robot forklifts, there are also companies that feature robots with as much as 10 cameras. With these cameras on board, the forklifts gauge the entire surroundings. Stocked robots, on the other hand, propound a microchip that can transmute a regular forklift into a self-driving one.
The biggest consideration of a warehouse owner should be how exactly the autonomous forklift would blend in the overall function of the warehouse. This is mainly because the warehouses that have already deployed autonomous forklifts in their workflow have come out to be highly consistent and organized.
For instance, a human-operated forklift should not be stalled or held up by a warehouse with uneven or discordant wooden pallets. Nevertheless, these discrepancies may shake off an automated forklift and thus, a warehouse manager requires to be well-prepared to both integrate autonomous forklifts and make sure that the warehouse floor is consistent enough for a machine to steer through in the silo. Simultaneously, fuel costs could plough into the type of forklift one is able to procure. Options of gas, electric and diesel are always available for standard forklifts, whereas forklifts with robotics technology might only be obtainable with an electric power source.
Highly advanced types of autonomous forklifts can certainly be a better option at dealing with inconsistent situations, for instance, forklifts that use their cameras to fabricate a three-dimensional model of the warehouse floor and plot a course using that model. These prototypes will also control a busy floor with many manual forklifts.
However, one should always adhere to some mandatory safety standards while implementing the technology in their warehouse:
· Employees working in the organization must go through the essential training course, they must possess a good understanding of the machinery that they're working with and they should always be aware of the tactics of controlling the machines in case of any emergency.
· There should also be a pre-set protocol that the employees can trail through in the event of an emergency.
According to Allied Market Research, the global autonomous forklift market is expected to cite a significant CAGR from 2020-2027. Rise in operational efficiency and productivity offered by autonomous forklifts has worked as the major factor driving market growth in more than one way. At the same time, the fact that this upgraded technology trims down the risk of unwanted mishaps at workplaces and distributes undamaged materials to the end-users has augmented the growth of the market even more, when the smarter handling with slender logistics propounded by the equipment has been an add-on.
What's more, the Coronavirus disease (COVID-19) outbreak posed a mixed impact on the global autonomous forklift market. When it had put huge strain on the global logistics and supply chain, the social distancing norms, on the other hand, gave way to increasing adoption of forklifts in several industry verticals to minimize the involvement of human workers. And, this drift is pretty likely to continue post-pandemic as well, since most companies have initiated their processes with minimum human requirements in order to diminish the risk of COVID-19.