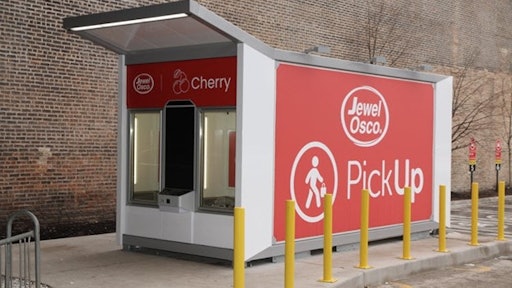 Albertsons Companies
Albertsons Companies became what is said to be the first U.S. grocer to pilot an automated and contactless grocery pick-up kiosk.
The automated, temperature-controlled kiosk, created by Cleveron, provides a contactless pickup experience. When customers arrive at the kiosk, they scan a code on their phone and their groceries are robotically delivered to the front of the unit for pickup.
"We are supercharging our digital and omnichannel offerings to serve customers however they want, whenever they want," says Chris Rupp, EVP and chief customer and digital officer at Albertsons Cos. "This innovative and contactless pick-up kiosk makes it even easier for customers to shop with us in a way that is convenient for them."
The kiosk in located at one of Jewel-Osco's Chicago stores, with plans to install a second unit at a Bay Area Safeway in the near future.
This new automated, contactless grocery kiosk demonstrates continued expansion of Albertsons' e-commerce grocery business.