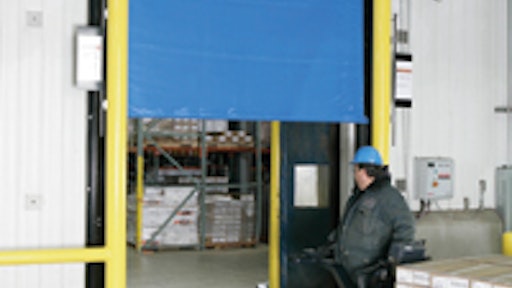 Nobody thinks about warehouse doors. Companies will typically put doors through thousands of cycles on a regular basis, not paying any attention--until they stop functioning. Unfortunately, at that point a warehouse may have to put up with days or weeks of down time, losing productivity because it has to divert all traffic away from the opening to another part of the building.
"If it's a door that you're using to keep ambient temperatures separated, as in the case of a freezer or cooler door, you're literally lighting $20 bills on fire every minute," says Chase Deaton, national account manager for Rytec Corp., Jackson, WI.
Warehouse managers should take the time to spec the right door for each and every opening in their facilities, as each opening is unique; not only in terms of size requirements, but also in terms of how a door needs to perform in a particular space.
"It's not uncommon to walk into a food or beverage facility and see two to four different types of manufacturers' products on all of its collective doorways," Deaton explains. "Anyone who thinks one type of door will suffice for every opening in a facility is mistaken."
Price Vs. Performance
Often, a contractor is going to install the least expensive doors possible, such as cheap 27-ounce vinyl material that won't last long. Often the doors were never properly installed in the first place, the manufacturer was not there to do the startup, nor was anyone ever trained in proper door operation and maintenance.
Deaton says that most companies do not do preventative maintenance on doors and when they do have an issue, they try to work on the door themselves, often making the problem worse. Typically, to fix the problem a company will bring in a salesman from a different door company, who says he can solve the issue by simply installing one of his company's doors in the opening.
"They end up chasing their tail," he says.
According to the experts, warehouse managers need to ask themselves a number of questions when speccing a door for an opening. They should consider what the traffic patterns are within a facility, what type of door activation is best for opening and closing, whether or not there should be protection around a doorway, and many other preliminary questions.
Often, it will prove advantageous to bring some manufacturers' representatives into a facility to provide them with a first hand look at the application a door will be used for--whether it is an interior or exterior door and if it will be used to provide barriers for ambient temperatures, as in the case of a refrigerated room, a dry dock or a cooler.
"Without seeing the application, we won't know what's going to happen with the new door because we don't know why the facility is having an issue with the current door in the first place," Deaton says.
In addition, asking the right questions may reveal conditions within the facility that might be creating a negative impact on a doorway--such as improper air flow.
Perhaps exhaust fans are creating an imbalance that will lead to energy loss. Instead of doing a proper evaluation of openings, many facilities managers will automatically gravitate toward the most inexpensive door they can find, rather than the door that's right for the opening.
Door companies such as Rytec are able to bring proprietary software programs in to do evaluations.
"The program calculates the amount that energy costs per kilowatt hour in the city the warehouse is located in and the number of cycles a door goes through per day. It then provides the customer with their energy expenditure on the doorway," notes Deaton.
Such programs allow them to calculate the savings a warehouse will realize by installing an insulated door that is designed to act as a proper temperature barrier for a freezer or a cooler, as opposed to placing a hard panel door or strip curtain in the opening.
Traffic Patterns, Cycle Times Make An Impact
One of the factors that need to be considered when speccing a door is performance. Will a particular door provide the kind of operational functionality that is required for the doorway under consideration?
This is where traffic patterns come into play. How often will workers have to pass in and out of the doorway? Sometimes a door will have to cycle up and down numerous times in a single day. If so, it should be able to withstand such usage without breaking down.
"This is more of an issue with interior doors," says Josh Brown, national sales manager for TKO Dock Doors, Sussex, WI. "If you're using it 50 times a day, that's a high cycle. If you're using it 100 times that's an extremely high cycle. Know your cycle times."
He says companies such as his can upgrade a door's counterbalance system so that it can handle a great amount of cycles. The amount of time the door takes to cycle also needs to be taken into consideration.
"You have to minimize the amount of time the door is open in order to make sure you're not impeding the flow of traffic at the facility," explains Jim Boerger, director of technology and innovation, Rite-Hite Doors Inc., Milwaukee, WI. "A slow cycle time can kill your productivity."
In addition, the ability for a door to take damage and continue to function is a major issue.
"Durability is a very important factor that affects the basic performance of a door," says Boerger. "The customer has to determine if he has a very abusive environment. A lot of warehousing people don't realize just how tough their environments really are."
How close will traffic routes bring forklift drivers to doors? When product is not staged, forklift drivers have a tendency to cut corners when approaching the doors, putting them in an impact situation. Does the facility have concrete poles (ballards) around the doorways to prevent such forklift crashes? If not, consider installing some.
"Often it's the staged product itself that does the damage," says TKO's Brown. "Warehouse workers are staging the product in front of the door, lining up pallets and as they add more and more, the pallets start to push the others in front of them into the doors, smashing them. Sometimes a door just isn't easy to operate."
It might be that it gets hung up on its tracks too often, or requires too much maintenance to keep it functioning at its peak. "If you pick the wrong door and it doesn't give you the performance you want, it will cost you a great deal of money in the long run," adds Brown.
Giant Eagle Seals The Deal
John Webber is the maintenance manager at Giant Eagle's dry goods warehouse facility in Pittsburgh. The 27-year-old building has gone through a number of changes to the 70 dock doors contained within its 500,000-square-feet of storage space.
"We originally had steel doors that were very hard to keep rolling freely," says Webber. "They kept getting captured in the tracks and that was a big problem."
Downtime became a major issue. If the doors took a hit they would form a bulge in them and when they were put back into operation, they would get caught on their doorjambs. A maintenance crew would then have to go out and get the doors loosened up or pull the panels out in order to straighten them.
"The repairs were always mediocre and the door never sealed properly again," he adds.
Webber notes it became a problem in the winter trying to maintain the warm temperature on the dock.
Several years ago, Giant Eagle began switching to insulated doors from TKO Dock Doors, Sussex, WI. "They seal the doorways up very nicely and they're easy rolling and if they get stuck, they just pop free, because the plungers on the door are spring-loaded and fit into a v-notch guide reel, instead of where a wheel would fit," says Weber.
If the door is struck the pin retracts and allows the door to push outward.
"When you hold the door fixed in place, that's when you get damage from a forklift impact, but these doors move with the impact," he adds.
The newer doors have made a big impact on the company's ability to maintain the proper energy temperatures on the dock.
"This past winter, just walking out on the dock was definitely more tolerable than it had been in the past," says Weber.