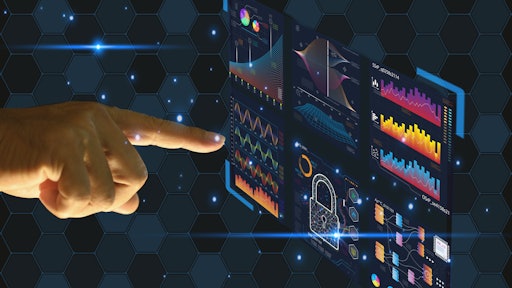 kathayut AdobeStock_602958118.
Consumers are consistently making sustainable end eco-conscious decisions as part of their buying process. In fact, a recent study by McKinsey and NielsenIQ found that products that made environmental, social, governance (ESG)-related claims averaged 28% cumulative growth over a five-year period. Comparably, products without ESG claims had 20% cumulative growth.
For food logistics companies, the warehouse space is paramount to eco-friendly practices. That's because buildings count for over 40% of energy usage in the United States. After all, warehouses use energy and resources to operate.
When it comes to building a more sustainable business practice, shifting to a greener warehouse is key and the ability to do so may come from an unlikely place – automated data collection.
The foundation of smart factories
Building a technologically enhanced warehouse can yield a strong return on investment for food logistics companies. The seamless coordination, adaptability in the face of fluctuating circumstances like recalls or surging customer demand and the interconnected nature of devices all leads to a more efficient operation.
Yet, smart factories only work when they have a strong foundation in automated data collection. After all, good data fuels better business decisions. A 2024 Warehouse Vision Study found that over 60% of decision-makers plan to enable some form of technology automation in the warehouse. By doing so, these companies can augment existing workforce efforts and optimize their operations.
For instance, consider the process of inventory control. Almost half of the RFgen Digital Inventory Report participants cited over/understocking and inaccurate inventory data as significant challenges affecting their warehouses. By automating the collection of data through mobile barcoding and a linked inventory control software, warehouses can work to reduce overstock and keep pace with shifts in consumer behavior. Tracking real-time means better planning for future orders and reduced rack space when it comes to overstock. Further, by reducing the amount of on-hand product, space and human capital are freed to be used in other areas.
Full visibility to streamline operations
The use of automated data collection allows organizations to gain full visibility into their warehouse and supply chain. Mobile devices and warehouse management systems collect real-time data on every aspect of inventory from location to shipping. This allows your team to spot waste and redundancies, including how long inventory sits on shelves, where workflows fall short, and how heavy equipment is being used.
By regularly tracking these data points, you can begin to see patterns and identify opportunities to cut waste in a single source of truth. Once these are identified, shifts can be made to streamline processes, reducing the amount of fuel, electricity and other resources within inventory operations.
What does this look like in action? Companies utilize barcode software and scanning technology to aid their supply chain traceability. Handheld scanners transmit data directly to their business management system, including tracking incoming shipments, picking out current shipment orders, and sending out finished products for distribution.
Through this process, companies are able to trace all products and materials in their warehouses, trucks, stores, and even at their supply chain partner locations. The result is heightened visibility into processes, enabling the company to identify areas where they can become more efficient to better serve their customers.
Replace manual processes
The future of digital warehouses is built on data. Without data accuracy, warehouses and supply chains will be unable to make real-time decisions, let alone embrace sustainable efforts.
Automated data collection allows you to replace manual, paper-based approaches within the warehouse, which have a 60% accuracy rate at most. Not only does this benefit sustainable initiatives, but it also helps eliminate error-prone data collection. Automated inventory management has resulted in 99.9% accuracy, and a potential reduction in recall scope of up to 95%, according to the International Trade Centre (ITC), not to mention the sustainability advantages of eliminating thousands of sheets of paper per year.
For one winery, the addition of automated data collection replaced paper inventory documentation. Through hand-held devices that linked to their central business system, the company was able to identify real-time customer demand, current inventory location, and maximize optimal routes on the production floor. Workers utilized mobile barcodes on each pallet, simplifying tracking from the initial ingredients until the wine was finally shipped.
By digitizing manual processes, the winery was able to automated traceability throughout the warehouse and saw a dramatic increase in productivity and a positive impact on shipping processes.
Automated data collection is an industry must
While the benefits of data collection and automation are numerous, many warehouses still haven't modernized their processes. In fact, only 16% of participants in the Digital Inventory Report said they felt their company's mobile systems were sufficient to meet their current needs.
Automated data collection should not only be a warehouse best practice, but a nonnegotiable for food logistics companies of the future. By driving accurate data collection and real-time visibility into operations, your warehouse can streamline processes and eliminate waste. The result is the ability to create a more sustainable business model that will answer customer desires while also optimizing your operation for future success.