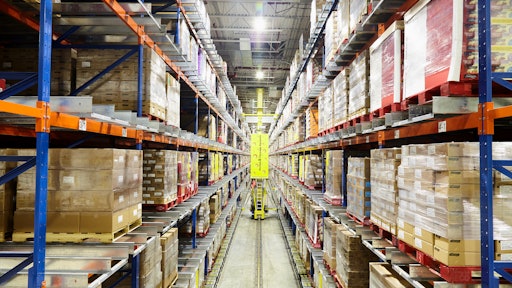 Westfalia Technologies
Consumer purchasing behavior has changed in recent years, notably in the frozen food industry. 2020 saw a 21% increase in frozen food sales. Now the industry is experiencing a surge in need for cold and frozen storage solutions to keep up with increased demand. According to Precedence Research, the global frozen food market is expected to reach $504.41 billion by 2030, a significant increase from its $290 billion value in 2021. Frozen food manufacturers are going to need to expand, and using automated storage systems and solutions can address labor shortages, energy efficiency and land usage, all while contributing to environmental goals.
Not only should sustainability be an important business goal for the health of the environment, but sustainable technologies also offer long-term overall business value. Minimizing the environmental impact of a warehouse or distribution center (DC) can be costly when considering full lights-out options, but automation can be both affordable and contribute to carbon-neutral goals, even in temperature-controlled facilities for food and beverage products.
Here are three ways that implementing automated storage solutions, like automated storage and retrieval systems (AS/RS), order release modules (ORM), automated picking systems and the right software can help contribute to environmental sustainability and overall cost value.
Land use
Many manufacturers are concerned with expansion due to available land and cost considerations. Automated warehouses require a smaller building footprint compared to conventional counterparts thanks to the innovative design of an AS/RS. With the ability to store products deeper (as needed and appropriate) thus reducing aisles, a multiple-deep, high-density AS/RS maximizes vertical space as opposed to expanding a building's footprint. Thanks to fewer aisles due to deeper lanes, along with the integration of picking technology and systems into an AS/RS, much conventional space can be repurposed for other areas of operations. Flexible, hybrid AS/RS designs can utilize one or more cranes in a single aisle, requiring fewer aisles overall. Compared to conventional facilities, automated warehouses often use up to 40-150% less space while storing equivalent product inventories.
For organizations investing in greenfield construction, the amount of land needed to construct the facility is usually less than that of a conventional one, reducing the environmental impact and allowing more land parcels in the area to be under consideration. For businesses that operate existing buildings, they can forgo construction expenses and additional land use by installing an AS/RS within the existing facility and leverage the space more efficiently. This provides opportunities for additional green space and additional cost savings. These options need to be carefully considered with your automation partner, who can help to build a variety of financial models.
Energy consumption
From lights to moving products to HVAC, warehouses are constantly using energy. Minimizing energy usage, even in the slightest ways, leads to long-term cost savings. Thanks to a smaller footprint, refrigeration energy costs are significantly lower, as much of the thermal efficiency is dependent on the area of the building (roof square footage). In addition, the use of vestibules and reduced size of openings when tying a freezer space to a cooler dock can lead to significant energy savings, as the frigid air remains in the freezer.
Waste production
Reducing the number of touches on products is a huge contributing factor to waste reduction. In conventional settings, many products are damaged due to extensive manual processes and material handling. From product wrapping to forklifts to manual picking, human error is a significant contribution to waste. Environmental impacts from labor, fuel, repackaging and shipping costs are derived from each mistake. Because an AS/RS retrieves and transports pallets smoothly through the use of storage retrieval machines (S/RMs) and conveyors, fork trucks and the energy used charging their batteries can be reduced, thus also reducing product damage.
Additional benefits of warehouse automation
Implementing an AS/RS in any warehouse is an environmentally conscious option, but the benefits go beyond an eco-friendly system. Some additional benefits of automated warehousing include:
● Smart software. Integrating a warehouse execution system (WES) with an AS/RS gives businesses complete control of inventory. A WES optimizes production flow, increases order picking accuracy, and prevents recalls through real-time inventory insights.
● Food safety. In addition to smart software and enhanced traceability, an AS/RS will handle your products more gently, reducing tears in packaging or other damage. Decreased touches means less opportunity for contamination.
Today's manufacturers can become tomorrow's business leaders through the embrace of eco-friendly business solutions. Successful organizations see the value in the green attributes of warehouse automation along with the financial gains of environmental responsibility. Events like climate change and water usage have detrimental impacts on the food and beverage industries, and storing products in sustainable ways helps in reducing carbon footprints while contributing to overall business goals.