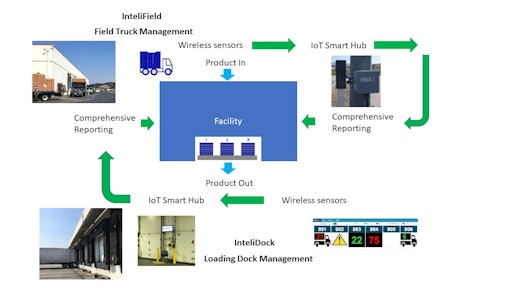 Inteligistics
Inteligistics introduced InteliField, a suite of smart digital products designed to monitor and improve efficiency for logistics, supply chain and cold chain management.
"Whether it's because of traffic in a yard, or facilities not ready to load or unload when a truck arrives, a truck that is not moving is not making money for the grower or shipper or the end customer," says Rao Mandava, Inteligistics chairman and president. "Our InteliDock product has led to tremendous improvements for outbound logistics, but our customers were telling us they were still losing productivity from inbound field trucks waiting to unload and return to the field where harvest crews were ready to load them again."
From Inteligistics:
InteliField combines wireless sensors, IoT smart hubs, data aggregation and simple dashboard reporting to give yard and facility managers real-time visibility to field truck status, product information and location.
InteliDock monitors and manages how long a truck is queued or at a dock door for loading as well as truck loading times, helping companies manage their warehouse, cold storage space and outbound logistics.