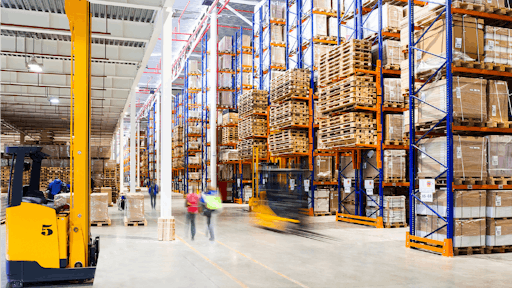 Merit Logistics
It is always important for organizations to be aware of the mistakes and assumptions that commonly derail effective warehouse operations, and in turn, can potentially cost millions of dollars in lost revenue. Perhaps now more than ever, though, we are mindful of the fact that the right practices, processes and partnerships for warehouse labor services are critical to maintaining reliable, effective, successful operations at all times, even in times of global crisis, labor shortage or shifting business priorities. In this article, we look at 10 mistakes commonly made with regards to warehouse labor services. These things should be avoided if you would like to reach for peak operating efficiency and profitability.
MISTAKE 1: Confusing the Lack of Overt Problems with True Operational Efficiency
It is possible to believe that your warehouse operations are running effectively and efficiently when you see throughput and costs remaining at an acceptable pace. However, one of the biggest mistakes a logistics or distribution executive can make is to confuse a lack of overt supply chain problems with true warehouse operating efficiency. A complacent mindset inevitably results in average operating productivity at best. Industry leaders understand the importance of frequently reevaluating their warehouse service providers and their own metrics to ensure that their distribution centers are operating at peak efficiency. It is what separates them from the competition. If their providers are not able to step up their performance and efficiency when problems arise, these execs explore other providers or partnerships that will take their business as seriously as they do.
MISTAKE 2: Retaining a Warehouse Services Provider that is not Continually Identifying Opportunities for Improvement
With so many warehouse service provider options available, you can choose to partner with one that is committed to continuous improvement. Almost any service provider can unload trucks, sort products and fulfill order and shipping needs. But, it is a mistake to not search for a partner that will continually strive to find ways to improve the productivity of your operations. There are service providers that will look for every opportunity to make your warehouse operate more smoothly, efficiently and profitability. Any other type of service provider is costing you money.
MISTAKE 3: Retaining a Warehouse Services Provider that is not Responsive Enough to Process Changes and Other Supply Chain Demands
The COVID-19 pandemic made it clear that supply chain demands may change suddenly and dramatically, but they never stop. As a supply chain executive, you are constantly faced with new challenges that you may never have seen coming and your capacity to respond with speed and agility are essential. From union strikes to transportation delays, natural disasters to sudden downturns in the labor markets, there are any number of factors that are simply out of your control, but nevertheless require you to adapt quickly. It is a mistake to continue working with a vendor for that is not nimble in addressing process changes or shifting supply chain requirements. Your services provider needs to be as adaptable and responsive to changing conditions as you are.
MISTAKE 4: Choosing to Hire Temporary Warehouse Workers Instead of a Dedicated Third-Party Workforce
It is a challenge to maintain a dependable workforce day in and day out that will consistently produce high-quality results. If you are employing a temporary workforce though, the reliability and productivity of your warehouse staffing is bound to be lower than with a dedicated third-party workforce. Temp employees typically have less allegiance to your stated business goals or objectives than a dedicated, third-party workforce. They also have less incentives to work harder, smarter or more efficiently. Temp labor in general presents a host of challenges, including employee safety and training concerns, legal and tax issues and insurance and workers comp problems, to name a few. It all adds up to temporary labor being a riskier proposition than hiring a dedicated third-party workforce. The dedicated labor model eliminates these concerns altogether and can significantly enhance warehouse operating efficiencies and productivity. A dedicated third-party warehouse services provider handles all training, payroll, benefits, and supervision, and they may even have programs to incentivize and reward warehouse associates for their performance, which drives overall higher satisfaction levels and productivity for associates and increased profitability for your warehouse operations.
MISTAKE 5: Not Considering the Best Solution to Reduce High Turnover Rates of Warehouse Staff
High turnover of warehouse staff leads to an inexperienced workforce, and inexperience can be crippling to the productivity and profitability of your operations. Constant turnover can lead to increased accidents and injuries, and in turn, to higher worker comp rates and costly disability claims.
A leading contributor to turnover is an "untrained" or transient temp labor force. Even if in the short run, temp labors appear less expensive, this warehouse staffing option inevitably leads to higher costs in the long run, due in part to the increased hours involved in employee hiring and training costs. A dedicated third-party labor model that provides highly trained employees, full-time onsite managers, incentivized pay structures and KPI-driven results is the superior option for ensuring optimal warehouse employee retention.
MISTAKE 6: Not Having a Strong, Incentive-Based Pay Structure
A high-quality warehouse service provider will distinguish themselves by their ability to increase the efficiency and productivity of your warehouse operations by incentivizing their associates for their performance. Missing or poorly run incentive programs will likely lower the productivity and performance of your operations. Using a third-party provider that offers a well-planned, incentive-based pay structure will help to ensure that you have a highly motivated warehouse team that is striving continually to increase efficiencies and throughput at your facility.
MISTAKE 7: Accepting Detention Charges as Just a Cost of Doing Business
Detention charges -- the excessive fees charged to distribution centers by carriers for detaining their drivers past the agreed on "free time" limit. If drivers are tied up beyond the free time period due to dock congestion, per diem fees that range anywhere from $50-150 an hour will start rolling in and impacting a distribution center's overall operating profitability. DC managers sometimes view these detention fees simply as a cost of doing business, but it possible to almost entirely avoid these fees by choosing the right third-party warehouse services provider. Providers with strong on-site management, employee incentive programs and KPI-driven performance will help to accelerate and optimize door turn times. Some other ways to reduce these fees is to dispatch product as far in advance as possible, negotiate more time for live loading/unloading and to schedule your loading/unloading with the detention clock in mind.
MISTAKE 8: Not Utilizing a Labor Management System (LMS) in Your Distribution Center
Labor management systems and are one of the biggest contributors to productivity and efficiency gains in warehouse operations. They provide the ability to objectively measure warehouse associate performance, view real-time productivity data, reduce labor costs and monitor progress against company KPIs and goals. In addition, a good LMS will accurately track the time required for various tasks, which allows for better forecasting of actual required staffing levels on a monthly, weekly and daily basis, even down to the level individual shifts.
MISTAKE 9: Using a Warehouse Services Provider Who Doesn't Align their Goals and KPIs with Yours
A successful relationship with a third-party warehouse services provider requires that your company goals, expectations, and strategy are aligned with their efforts. This allows the relationship to move beyond simply executing essential services to one of meaningful collaboration that will drive operating efficiencies and productivity. Many providers, though, choose to operate by their own KPIs or those of their parent company or equity firm, rather than yours. Sometimes goals that were aligned initially become misaligned, because there is a lack of regular communication and KPI reviews. When this occurs, the efficiency and profitability of your operations will likely suffer. Your third-party warehouse services provider should offer you a skilled onsite manager that demonstrates ongoing accountability for achieving your specific KPIs.
In the early days of the COVID-19 pandemic response, supply chains raced to keep pace with constantly changing consumer and retail store needs. Warehouse labor demands grew dramatically, as the demand for some products increased and as warehouse and e-fulfillment capacity expanded. It became clear that those companies that had strong business partnerships with their 3PL service providers were in a much better position to smoothly navigate all of the changes taking place. A true business partner will communicate consistently regarding your current business goals and priorities and offer the capacity to flex into new areas as your business needs grow and change.
MISTAKE 10: Not Requiring On-Site Management from Your Warehouse Services Provider
Top service providers are dedicated to helping you minimize inefficiencies throughout your distribution network. This starts with providing an experienced onsite manager who efficiently utilizes resources and technology to ensure continuous improvement. On-site managers can utilize software that constantly monitors the critical performance metrics for your DC. In this way, they can adapt quickly, as required, to optimize the use of associate resources. When no direct manager is available, the responsibility to train, motivate, and monitor a third-party workforce falls back on the client. This can potentially result in unsupervised, unmotivated and inefficient teams of part-time employees without the same level of commitment to your company's goals and profitability.
In Conclusion
As of May 2021, the U.S. Bureau of Labor Statistics reported a 13.5% YOY growth rate for warehouse employment. The reported growth remains very high, even if it is down from earlier in the course of the pandemic. The growth is being fueled by increasing ecommerce demand and a rapid expansion in warehouse capacity. In turn, these are contributing in part to the warehouse labor shortage we are seeing. Turnover of warehouse labor remains classically high, but it is of increasing concern as companies struggle to solve the current warehouse labor shortage and other business challenges that emerged with the pandemic. High turnover leads to a less skilled workforce, the need for constant hiring and training, and some level of uncertainty for distribution operations which are expected to run without disruption.
Retailers are responding to this difficult landscape by increasing warehouse worker wages, as first reported by the Wall Street Journal, and more recently, by RetailWire. Various pay strategies, including general and temporary pay increases, bonuses and incentive programs are being implemented by retailers and 3PLs to help hire and retain qualified workers, in addition to enhancing their hiring, training, and career opportunity practices.
In this challenging warehouse labor market, if you haven't already looked at it from every angle, now is a great time to consider your current warehouse labor strategy and whether it is designed to maximize the efficiency, productivity and profitability of your distribution/fulfillment operations. Are you avoiding the mistakes mentioned above? Do you have a 3PL that is a true business partner – in good times and bad?
This article is a production of Merit Logistics, a leading provider of flexible warehouse labor solutions servicing grocery chains and other retailers nationwide. Are you facing a labor challenge? Find out how Merit can help – www. MeritLogistics.com.