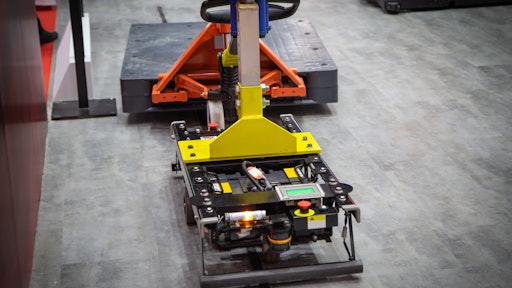 Itsanan - Adobe Stock
Due to changing consumer demands and shopping patterns, production needs within the fast-moving consumer goods (FMCG) industry have grown increasingly complex and costly. Automation technologies, including autonomous mobile robots (AMRs), are proving critical to managing both, ultimately helping manufacturers complete processes faster, safer and more accurately than manned forklifts, static conveyor systems or even automated guided vehicles (AGVs) running on guided tracks, tape or sensors installed in a factory floor.
In fact, according to a recent "Industries in the times of robots" survey, by 2024, more than three-quarters of FMCG companies will use AMRs to optimize internal logistics. A majority of companies surveyed expect significant advances in cost, safety and quality with AMRs, which use built-in sensors, artificial intelligence-based cameras and other onboard computers to autonomously move materials safely throughout a facility without disruptive, time consuming and costly infrastructure changes.
Here are the key benefits AMRs provide FMCG companies looking to compete in the increasingly complex and competitive environment:
Adaptability/flexibility. Harvard Business Review announced that adaptability was the new competitive advantage. In today's environment, with consumer and market demands fluctuating, adaptability is no longer an advantage but a requirement for survival. By implementing the latest automation technology, like AMRs, manufacturers can reduce costly and time-consuming manual transportation, supporting a lean approach and increasing adaptability. Even better, the AMRs can be redeployed for different tasks with customized top modules such as pallet stackers and hooks, making each one flexible and able to adapt to changing processes, as needed. For example, with AMRs, companies can:
· Conduct quality sample picking and delivery to storage
· Transfer pallets from end of line palletizer to the warehouse
· Move carts with obsolete packaging and used pallets to the storage areas
· Enable more efficient order picking in the finished goods area or the distribution center
· Deliver finished goods to the staging area for container or truck loading
Safety and productivity. The built-in sensors, cameras and advanced control frameworks of the AMRs enable them to analyze their surroundings, safely avoid obstacles, and calculate an optimal route to a given destination. This advanced technology is simple to harness through a user-friendly interface that facilitates a high degree of collaboration between the human workers and the robot. Advanced features ensure that the robots can independently and logically perform tasks safely and efficiently. Easy-to-program fleet management software holds the AMRs together with centralized control. The software coordinates the AMRs according to the production needs of the facility, managing task priority and designating the most suitable robot for any given task. Because most plants are dynamic hives of activity, obstacles such as personnel, equipment, and pallets may appear in the robots' path and cause congestion. The software can direct the robots to safely navigate multiple paths and intersections.
Cost optimization. The pressure to keep costs low but quality high is here to stay. Couple this with foreign competition, tariff uncertainty and labor skill gaps, and the FMCG industry finds itself in an uncomfortable position. However, AMR can help by replacing inefficient manual processes with efficient, autonomous production process. Not only does this reduce production bottlenecks and delays caused by human error, it also helps manufactures combat worker shortages, by allowing skilled workers to complete value adding, complex tasks instead of manual transportation. Creating a safer environment with the AMRs means that costs can also be saved by reducing lost workdays and fines due to workplace injuries. By combining human skill with robotic reliability and autonomy, FMCG businesses can achieve the optimal model for manufacturing success.
Increased uptime.
T
he onboard sensors and cameras used to operate means no wires or tracks are required, which limits the downtime that can occur when implementing other technology. AMRs also have an intuitive interface, making the robots easy and quick to set up and deploy. They can also work around the clock,
ensuring a steady material flow. Rather than stopping when approaching an obstacle—like an AGV would—they can calculate alternative routes without disrupting the workflow.
In addition, AMRs can be switched to perform new tasks with relative ease, increasing uptime.
The benefits can be widely shared across FMCG companies that have embarked on digital transformations where robotics plays a key role. What visionary companies have seen is that AMRs can help automate areas and tasks never thought possible before. Being nimble and agile, autonomous mobile robots can go into the heart of production and packing areas to bring forward and back both high and low volume consumables to keep production running. These companies envisioned a fleet of AMRs simultaneously moving components to multiple production lines to speed a change-over cycle and boost capacity utilization. AGV cannot go so far into operator dynamic and space limited areas of a FMCG production hall.
AMRs will continue to bring the decreased complexity, lower costs and higher productivity FCMG companies need to compete in the increasingly complex and competitive global business environment.