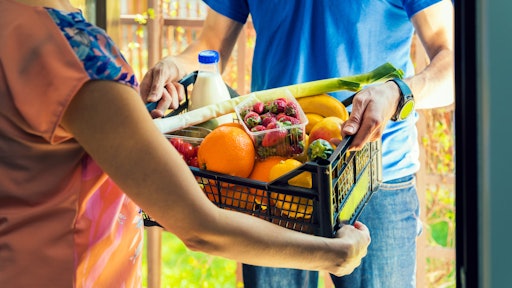 Getty Images
There's a lot going on in the world of grocery shopping: online delivery, click-and-collect, prepared foods, meal kits, on-premise restaurants and more. Despite the growth in online grocery shopping, it's unlikely to be done completely digitally any time soon. Grocery shopping is a sensory experience, with the ability to see, touch and smell food — something that cannot be easily replicated online.
With every grocery chain offering its own unique experience, customers are constantly able to try something new. So in a world where you can have broccoli delivered in an hour or park the kids at a petting zoo, what exactly entices consumers switch from their primary grocery store, the place they most often shop?
To find out, we surveyed more than 1,500 shoppers and compared what different generations most look for in a grocery store experience. A key takeaway from this report is that grocery shopping is about a lot more than produce. Cost is a big factor, of course. But, in addition, 26% of shoppers like to multitask during grocery trips, doing anything from filling a prescription to buying a coffee to eating a meal. These additional services can be a big factor in getting customers into stores more often, or even in making them switch their primary store.
The value of value Across grocery shoppers of all generations, the number one factor that would make them switch to a new store is better value. Value is the underlying driver of most shopping decisions and, as recession fears grow, is only likely to become more important.
However, the relative importance of value still varied across age groups: older generations found it much more important. About twice as many Boomers (23%) said better value was the number one thing that would make them switch grocery stores compared to Millennials (12%).
The power of one-stop shopping Besides value, what else could make shoppers switch? Millennials look for convenience, saying they would try a new store that had a bank, a sit-down restaurant, or (as the generation starting families now) a children's play area. Digital native Gen Z want efficient checkout options like cashierless shopping or mobile payments and, perhaps surprisingly for the younger generation, an on-premise pharmacy.
Loyalty in their DNA Despite the importance of value and new services, some shoppers said they're loyal to their primary store and wouldn't switch for anything, be it pharmacies, restaurants or even better produce. Boomers were especially likely to remain loyal: 14% said they wouldn't jump ship for any new service or even for lower prices. For this group, it seems, the value of familiarity trumps other factors.
Younger shoppers, who are fast becoming the US's largest consumer group, are not nearly as loyal. Only 8% of Gen Xers said they'd stay with their grocery store no matter what, and only 4% of millennials and Gen Z said the same. So compared to Boomers, Gen Z is more than three times less likely to stay loyal to their grocery store. This higher propensity to shop around could have a big effect on how grocers approach the market as Gen Z and millennials grow up to become the biggest consumer group.
Keep them coming back Now that we know what might entice shoppers to switch, what can grocers do to drive more visits to store? One answer crossed generational lines: quick-service food. Even for Boomers, 20% said quick-service food would make them visit their primary grocery store more often. Foodservice sales in grocery stores are seeing 8% yearly growth and have even led to a new term: the grocerant (that's "grocery" plus "restaurant"). Big grocery chains have led the way with these types of food offerings, appealing to shoppers who want to both shop for their pantry and also sit down and enjoy a quick, casual meal at the same location.
The next big thing grocers can do to keep their customers from jumping ship? Clean bathrooms. One fifth of shoppers said they'd visit their grocery store more if it had cleaner bathrooms, and less than two-thirds said their grocery store already had clean bathrooms. Simple improvements in basic maintenance can make a big difference in how often shoppers stop in.
Putting it all together
Grocery shopping is changing so fast it's hard to make predictions on what the next decade will bring, but we do have a clue into the factors that make people switch or stay. As digital services further transform the industry, grocery stores need to hone their focus on value, expand to adjacent services like coffee bars and child services, and keep stores clean and tidy. This focus on expanding customer services is great for consumers, who now can check off many errands at one single grocery store, while enjoying the shopping experience, too.