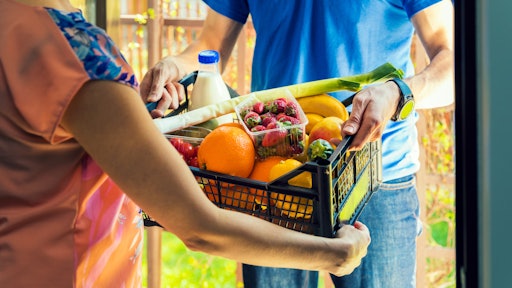 Getty Images
Jeff Owen, chief operating officer for Dollar General, announced plans to double the company's fresh distribution assets in 2020.
"Our cooler door expansion program continues to be our most impactful merchandising initiatives," he says in an earning call. "Importantly, in addition to being a great sales and traffic driver, the expansion of our cooler door footprint over the years has provided the scale necessary to enable DG Fresh. In turn, given our DG Fresh learnings and successes to date, we recently began incorporating higher capacity coolers into our stores, creating additional opportunities to drive higher on-shelf availability and deliver a wider product selection."
"We expect to further capitalize on these opportunities with the plans to accelerate our growth of cooler doors in 2020. In fact, we expect to install approximately 50 cooler doors this year, which is about 10,000 more than we did in 2019. The majority of which will be in higher capacity coolers, as we continue to build on our multi-year track record of growth in cooler doors and associated sales," he adds.
As for Dollar General's relationship with FedEx, this service is currently available in more than 2,500 locations with plans to expand to over 8,500 stores by year end.
During 2019, the company added more than 6,000 additional Electronic Article Surveillance (EAS) units to the entire chain.
"Looking ahead, we plan to build on our success with EAS, as we increase the number of products tagged, while further leveraging technology to drive even higher levels of in-store execution," says Owen. "We also continue to pursue distribution and transportation efficiencies, reducing stem miles is an important contributor to these efforts and the successful opening of our Longview, Texas, and Amsterdam, N.Y., distribution centers in 2019, is expected to drive additional efficiencies as we move ahead."
"Our plans also consist of the continued expansion of our private fleet in 2020, as we look to further reduce our dependency on third-party transportation carriers. Overall, we are pleased with the great work the team is doing across the business to further drive profitable sales growth," he says.
Dollar General is also accelerating its expansion of produce offerings, which provides the Top 20 items, typically sold in traditional grocery stores and covers approximately 80% of the overall categories.
"Our plans now consist of adding produce in approximately 400 stores this year, up from our previous goal of about 250 stores, bringing the total number of stores with produce to more than 1,000 by year-end," says Owen.
The company is also focused on improving distribution and transportation efficiencies.
"While at the store support center, work simplification and process improvement our ongoing initiatives to take costs out of the business. In addition to generating significant savings to date, this process has also produced other meaningful initiatives such as our 2019 partnerships with Western Union and FedEx and the income associated with these service offerings," says Owen.