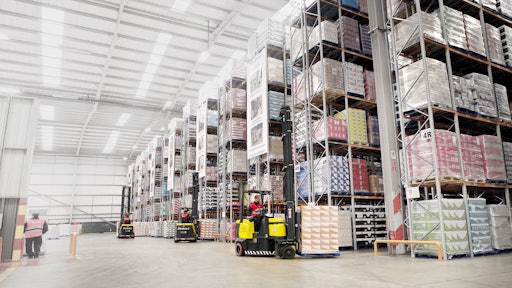 Combilift
As the food and beverage industry expands to become all things to all consumers, so too does the equipment used to produce, package and move product from Point A to Point B. And, lift trucks are no exception.
The evolution of lift trucks expands beyond just a make and model. That's because today's lift trucks encompass everything from automation, robotics and alternative energy to space-saving and worker safety features.
Couple these elements with an increasing labor shortage and a pragmatic approach to connectivity, and the lift truck of tomorrow is doing more of the heavy lifting than ever before.
In fact, 2018 marked the fourth consecutive year of historic growth in forklift sales, with over a quarter million units sold and a 2.8% increase from 2017, according to stats presented by the Industrial Truck Association (ITA), Washington, D.C.
"All five truck classes exhibited growth in 2018, representing diverse demand across product lines," says Scott Johnson, chairman of the board of directors for the Industrial Truck Association and vice president of marketing and sales for CLARK Material Handling Co., Lexington, Ky.
Year-end results of forklift truck sales totaled 260,180, including electric rider trucks (Class 1 and Class 2 combined), motorized hand trucks (Class 3) and internal combustion (IC)-powered trucks (Class 4 and Class 5 combined). Electric and IC truck sales grew at similar rates, showing annual increases of 2.8% and 2.7%, respectively.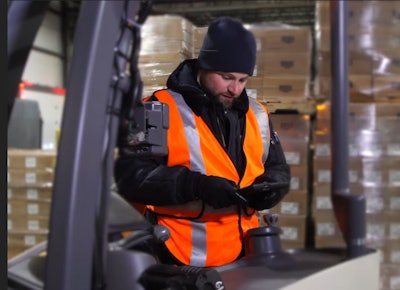 Overall, electric products accounted for approximately 64% of the market, with Canada and Mexico being the two largest export countries for U.S. forklift manufacturers.
Looking ahead, the forklift market is expected to register a CAGR of over 6% during the next 5 years, according to a report published by Mordor Intelligence, India.
Increasing demand from the European and Asia-Pacific regions are expected to further increase sales, the study says, while demand from the retail industry, specifically the e-commerce sector, continues to drive market growth.
Labor shortage prompts influx in automation
Industrial truck sales continue to play an integral role in keeping the U.S. economy moving, says Brian Feehan, president of ITA.
"Forklifts contribute annually over $25 billion to the U.S. gross domestic product, support a total of 209,000 U.S. jobs and create 2.5 additional jobs in the U.S. economy for each full-time employee in the manufacturing industry," he adds.
Plus, more than 60% of the industrial trucks sold in the United States are electric powered.
In fact, the No. 1 trend in lift trucks is automation, says Carl Modesette, director of product engineering for UniCarriers Americas, Marengo, Ill. This is driven by a shrinking labor pool for operators as well as a desire to make material handling safer and more efficient.
"For the forklift industry, one of the most practical applications is to improve fleet management," he adds. "This data helps answer questions like 'How many forklifts do I need, and what types?,' 'Am I moving material in the most efficient way?,' 'What are my fleet operating costs and how can I improve them?,' 'How can I reduce accidents or damage in my facility?,' 'How can I minimize downtime with my equipment?' and more."
In fact, there is a wealth of data that can be gathered from forklifts, says Craig Bruns, vice president of customer support, Crown Equipment, New Bremen, Ohio.
"Many companies are starting to make their way through the hype around Big Data and connectivity, and are now taking a realistic approach that is based on clear, strategic business objectives that enables them to work toward measurable goals," he adds.
Plus, technology continues to evolve, making automated forklifts more practical for use in warehouse and distribution environments.
"The technology is evolving to the point where it holds real promise to be an integral part of the supply chain," adds Bruns. "In many cases, efforts to introduce forklift automation into facilities is being guided by a realistic plan with realistic expectations. Companies are identifying those tasks and equipment that are ideal for automation and developing a clear path for tangible return on investment that they can build upon to strategically evolve their automation efforts."
And, as technology evolves, the advantages of using semi- and fully automated solutions to increase productivity and address the labor shortage are clear, outlines Michael Field, chief executive officer of The Raymond Corp., Greene, N.Y.
"Before getting too invested in the latest material handling trend, however, optimization is a crucial step that must happen first," he adds. "The application of automation can likely make production and distribution processes quicker, easily repeatable, consistent and cost-effective, but only if your process is well defined and optimized."
Raymond's iWAREHOUSE intelligent solutions platform helps the food and beverage industry address a number of these challenges, including increasing consumer demands for obtaining products faster.
"This is an entire IoT-Industry 4.0 platform offering integrated end-to-end solutions, including automated vehicles, labor management, equipment tracking, virtual reality education and energy solutions," says Field.
For its part, food and beverage operations are the biggest users of robotic lift trucks, says Mick McCormick, director, robotics and automation, Yale Materials Handling Corp., Greenville, N.C.
Yale's robotic reach truck offers vertical lifting capability as high as 30 feet, and reaches into double deep storage, making it an ideal fit for operations with growing inventories but limited square footage.
"Getting to that stage of actually transferring to robotic lift trucks requires a true picture of forklift operations," says McCormick. "As more lift truck models are become 'roboticized,' robotic lift trucks become increasingly capable solutions that can take on new tasks. And, as it relates to lift trucks, connectivity and cloud-based technology enables operations to leverage data for greater productivity and efficiency. For example, data about lift truck utilization can enable managers to make smart decisions about fleet size and the types of trucks that comprise it, ensuring the most efficiently structured fleet with no excess expenditures on lift trucks."
Driverless forklifts and robotic lift trucks continue to gain notoriety, according to Steven LaFevers, vice president, emerging technology for Hyster Co., Greenville, N.C.
"Some end users may focus on using robotic lift trucks for horizontal transport to start. For example, this means delivering pallets to manufacturing areas or storage, moving loads from storage to shipping, and from conveyors and automated storage and retrieval systems to a stretch wrap station," he says. "Regarding navigation technology, our Hyster robotic lift trucks use LIDAR (light detection and ranging), which uses lasers to measure distances to an object."
Additionally, Hyster Tracker offers intuitive, user-friendly dashboards via an online portal to help users make sense of data from material handling equipment. Here, managers can see utilization information for individual lift trucks and other mobile equipment to inform decisions on fleet size and structure. Hyster Tracker also tracks GPS locations, impact information and more, and matches that information with specific operators, allowing managers to use these inputs to evaluate employee performance.
Earlier in 2019, Hyster debuted the Hyster Tracker mobile app, which provides near-real time fleet utilization metrics and notifications when events like impacts or errors on pre-shift safety checklists occur.
"It works as a companion to the desktop portal, bringing data-driven insights and management functionality to the shop floor," says LaFevers.
Also promoting connectivity is Rite-Hite's newest technology for material handling operations. Dok-Vu is a secure, browser-based software system that connects forklift drivers and other material handlers with managers, yard personnel and carriers, says Tim Kubly, business development manager for the Milwaukee, Wis.-based company. Dok-Vu's intuitive loading dock dashboard provides an at-a-glance status of each dock position. And, accessible via platform-integrated tablets on forklifts and other approved devices, the Dok-Vu dashboard displays critical logistics operations information such as trailer presence, loading/unloading activities and dock status.
Safety first
A strong safety culture is vital to creating and maintaining a safe working environment, says Bruns.
"To help achieve and maintain a vibrant safety culture, many companies are introducing technology that creates a more informative and personalized experience for operators. They are providing real-time feedback to operators that reinforces correct behavior and recognizes incorrect behavior. Some are even introducing friendly competition as a way to keep employees engaged and motivated when it comes to safe behavior," he adds.
In fact, there's a number of ways forklift manufacturers can contribute to enhanced safety.
For instance, Combilift USA, Greensboro, N.C., developed the Combi Safe-Lift, a safety interlock that stops an operator from overloading a lift truck with an over-capacity load or lifting a load at an extended load center.
Furthermore, many companies are looking to replace ride-on forklifts with pedestrian-operated equipment to improve safety.
"Pedestrian-operated stacker trucks and powered pallet trucks typically work at a slower speed than ride-on forklifts and have less potential for accidents," says Martin McVicar, chief executive officer for Combilift. "Operators, at ground level, are more aware of their surroundings compared to when they are sitting in a cab. Visibility from all angles makes for enhanced safety, not just for the operator, but for other personnel or members of the public who may be in the vicinity."
Combilift also added another dimension to the safety of walkie/pedestrian stacker with its patented multi-position tiller arm, which realigns the rear wheel independently of the tiller arm by removing the operator from the crush zone behind the unit, thus reducing the aisle dimension by almost 24 inches and giving the operator full visibility.
To further promote operator safety, ITA will host its 7th annual National Forklift Safety Day on June 9.
"This day provides an opportunity for the industry to raise awareness and educate customers, policymakers and U.S. government officials on forklift operating safety practices," says Feehan. "The safe operation of forklift trucks has always been a top priority for the industry. We believe that thorough training of powered industrial truck operators is the centerpiece of an effective workplace safety program."
Alternative energy options
The forklift industry has been trending more electric over time, with lithium-ion batteries in position to replace lead-acid batteries.
"The forklift industry is starting to see the introduction of trucks designed specifically around lithium-ion batteries, which is opening up more opportunities to re-think the fundamental sizes, shapes and envelopes of the trucks themselves," says Modesette. "Lead-acid batteries have been a large box that engineers had no choice but to design around, but lithium-ion brings a lot more flexibility with shape and space, so the trucks can be designed more toward the application and the operator and the lithium-ion batteries can be 'bent' around that. Typically, the end-result is a far more ergonomic and compact machine."
Lithium-ion batteries are particularly relevant to the food industry because they offer a cleaner, encapsulated solution that requires little ongoing maintenance, according to Field.
For instance, the lithium-ion powered Raymond 8250 features built-in heaters surrounding the battery compartment, which enables it to thrive in refrigerated warehouses.
Lithium-ion batteries also offer greater energy efficiency over lead-acid batteries.
That's why Crown Equipment offers a V-Force Lithium-Ion Energy Storage System (ESS) for a majority of its electric forklifts. The V-Force Lithium-Ion ESS is fully integrated with the truck for flexibility, scalability and convenience, which allows it to display battery discharge levels and alert operators through an early warning system before truck operation stops. The system also includes a modular V-Force charger, as well as a battery management system that extends battery life.
For its part, Big Joe Forklifts, Lombard, Ill., introduced the new LPT44 48V lithium-ion-powered pallet truck, which boasts a 4,400-pound capacity and the smallest power head, measuring just 17 inches.
Future-forward technologies ahead
Combilift introduced the new 2020 production model of 33NE (Narrow Electric) Aisle Master with 3,300-pound capacity. The 33NE features a patented over-articulated steering system, dual bearing mast support system, compact mast top bearing with fibreglass cover, ergonomic operator's control console complete with arm rest and an overhead guard with high-visibility aperture for product placing and retrieval.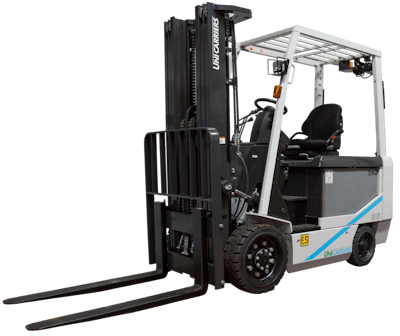 Raymond debuted the Raymond Courier 3030 Automated Stacker, a man-on, man-off truck ideal for pick-up/drop-off, end-of-aisle and end-of-line applications, as well as conveyor picking. The Courier 3030 utilizes Seegrid vision-guided technology to capture a 360-degree view of its surroundings while mapping locations, identifying obstructions and controlling vehicle behaviors.
UniCarriers' BXC65 cushion tire electric forklift features a 6,500-pound capacity and other optional components such as a bottler's tilt with an 8-degree forward and 5-degree backward angle.
No power source is one-size-fits-all, says McCormick.
"Picking the right one for each operation requires balancing meeting sustainability and hygiene targets, run time requirements, space constraints and more," he adds.
Regardless of how a company moves product from Point A to Point B, today's lift trucks provide automation, robotics, worker safety and energy efficient features to better manage the heavy lifting of even the most complex warehouse or distribution center.
Companies in this article