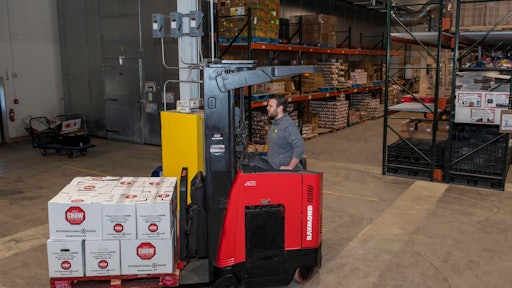 Established more than 40 years ago by the Broome County Council of Churches, Community Hunger Outreach Warehouse (CHOW®) is dedicated to providing food services to nearly 100 partner agencies in need. This local nonprofit is committed to serving the most impoverished communities in a six-county radius, where access to healthy meals and fresh produce are an overlooked commodity that low-income individuals don't have access to buy.
Typically, when people visit food banks, most of the supplies are processed or damaged non-perishable goods. Several years ago, CHOW set out to alleviate this challenge and include more fresh food in their warehouse to meet local needs. However, there was a slight problem. While the food bank had the vision, it didn't have the capacity to store enough food and produce for all of its community partners.
Challenge: Limited storage space and inefficient equipment
Monday through Friday, CHOW's donation truck would drive around the community, recovering food from grocery stores, local retailers and other business partners. With only a 7,100-square foot warehouse, however, CHOW often had to turn down food because there was not enough refrigerated space for the donations. To accept more community offerings, CHOW needed a cold storage unit and a more efficient forklift to keep up with the high-volume of product coming in.
"We were having to deny or throw away food donations because we didn't have the space to store it or the capacity to move product fast enough from trucks to cold storage areas," said Jack Seman, program manager at CHOW. "Our warehouse also had an inefficient floor layout with underutilized space. And while we have 16-foot tall ceilings, we didn't have the proper equipment to stack pallets effectively."
Without the ability to physically expand the warehouse, the nonprofit needed to be creative with ways to streamline its operations.
Solution: Operational efficiencies for the greater good of the community
The first step in helping CHOW accommodate and preserve more fresh produce for the community was to build a floor-to-ceiling cold storage space, which doubled the amount of food the organization could hold.
Next, the organization evaluated how to better optimize underutilized warehouse space to store more product and make processes faster. In looking at ways to enhance its operations, CHOW knew a more efficient forklift was needed for the job.
As a long-time community partner, The Raymond Corporation (Raymond) recognized the food bank's operational challenges and wanted to help. "We donated a 7500 Reach-Fork® truck to enhance CHOW's warehouse capabilities and productivity," said Comfort, reach truck product manager. "We hoped the forklift could help the organization rethink its storage layout to streamline inventory efficiencies and transport produce faster."
Results: Increased warehouse capacity and efficiency
The new cold storage space and Reach-Fork® truck have allowed CHOW to accept more donations, move product through the warehouse quicker and store more fresh food longer. With these improvements, CHOW was able to add 44 more pallets to the warehouse, equaling over 88,000 more pounds of food storage capacity.
Rethink warehouse layout
With its new operational capabilities, a warehouse redesign was finally possible. The Reach-Fork truck allowed CHOW to access the double-deep pallet storage areas on the racks, eliminating two aisles out of every five for increased storage density. "For CHOW, every inch of space counts," said Susan Comfort. "We knew the Reach-Fork truck was the right forklift for the job. Ideal for narrow aisle storage, with the capability to interface with every industry-standard warehouse rack, this truck offered CHOW a solution to maximize storage capacity and productivity."
Streamline warehouse operations
Warehouse efficiency was often a struggle for the Broome County nonprofit. Much of the organization's warehouse assistance was dependent on volunteers' schedules or the food bank's limited staff workers. Before the forklift donation, CHOW employees and volunteers had to use a pallet jack or manually unload boxes into the warehouse, which was laborious and time consuming. Trained staff members can now use the forklift to load and unload pallets directly from trucks into the cooler.
A key advantage of the Reach-Fork truck is its ability to drive in cold temperatures. The truck is designed to function in blast freezers, refrigerated warehouses and cold storage applications — perfect for CHOW's needs. Also, the truck's ThermaKit System heats the control handle and floor cushion to keep operators warm, allowing for prolonged productivity. When deliveries arrive, the operators can use the truck to pick the pallets directly and drive them right into the cooler. This eliminates the need for extra hands to unload trucks, creates more storage efficiencies and puts more time back in the operators' schedule to help elsewhere in the warehouse.
"The Raymond forklift donation has allowed us to spend less time in the warehouse and more time in the community," said Seman.
Store more fresh produce
CHOW used to have three walk-in coolers and three commercial-sized freezers for food storage. To provide more than 100 agencies with fresh produce weekly, this wasn't enough space.
The new cold storage space and forklift have been instrumental in helping CHOW reach the organization's goal to offer healthier food to Broome County. Since CHOW's warehouse upgrades, it has not had to turn down a single food donation.
"Without the Reach-Fork truck's cold temperature capabilities, we wouldn't have been able to build as large of a storage unit," said Seman.
Educate for the future
The Raymond Reach-Fork streamlined CHOW's warehouse operations and provided new ways to help the community. With an industry-leading forklift in-house, CHOW leveraged this opportunity to start a forklift training program. The training program teaches community members professional warehouse skills such as taking inventory of a warehouse, operating a forklift and communicating with customers. "Knowing how to operate a Raymond forklift is a strong resume differentiator for individuals looking to work in this industry," said Seman. "Because of the new Raymond forklift, this program was created, and we've had more than 60 trainees go through the program."
"We're thrilled that the Reach-Fork truck has not only allowed CHOW to streamline its warehouse operations to create more space for food, but that it has also provided educational opportunities to address the labor shortages we face in the manufacturing industry," said Comfort. "A key component of our company's philosophy is partnering with warehouses and distribution centers to increase their productivity and create efficiencies, and we're glad to have helped CHOW accomplish this goal."