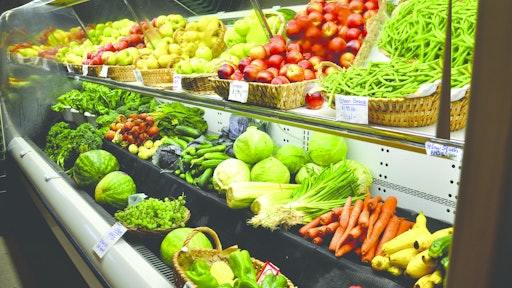 As the world continues to move online, how we shop for our groceries also is changing.
Already two years ago, online grocery shopping studies found that one-third of primary grocery shoppers had bought groceries online within the past year, and that this trend was extending across all age groups. Brick Meets Click, a retail consultancy, surveyed U.S. consumers and reported that 1 in 5 of these shoppers was now an active user of online grocery services, and that these shoppers spend an average of 16 percent of their weekly grocery dollars online.
Then in 2017, Amazon bought Whole Foods Market, stepping into the brick and mortar side of the grocery business.
It was a clear message to traditional grocers that if they were not already in an online, multichannel environment, they had to find a way to enter that world—because that's where their shoppers were going.
Competing in a Multichannel Grocery Environment
"There is now an unprecedented amount of competition in the food industry to where it has become a virtual food fight," says Jim Tompkins, a supply chain and strategy expert and CEO of Tompkins International and Monarch FX. "You have restaurants and department stores like Target and Walmart getting into the grocery business to the point where the lines are now blurred as to where you can get your groceries. Brand loyalty is not what it used to be. For traditional grocers, they are now in a new business environment. The challenges for them are in knowing how to position themselves to succeed in this environment. Do they lower prices? Or offer higher quality? They have to figure out what it is that will get people in the doors."
One of the ways retailers do get people in the doors is flexibility in options. In other words, if an individual wants to order a grocery item online and then pick it up later at a store, they should be able to do that. If they want home delivery, it is nice to know that the option is there. For others, brick and mortar presence still is a major part of their food shopping experience. Together, these consumer wants add up to a need to address grocery sales and services through multiple channels.
"In the way that the smartphone industry took off after a few rough starts, I expect the home grocery delivery and pick up in store market to eventually achieve widespread success," says Eric Lamphier, senior director of Product Management at Manhattan Associates. "Retail grocers and food companies are trying to adapt to a world where more and more purchases are completed online versus in person. Grocery stores are one of the last retailers to really embrace the e-commerce wave. It's the remaining shopping necessity that requires people to venture out of their homes."
Lamphier adds that while the technology to enact grocery delivery already exists in terms of integrated order management, warehouse and transportation, and the ability to provide visibility into inventory and distribution channels, the path to profitable execution is not 100 percent guaranteed.
"Questions remain about whether stores will have enough online orders to justify the investment into delivery vehicles, temperature maintaining vessels and staffing for delivery," he says, adding, "The bottom line is that brick and mortar grocery stores will need to transform themselves from strictly in-store strategies to omnichannel locations."
Transitioning to a Multichannel Grocery Environment
The problem is: grocers aren't known for having an amazing online and in-app experience, because they haven't needed it in the past. Instead, they've been focused on pristine in-store displays and fully organized and stocked shelves. All of this makes developing infrastructure and strategies to meet the needs of today's online consumer a challenge.
"A major impact will involve labor considerations, as this transformation increases the need for employees to focus on fulfillment, as well as shifting schedule demands that weren't part of the equation before omni-channel grocery was an option," says Lamphier. "Once the grocery store also functions as a warehouse, it has to be able to answers questions like: 'How do you forecast the demand for shoppers who want the best of both worlds—the luxury of delivery sometimes, as well as the occasional in-store experience?'"
Jim Tompkins agrees that there are challenges ahead for grocers because of the experiential differences between online and in-store shopping for groceries.
"Being able to offer everything online that you offer in a physical store is impossible to do in an industry like groceries," says Tompkins.
For example, you have different categories of goods, he notes. There are the restockable types, like paper towels, soap or cereal, that can be treated and sold the same online as they are in-store. But then there are the unique pantry items that are not standard and restockable, like a customized birthday cake or a try and buy cheese center, where the salesperson assists customers in matching their cheese with their wine. There also are refrigerated and fresh items. For instance, many customers want to be able to choose their own fresh salmon from the display case; they do not want someone to do it for them.
Tompkins believes that grocers are better off if they think of the task ahead as a "unichannel" instead of an "omnichannel" approach.
"When I think of omnichannel, I'm thinking that omnichannel is something that a retailer does," he says. "For the grocery industry, I prefer instead to use the term "unichannel," because what grocers want to do is make all of their channels perform as one in the eyes of their customers. To do that, customers have to have the same experience, whether they order online or visit a physical store."
Of course, the experience isn't going to be uniform for the consumer in every respect. It's likely they will still prefer to pick out their fresh salmon personally—but what Tompkins and Lamphier are referring to is the ability of grocers to align as many common business processes to both the online and the in-store shopping experience as possible, so that shoppers experience consistency across both channels.
"When grocers move to an environment where they must address multiple channels of sales, they have to adapt their business processes and systems to support the strategy," adds Tompkins. "This is why it is important to identify business processes that are common to each channel. The areas that usually are common include sales, procurement, warehousing and distribution, and the overall workflow of the supply chain."
In many cases, especially for perishable items, e-commerce grocery will likely still mean fulfillment (pick up) at local grocery stores, but grocers will need to adapt their distribution channels to handle both in-store and online consumption without impacting the in-store experience.
"Omni-channel grocery affects the buying process and strategy for how to replenish and replace products in both distribution centers and stores," says Lamphier. "If you're trying to create a model for online orders, adjustments will need to be made to the quantities of items that are anticipated to be purchased online versus in store, as well as to the timing of those purchases."
Impact to the Supply Chain
Clearly, there is pain involved in getting to this new multichannel approach for traditional grocers, but as online giants like Amazon move into the brick and mortar world, historically brick and mortar operations have to adjust to online sales as well if they are to remain viable.
Nowhere are these growth pains likely to be felt more keenly than in the supply chain.
"There's work to do, with plenty of opportunity for development and innovation," says Lamphier. "Retailers are well-positioned to handle the planning aspects through transportation and warehousing, but the biggest hurdles will be around the in-store execution of the order. For example, how do you know that the inventory is there? How do you route it to the right store? How do you pick it, and do you complete the process via pick-up in store or home delivery? We are at a tipping point for adapting existing inventory and supply chain technology to fully capitalize on these market opportunities."
Although warehouse operations, which already deliver to physical stores, might not change significantly if a grocer decides to use a pick-up in-store model for online orders, there is impact to systems, such as Point of Sale (POS), and other store services. Lamphier explains that one example of this is when the customer comes into the store. How is the store is going to handle that?
"For instance, do they order online and have the purchase delivered straight to their vehicle in the store parking lot? The grocer has to determine how the process works," he adds.
The challenges of managing perishable foods must also be addressed
"Because we're talking about perishable food, we know that home delivery is going to be very difficult," says Lamphier. "The food delivery vehicle needs to be the size of a parcel delivery truck or smaller and include cleanliness and safety inspection. Retailers will need to create the correct temperature zones for the respective types of foods, and implement software optimization for delivery routes and pickup/drop-off. There's a lot to the process, and until someone really knocks that out of the park, it's going to be a hurdle for grocers to overcome."
The catch here is: it may not be as large a challenge for logistics and distribution strongholds like Amazon, which larger grocery chains will find themselves competing against.
"In the end, the challenge for the food supply chain in a multichannel environment is all about velocity," says Tompkins. "In other words, can the goods be sourced from origin to destination and ultimately to the customer to meet the customer's expectations? And how can you guarantee the freshness of goods, especially if they are perishable?"
Managing Profit Margins
Many large grocery chains have profit margins that average between one and two percent, so there is not much room for error, as grocers work to open multichannel shopping environments.
"Consumers have grown increasingly fickle by having become empowered by social media, online search and other tools that let them compare companies and products and communicate their experiences and opinions to others," reports Alix Partners, a corporate turnaround consultancy. "The historical model of one-way mass-market communication is giving way to two-way dialogue and relationship building…Because of all of those forces, CP companies, especially the larger ones, have had difficulty in growing their top lines during the past four years. In fact, revenue peaked in 2013."
This likely means that large grocery chains will need to compete against new forces, like Amazon-Whole Foods, by relying on the knowledge and skills of internal staff, which may not include comprehensive knowledge and skills bases for competing in online environments or for adapting business processes to multichannel engagement with consumers.
"The real issue here is not 'bricks and clicks,' but 'bricks and cliques,'" says Tompkins. "Amazon, an e-commerce presence, now buys Whole Foods so it can give its clique of buyers 'bricks.' But if you're a traditional grocery store chain and must now compete with a large online presence with formidable warehousing and logistic capabilities, you might be asking yourself how you will be able to compete with that mode…In China, Ali Baba grocery stores enable you to choose your fresh lobster, which they will cook for you in the store while you shop. Models like this are what traditional grocers are competing against. Ninety percent of these stores look like they did 35 years ago, and now they find that in addition to adapting to a multichannel approach, they must cut prices as well. It's a difficult challenge."
Keys to a Successful Transformation
Although the road to multichannel grocery shopping may be difficult, large grocery chains still have their brands, their followings and the good will they have cultivated through the years. It's a foundation that can be built on.
"The key is to know who you are and to do it really well," says Tompkins. "Some grocers focus on shiny apples in well-appointed displays. Others want to show a farm-to-shelf approach, with the dirt still on the apples. Grocers need to be asking themselves these questions about identity. Do you want a coffee shop in the store? Do you want to have private level goods? Do you want to offer in-store samples of food? What are the demographics of the customers that you are targeting to serve?"
At the same time, retail grocers need to assess their own ability to deliver on an e-commerce order, and truthfully evaluate how they can best deliver the goods.
"A fundamental question that retail grocers need to be asking themselves is whether they have a website and/or app that allows a customer to place an online order," adds Lamphier. "Success will depend on whether or not they have a convenient, responsive customer experience that is well connected to their in-store inventory positions. Then, they need to determine how online orders will be routed to the appropriate stores? They also need to assure themselves and their customers of a high level of confidence in store inventory levels."
Tompkins adds: "In the outbound side of the supply chain, grocers have to run their supply chains based on demand, whether that demand is from online or in-store sales. For example, if you know that you only sell five items of something daily, why keep 24 items stocked on the shelf?"
The Amazon Whole Foods purchase was a wakeup call that shook up traditional grocery chains, because it transformed having a multichannel grocer consumer experience from an option to an absolute competitive requirement.
In pursuing a multichannel strategy, grocers should take away one lesson from Amazon, which filled its brick and mortar "hole" by making the Whole Foods acquisition.
Large grocers with an established brick and mortar presence must do the reverse; they must fill the online shopping gap in their own consumer fulfillment strategies.
"Companies will to have reconfigure their business models in innovative ways, such as by deploying direct-to-consumer distribution and making savvier use of digital channels in their marketing and product distribution strategies," says Alix Partners. "And they'll have to make their supply chains more efficient than ever while also—and even more important—becoming nimble enough to satisfy consumers more swiftly and effectively than ever."