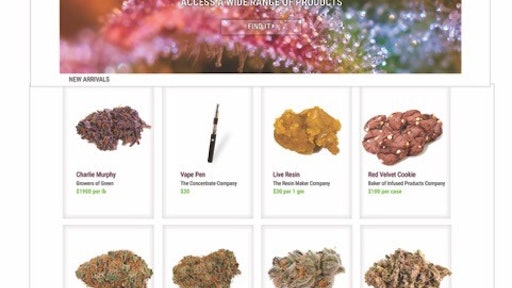 The popularity of food and beverages infused with cannabis oil or concentrate is skyrocketing as more states throughout the United States legalize medicinal and recreational marijuana. In Colorado alone, sales of marijuana edibles grew 67 percent in February 2017, compared to the same month last year, reports BDS Analytics, a Colorado-based cannabis data firm.
However, supply chain best practices for the cannabis industry as a whole are lagging compared to other sectors. Part of the reason is that regulations are in a state of perpetual flux as they try and keep pace with the fast growing industry; while the fragmented nature of the industry, including varying levels of sophistication among supply chain stakeholders, present their own challenges.
Micah Tapman, CEO of Tradiv, acknowledges the complexities of the cannabis supply chain and the particular requirements for edibles. While some edibles are shelf stable products, others require refrigeration, and similar to pharmaceuticals, there are very specific packaging and labeling requirements, too.
Tradiv is an online distribution platform that brings together cultivators, infused product manufacturers and dispensaries. The platform facilitates the sale and purchase of wholesale cannabis between licensed businesses in states where cannabis laws provide a legal framework to operate. Users pay a monthly subscription fee.
The compliance engine is an important feature of Tradiv, notes Tapman. Every order between a buyer and seller goes through a verification process to assure licensing is up to date and the business hasn't engaged in underage sales, for example. States such as Colorado and Washington also have rigorous seed-to-sale tracking requirements, which monitor information like how many plants were planted versus the yield, pesticide use (which is critical for edibles), and plant transfer records.
Tapman sees Tradiv evolving to address other aspects of the cannabis supply chain. One enhancement under consideration is the addition of a pre-sale feature, whereby a cultivator earmarks a percentage of their harvest for pre-sale to lock in a certain price. Another possible role for Tradiv in the future is that of a third-party arbiter to safeguard the transfer of funds between buyers and sellers, much like how an escrow service is used by homebuyers.
In the meantime, transportation and distribution also are more difficult for the cannabis supply chain. Delivery costs are pretty significant, says Tapman, as are security risks and dealing with payment issues. Unlike more established supply chains in other sectors, the cannabis industry is still relatively small and immature.
"All of these things combine to make it pretty tough to move product from one region to another, or even within a city or metro area," Tapman says.
In some respects, the cannabis supply chain is in the "dark ages" compared to alcohol or pharmaceutical supply chains, he admits. A lot of data is still being collected manually in notebooks or with simple spreadsheets, and there is not much automation or developed infrastructure. But, Tapman is hoping to take existing technologies, processes and procedures and apply them to the cannabis supply chain, so "we're not having to reinvent the wheel."
Companies in this article