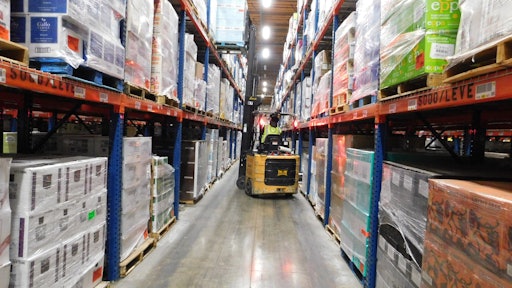 As warehouse technology improves, managers are finding new ways to improve productivity. One aspect of warehouse operations that has witnessed major innovation in recent years is lift truck management, propelled by lift truck telematics and wireless networks.
Telematics and onboard computers – technologies that are revolutionizing delivery fleet efficiency – are bringing similar benefits to lift truck fleets. Real-time and near-real-time data is unleashing a variety of management reports for all aspects of managing the warehouse, of which lift trucks are one.
The technologies that are expected to have the greatest competitive impact on material handling according to the Material Handling Institute's 2015 Annual Industry Report are all applicable to lift trucks. The four material handling technologies expected to deliver the greatest competitive impact are: 1) optimization tools, 2) sensors and automatic identification, 3) robotics and automation, and 4) predictive analytics. All four of these are creating new opportunities in lift truck fleet management.
The 2015 Business Trends Survey of the Washington, D.C.-based Industrial Truck Association (ITA) found that 70 percent of lift truck manufacturers believe fleet sizes will decline. Asked to name the leading factors contributing to this decline, the first factor named was improved truck productivity.
On a 1 to 5 scale with 5 being most important, ITA members gave the following reasons for reduced fleets: 1) truck productivity, 4.4; 2) increased availability of fleet data usage 4.0; 2) (tie) warehouse automation, 4.0; 3) price, 3.3; 4) truck durability, 3.0 4) (tie) multiple application truck; 4) reduction in operating cost, 2.6. Manufacturers ranked all of these factors higher in 2015 than in 2014.
Lift trucks represent one of the biggest capital outlays for food and beverage (f&b) warehouses. And as technology brings new efficiencies to lift trucks, it also adds cost. Hence, warehouse managers have to weigh the benefits of improved productivity against the higher investment.
Productivity improvements are especially beneficial to the ROI of capital-intensive equipment like lift trucks. In the case of lift truck fleets, improved productivity can reduce the number of lift trucks required and the amount of attendant labor. By deploying more productive lift trucks, companies have been able to reduce the size of their lift truck fleet.
Southern Wine and Spirits, the Miami, Fla.-based distributor with 37 warehouses, has deployed lift truck management software to 350 units (35 percent of its fleet) after conducting a six-month test on 50 units at its Illinois warehouse. The company deployed Raymond Corp.'s iWAREHOUSE GATEWAY to 200 units and the Crown Equipment Infolink to 150 units, says Mark Booth, vice president of distribution and technology for the beverage distributor.
The company focused on its largest warehouses, where they believe the software will bring the most significant benefit.
Both the Raymond and Crown software solutions are manufacturer agnostic, meaning the distributor has been able to deploy the software to any OEM's equipment. The company has 400 lift trucks along with reach trucks, turret trucks and order pickers. OEMs include Raymond, Crown, Toyota, Yale and Landoll Corp.
"We had no visibility to a huge pool of assets," Booth says. For the test, the company retrofitted 50 units retrofitted with the iWAREHOUSE GATEWAY solution, including 24 lift trucks, 26 order pickers and six reach trucks.
"It (the test) was very eye opening," Booth says. The most significant result of the test was a reduction in impacts. "Damage costs money. Now every impact is recorded, and the trend is downward," Booth says.
Another benefit is OSHA compliance is more thorough since each driver has a checklist on the dashboard.
An important long-term benefit will be asset utilization. "Are we using all the equipment we have in the building?" Booth asks. He anticipates being able to adjust the number of units based on the level of use. "Our goal is to right size our equipment and increase productivity. The equipment costs money whether it's being used or not," he says.
The company plans to integrate the fleet management software with its Manhattan Associates 2010 1-Series WMS, Booth says.
Retrofit lift truck software systems are also available.
United States Cold Storage, the Voorhees, N.J.-based 3PL, deployed an automated inventory tracking system in its Bethlehem, Pa. warehouse three years ago to save its lift truck operators from having to scan pallet bar codes. The company was using RF scanners to track hourly averages for cases picked, bulk partial picks, full pallet picks, putaway pallets and replenishment replacement, says Tim Herm, general manager.
The software for the automated inventory tracking system worked fine, Herm says, but there were issues with some of the hardware they were using, such as the camera and sensors mounted on the lift truck.
Making Lift Trucks Smart
Total Trax Inc., a lift truck fleet management software provider, focuses on transforming lift trucks into "smart" trucks. A graphical interface mounted on the truck can display the current location, orientation and speed of lift trucks, load identity and status, task type (i.e., putaway), and elapsed task time. The system can track daily average time per move, outstanding and completed putaways and retrievals, average moves per operator per hour, and labor utilization per hour.
One management report lists operators by name, number of loads, driving time and exceptions, and allowed managers to see trucks moving throughout the warehouse in real-time or to "rewind" and see specific events in the past. It also provides managers the ability to use "Breadcrumbs" a.k.a. "spaghetti diagrams" to see which areas of the warehouse are most heavily trafficked.
Brian Quigley, director of client services at TotalTrax, says the real-time data delivers metrics such as time from arrival to pallet jack use, last use to departure, and pallet jack travel and idle times.
Swisslog offers an aftermarket lift truck management solution that interfaces with WMS systems and with ERPs. SmartLift provides indoor GPS and key performance indicators (KPIs), the most important being the amount of time the truck is moving versus stationary and the amount of time the truck is loaded, says TJ Fanning, director of customer support, sales and account management for the Buchs, Switzerland-based material handling equipment manufacturer.
The SmartLift solution, if deployed to the entire lift truck fleet, can eliminate the need for bar codes in a warehouse loading and unloading operation, Fanning says. "The next extension on a WMS platform is to go labelless," he says.
The benefits of such metrics are top-of-mind for most lift truck manufacturers since the efficiencies can allow customers to reduce their fleets.
Wireless communication technology can control equipment usage through an authorized PIN code or other identifier, which allows the data to serve as the basis for continuous improvement programs focused on performance, safety and maintenance. This can make it easier to not only measure productivity but to make improvements based on real-time data.
East Coast Warehouse & Distribution, a provider of temperature-controlled logistics on the Port of New York/New Jersey, has been testing a labor management system (LMS) provided by its lift truck supplier in its warehouse. The LMS will provide real-time feedback on the fork lift operator's specific activity, time in motion and at rest, as well as other key performance indicators (KPIs). In similar operations, the provider has seen significant productivity gains through implementation.
Lift truck manufacturers interviewed for this article did not wish to provide benchmark metrics since customer needs vary. Most manufacturers said each customer needs to develop their own benchmarks based on warehouse layout, case and pallet weight, aisle length, distance traveled, lift truck features (such as lift height), etc.
"Forklifts equipped with fleet and operator management systems provide information for warehouse managers to review truck activity by operator, analyze productivity across facilities, departments and shifts, and make sure the right equipment is being used for the task," says Jim Gaskell, director of global technology business development at Crown Equipment Corp..
Through operator log-ins, productivity metrics — including average travel time, average lift time, actual travel times, actual lift times, time stopped and time stopped with no operator — can measure and benchmark individuals and groups. Additional information tracked, such as number of impacts and truck maintenance reports, makes it possible for warehouse managers to make informed decisions across all facilities, departments and shifts.
For customers that are just getting into analytics, Gaskell sees the greatest interest in impact reports (which correlate directly with safety) and forklift operator productivity reports.
"Information gathered by the forklift, including equipment status (logged on, logged off or in service), hours by operator based on status (idle, hydraulic and travel), battery/fuel status, fuel consumption and impact events, helps managers to gain a fleet-level view of operations that can be used to reduce damage and truck wear," he says.
Systems can audit vehicle impacts to determine responsibility. "As a result, truck damage from impacts generally decrease when a fleet management system is implemented," Gaskells says. Ongoing monitoring makes it easier to identify operators who require additional training, which both improves safety and reduces equipment maintenance costs.
Streamlined data collection can also help improve service management and automate processes, such as collecting compliance records, to improve operational consistency and safety.
A warehouse manager can determine specific benchmarks for a lift truck that unloads pallets from a trailer and takes them to a narrow aisle for putaway, says Ed Campbell, sales manager at the forklift division at Marysville, Kan.-based Landoll Corp. Benchmarks often include the number of unit loads per hour.
Telematics bring major change
Telematics have unleashed a new level of management insight for fleet managers, says John Rosenberger, manager of iWAREHOUSE GATEWAY and global telematics at Raymond Corp., the Greene, N.Y.-based material handling solutions provider. One of a fleet manager's goals is to know how productive each lift truck is; how much is it being used versus unused. A key measure is the number of times a truck moves without carrying any product. A warehouse manager wants to reduce the number of times a truck is not carrying product.
The travel-to-lift ratio is important, Rosenberger says. Within some warehousing applications, the fleet managers wants these two amounts to be as close to each other as possible. Within these applications, if the travel time number vastly exceeds the lift number, the equipment is not being well utilized. "More expensive reach or order picker lift trucks are being used as a glorified pallet trucks for the basic horizontal transport within some warehouses," he says.
"Is the truck being used and how much is each feature of the truck being used during the week?" he asks. These questions are especially important for large fleets where the price of misuse has much more of an impact on the cost of operation.
Productivity reports can help determine if a warehouse has the right number of lift trucks. In warehouses where the work load varies a lot, this can be hard to identify. With good data, a manager will know if the trucks working to capacity or if there is "dead time."
If there are only two months out of the year that all the lift trucks are working at full capacity, it might make sense to eliminate some trucks and rent extra trucks for the two busy months, Rosenberger says.
A truck activity report can also reveal hard-to-find issues, like congestion occurring in a warehouse aisle during certain times of the day.
Rosenberger agrees that productivity benchmarks have to be determined based on a warehouse's specifications and operating conventions.
The lift truck management software can track both the truck and labor activity. "Fleet managers have a much more complete picture of what the driver is doing with their time," Rosenberger says.
Some managers worry that drivers can be intimidated by the graphic interfaces that track their activity. Rosenberger says it is important to recognize these concerns, but managers should use the tracking tools as an incentive to be more efficient. One strategy to address driver concerns is to position the use of telematics as a "self-funding bonus program," he says. "The more efficient a warehouse becomes, the higher the percentage of money available to pay out performance incentives."
"In the future, fleet managers will be able to collectively analyze and leverage operator and equipment and maintenance data together in order to more accurately predict what parts will need to be replaced on a truck, and when," says Jewel Brown, national manager, fleet manager/telematics at Columbus, Ind.-based Toyota Material Handling. "For example, one driver may routinely wear out tires faster than another, maybe due to dock plates, terrain (outdoor), or even behavior. Data collected in our fleet management system, for that specific operation, may prompt tire replacements earlier than the average expected replacement time."
"A telemetry system offers the ability to evaluate utilization and maintenance information alongside expected demand and specific truck applications, so fleet managers can make quick and informed decisions about fleet size and composition," says Steven LaFevers, director of aftermarket solutions at Greenville, N.C.-based Yale Materials Handling Corp. "This allows them to continuously improve operations and maintain a right-sized fleet composed of equipment tailored to meet their specific operational challenges and eliminate the cost of running excess trucks."

Telemetry-based data can also help refine preventive maintenance schedules to ensure sufficient support while avoiding overspending. "Telemetry systems offer fault code monitoring that triggers automatic alerts notifying operations to perform proactive service," he says. "This can prevent minor issues not readily apparent to operators, from escalating into more serious problems that may result in crippling downtime and costly repairs. In addition, fault codes help by pre-determining the parts that may be needed to address the issues, aiding in reduced customer downtime."
In-dash displays provide drivers with self-management capabilities through speed and impact information to incentivize proper operator behavior, Lafevers says. These displays can facilitate direct communication between drivers and management to keep supervisors connected with movements on the floor. "Supervisors can notify drivers when trucks require service, manage operator training, solicit updates on ground-level conditions, and even check to see if certain employees have shown up for work," he says.
Metrics are important for improving productivity, but they don't always enhance safety, notes Bruce Buscher, vice president of sales at Daifuku, the Tokyo-based material handling solutions provider. A lift truck operator who knows he's behind schedule might drive too fast in order to make up for lost time, compromising safety.
As warehouse managers gain a better understanding of lift truck productivity, Buscher says the case for AGVs becomes clearer. The case exists when warehouses need 24/7 AGV functionality. The productivity is especially high in trailer loading and unloading in food and beverage operations.
When customers decide to deploy an AGV, they usually specify the amount of uptime they expect. "There typically is a performance measurement that the customer wants, stated in the (purchase) contract," he says. "When we write it into the contract, we know we can hit these performances."
SIDEBAR 1
When Are AGVs Cost Justified?
Automated guided vehicles (AGVs) can improve lift truck productivity. But for an AGV to be cost justified, a company must conduct a careful ROI analysis.
An AGV can provide a positive ROI in one to two years depending on the level of automation, system complexity, production and inventory management sophistication, says Roland Anderson, owner of Amerden AGVS, a St. Augustine, FL.-based AGV equipment manufacturer.
Anderson offers the case study of a manufacturing company running a 24/5 operation which installed a seven-vehicle AGV system. At the time, they had seven lines of production with an average of six pallets per hour per line.
The pallets were taken from the production lines to one of two sticker stations, then stickered and picked up by manual forklifts for storage in the warehouse.
Five AGVs could handle the workload between the production lines and sticker stations, replacing three forklifts. The company deployed two extra AGVs to meet the planned increased production.
The company added production lines with various speeds depending on the products. They added two AGVs per year during a three-year period as the production increased substantially.
The vehicle speed increased from 200FPM to 250FPM to meet the increasingly faster production.
Load pickup time including rotating, backing in to pick and leaving is under one minute.
The maintenance and fuel cost for AGVs is about 50 percent of the forklift cost.
SIDEBAR 2
How To Measure Lift Truck ROI
Accurate operating data provides an important tool in determining the ROI of a lift truck.
To measure the ROI on a lift truck, it is necessary to understand the complete cost of operating a truck throughout its lifecycle, says Steven LaFevers, director of aftermarket solutions at Yale Materials Handling Corp. The purchase price only accounts for a fraction of the overall cost.
Running costs such as maintenance, fuel, operator salaries, parts and short-term rentals in the event of unexpected downtime account for the majority of a lift truck's total cost. For example, as equipment ages, the total cost to keep it running may eclipse the cost to buy a replacement.
"After establishing total cost of operation, another way to measure a fleet's ROI is to judge it based on the number of pallets or cases that need to move," LaFevers says. "Measuring ROI based on cost to move a pallet or case, rather than simply cost per operating hour, enables managers to view lift trucks in the context of their business goals."
SIDEBAR 3
Aftermarket Service: Outsource Or Inhouse?
Maintenance and repair costs require as much scrutiny as any other aspect of a lift truck fleet. Downtime is one of the most expensive costs a fleet can incur. One option warehouses can consider is outsourcing the aftermarket service.
UniCarriers Americas Corp., based in Marengo, Ill., provides lift truck repair service through its dealer network on a contract basis. Some dealerships may service more than one OEM.
According to Josh Landreman, senior manager of product support, UniCarriers Americas tracks the amount of time dealers' service techs spend getting to a job and the time it takes while on the job.
One of the key metrics for a technician is first-time fix ratio, which is the frequency a dealership can complete any field repair with one visit to the customer. A target first-time-fix ratio is 72 to 80 percent, Landreman says.
Another ratio is time billed versus time paid. Time billed relates to the technician's productivity if they are paid hourly and spend time at the shop picking up parts or restocking. This time cannot always be billed, so if the technician spends too much time doing non-billable work, their productivity decreases. UniCarriers Americas technicians' billed versus paid ratio should be above 85 percent
The dealers are encouraged to perform two preventive maintenance (PM) calls per day until all are complete, which the travel for these services generally do not incur any charges. In making these calls, the service tech needs to check to make sure the customer has sufficient parts in stock. "Managing the PMs is the bread and butter of the service department," Landreman says. "Every truck you don't touch is a missed opportunity."
The company assigns a dealer based on proximity to the service call, and tries to get a technician to a customer in two hours. On average, it can take up to four hours depending on distance and availability of technicians.
For More Information:
Amerden AGVS, amerden.com
Crown Equipment Corp., crown.com
East Coast Warehouse & Distribution, eastcoastwarehouse.com
Industrial Truck Association, indtrk.org
Landoll Corp., landoll.com*
Material Handling Institute, mhi.org
Raymond Corp., raymondcorp.com
Swisslog, swisslog.com
Total Trax Inc., totaltraxinc.com
Toyota Material Equipment Handling, toyotaforklift.com
Unicarriers of America Corp., unicarriersamericas.com
United States Cold Storage, uscold.com
Companies in this article