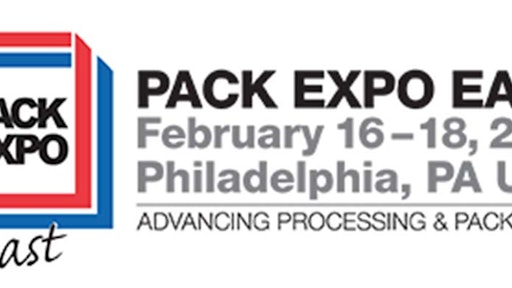 Companies in the packaging and processing industries will converge at the inaugural PACK EXPO East, Feb. 16 to 18 at the Pennsylvania Convention Center in Philadelphia.
As the latest offering in the PACK EXPO portfolio of trade shows from PMMI, The Association for Packaging and Processing Technologies, PACK EXPO East 2015 represents an opportunity for East Coast buyers and suppliers to come together to do business and to pick up knowledge and insights about global trends and technologies that will influence how products are manufactured and packaged for years to come.
Nearly one third of the nation's major consumer packaged goods (CPG) companies are located within 200 miles of Philadelphia. By adding a northeast regional show to its PACK EXPO events in Las Vegas, Chicago, Mexico City and other international cities, PMMI will serve many of the biggest, most economically important American markets, said Rick Fox, Jr., president of FOX IV Technologies, Export, Pa., and former chair of PMMI's board of directors from 2012 through 2013, when the PACK EXPO East concept was born.
"Our market research showed us CPGs in the Northeast see an unequivocal need in the market for first-class showcases, like PACK EXPO, that are a bit closer to home. When we asked if they would support such an event, they were very positive," said Fox.
Tim McCarthy, vice president of timing-screw manufacturer Kinsley Inc., based in Doylestown, Pa., serves on PMMI's show committee and agrees that an East Coast PACK EXPO will not only draw strong support, but could potentially play at least a small part in revitalizing a manufacturing sector steeped in blue-collar pride and skills.
"We're here, and we've always been here," he said. "We draw from the trades and expertise that the Philadelphia area fosters. We use a lot of local machinists, craftsmen and electricians.
Philadelphia-based packaging and processing businesses also boast the ability to foster innovation regardless of whether they are supplying large, brand-name companies or smaller startups such as Packaging Efficiency Solutions (PES), a Denville, N.J.-based manufacturer of labeling systems that launched in 2012 with the help of Kinsley Inc.
"We use Kinsley for all conceptual product handling," said PES General Manager Andrew Smith. "They offer full-service engineering from concept to implementation and then after-market service. We came to them when we first started and within six months they came up with a concept and fabricated assembly."
Kinsley's solution, Smith added, was "customizable and scalable" and "fit exactly what we needed."
"Kinsley has always been helpful in thinking outside the box to come up with designs that meet their customers' needs."
Local companies stand to gain leads and new customers at PACK EXPO East, but they are also excited about the overall regional impact of the show.
"It's an opportunity for us to meet new customers. That's our biggest goal," said Pat Rocchi, marketing and communications manager for exhibitor Fres-co System USA Inc. in Telford, Pa., which pioneered the one-way degassing valve for flexible coffee packages. "Even though we are a national company with global roots, it's a great opportunity to show our abilities closer to home. We want premier manufacturers in the Philadelphia region to know there's a supplier like us here."
"It's not just Philadelphia [that will benefit]; it's the whole East Coast," added Jim Mallon, vice president of sales and marketing for MRI Flexible Packaging in Newtown, Pa. "Hopefully, it will become as popular as PACK EXPO Las Vegas. Having it in the east, people out here will be able to drive in just for the day instead of traveling by plane for two days."
PACK EXPO East will also showcase local suppliers' efforts toward sustainable and automated business practices. Mid-Atlantic Packaging Inc. in Montgomeryville, Pa., is one example employing these critical selling points in packaging and processing. In business since 1961, Mid-Atlantic Inc. designs and manufacturers corrugated boxes and displays for clients such as The Hershey Co., UTZ Snack Foods and Smucker's. The company sources raw materials from only the most well-managed forestry programs and has developed water-based coatings and inks that are safe for the environment, in addition to other cost- and material-saving initiatives.
"We specialize in reviewing our customers' existing packaging and looking for opportunities to decrease the fiber without compromising the strength of the box," said account executive Nadine Padilla-Hodges. "We call this light-weighting or right-weighting. Our focus has always been to save our customers money, so we have invested in some of the newest and best equipment to achieve fast, quality results for less cost, driving our customers to be able to automate more of their cases, reducing co-pack costs."
At PACK EXPO East, Mid-Atlantic Inc. plans to spotlight its automation abilities by displaying product designs made with its unique gluing technology, which is based around high-efficiency robotics.
"We have invested continually to improve throughput and quality in line with traditional flexo-folder gluing," said Padilla-Hodges. "We are excited about the opportunity to showcase our graphic and gluing technology to local companies in Philadelphia and surrounding areas."
ILPRA America, a division of packaging machinery supplier and film converter and distributor. Roberts Technology Group, Inc., imports advanced packaging machinery used by a wide range of U.S and Canadian food and consumer-goods producers from its corporate headquarters in Vigevano, Italy. .
"Product demands and equipment requirements are continuously changing in the U.S.," said ILPRA America Division Manager Mike Cheatle, "ILPRA reacts to these changes swiftly because we manufacturer all three packaging lines in-house. At PACK EXPO East, we are announcing the new FP 1485 Tray Sealer, which has a very long, yet narrow, sealing area, unlike the dual lane models. This design delivers just the right amount of machine to customers that don't need the dual lanes while providing similar throughput as the larger models at a fraction of the cost."
"We will also debut our Speedy II EMEC Tray Sealer to include ILPRA's patented PROGAS Technology. This machine is completely servo driven, comes complete with four lanes, motorized ejection conveyor, higher grade stainless steel, and is capable of reaching 10 cycles per minute with MAP and 15 cycles sealing only with standard (stock) setup. The Speedy II is the ideal solution for high-output requirements within a small footprint, without having the need for a machine capable of complete automation."
"We are very proud of our Pennsylvania roots," said Rocchi of Fres-co USA, whose parent company, Goglio, is based in Milan, Italy. "When [Goglio] decided to build a facility in the United States, they chose the Philadelphia region. It has a really good regional history of people with manufacturing abilities. We knew we'd be able to find good people with the skills we need to populate this plant."
"I grew up always hearing about Ben Franklin," he says. "This is where the country started and this company clearly is in step with that sense of forward thinking. We are more than a provider of machines and materials. We provide unique solutions to our customers [and] we don't take a cookie-cutter approach. Our engineers go in and take a look at properties and ask, 'How will this product interact with the package?'
"Take a look at our one-way degassing valve. It appears to be a very simple piece of engineering but its impact was big. It solved the problem of keeping coffee fresh in a flexible package. If you take a look at the kind of things that came from Benjamin Franklin, he would be very proud of that. He was enamored of simple solutions. We are very much aligned with Philadelphia traditions that way."
Visit Packexpoeast.com to register for the show. Registration is $30 prior to January 21, 2015, and $60 thereafter.