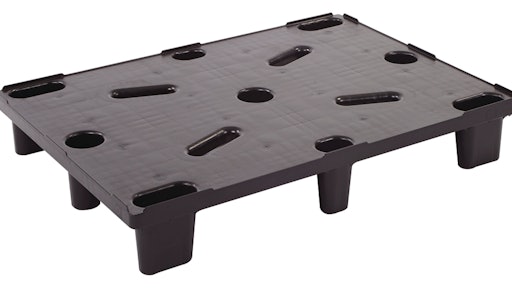 Consumer trends are changing so rapidly these days that sometimes it feels like if you turn off your smartphone, laptop or favorite mobile device, you're in fear of missing out on the next best thing.
It's not a secret that one of the main challenges for companies in the food and beverage sector is finding ways to adapt to ever-changing consumer trends, and it should come as no surprise to know those same challenges filter all the way down to the basics of the warehouse…to the packages and the pallets those items are shipped on across the food supply chain.
Today's consumers are demanding faster, on-the-go products for their food and beverage choices, so pallets that are smaller are streamlining deliveries to retailers to increase product availability. Likewise, as consumers and industry demand traceability and sustainability in their products, and as more and more regulatory requirements are put in place, the carton and packaging innovations are being forced to adapt to changing needs more so now than ever before.
Small-format pallets go from DC to store floor
Using all-plastic pallets as a recyclable and sustainable way to transfer goods isn't a new concept, but the fact that these days smaller is better when it comes to pallets may take a little more time to comprehend. With limited floor space and narrower doors and rows, retailers are looking for more efficient ways to deliver product, which has created demand for pallets like the 42x30 small-format HP Pallet from ORBIS Corp.
Small-format pallets can be loaded either full case or split-case at the DC then transferred right into the point-of-sale display, reducing labor costs and product touches, maximizing storage space and reducing damage to optimize replenishment.
Since they are small, these new small-format pallets also offer faster deliveries, higher truckload density (45 pallet locations per 53' trailer) and can also be carried manually because they offer a 20 lb. tare weight and ergonomic hand holes. The non-porous construction of the all-plastic pallet also makes it easy to keep and fully recycle at the end of its service life.
Changing demographics = changing packages
The trends in packaging are still centered on speed and efficiency, with sustainability as a secondary consideration. However, changing demographics are poised to change packaging as well, as producers adapt to differences in consumer demand stemming from a generational differences and preferences.
According to research from Tetra Pak up to 40 percent of consumers sip a drink while walking or driving, and as Millennials and the younger generations push demand for packages with on-the-go sizes, one-step open tops, and resealable caps will become the norm in the beverage sector.
However, analysts are quick to point to the trend of aging consumers in Europe and North America, where the world's population ages 60 and older is expected to grow to 2.4 billion by 2050. This is the trend that could change packaging the most going forward.
Aging consumers typically experience a rapid decline in grip strength, making smaller packages for a more sustainable package with a reduced footprint a slippery slope for companies to climb. One-step caps have proven to be a solid solution to this change in demand, and ergonomic and contoured designs will continue to trend as the industry tries to cope with customer demands from both young and old.
Triple the speed
Innovation has pushed line speeds at production facilities to even higher speeds to keep up with demand, and in an effort to reduce costs across the entire balance sheet. These days the newest facilities in both the food and beverage sectors are enjoying unprecedented speeds from new high-speed bag-in-box packaging to speed filling machines that can perform up to three times faster than before.
Sealed Air's Cryovac food packaging division teamed up with International Dispensing Corporation (IDC) late in 2013 to launch a SpeedFlex Bag-In-Box system that offers bag filling speeds three times faster than standard aseptic bag-in-box fillers. This speed has proven quite valuable to high-volume processors of liquids like dairy, fruit purees, sauces, smoothies and ice cream mixes.
"Speed of filling is a critical operational factor for beverage manufacturers, particularly for companies who must deliver the high volumes in the foodservice industry," said Myra Foster, executive director, global fluids sector at Sealed Air's Food Care division.
Meanwhile, Tetra Pak says their A3/ Speed Filling machine helped Chinese diary Mengniu triple their production rate, producing up to 24,000 pack per hour of flavored milk, making it one of the world's fastest filling machines for carton packages. The speed and efficiency of these new machines drives down operational costs, sometimes by as much as 35 percent.