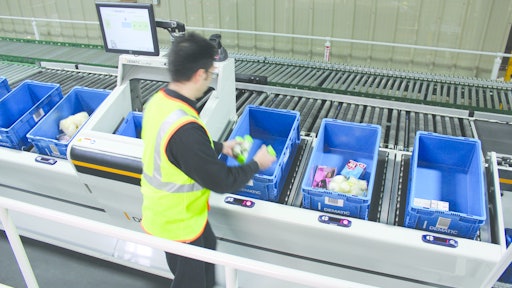 There are several overarching themes driving the push for more automation inside the four walls. Some relate to changing demographics in the labor force, others to how consumers are shopping today, and let's not overlook the constant striving for more efficiency, productivity and cost reduction.
Collectively, these forces are creating an almost manic effort throughout the industry—spanning the continuum from material handling manufacturers all the way to warehouse operators—to automate operations wherever possible. Let's take a look at what's driving warehouse automation and how it's manifesting in new equipment, technology and processes.
E-commerce and omni-channel retailing
Without a doubt, e-commerce and omni-channel retailing together are largely responsible for a significant amount of activity surrounding warehouse automation. It's fair to say there has been a full-on explosion in the number of consumers who are using smartphones and computers to purchase goods and services, and every segment of the retail sector is being impacted from apparel and electronics to food and beverage.
Allan Davies, CMO of Symphony EYC (formerly Aldata), says that, "In the United States, there is an increasing demand to use online and mobile technologies to improve the grocery shopping experience. Shoppers want easier, more personalized, and more control over their choices and will make decisions on where they shop based on the level of these services." The company, a provider of retail and distribution improvement software, conducted a survey of one thousand U.S. consumers over the recent holiday period with a focus on the benefits and motivations of using mobile technology for grocery shopping, in particular.
Among the findings, the most compelling advantage for grocery shoppers to use mobile technology is to avoid lines and waiting, with 54 percent of respondents citing this reason. When asked specifically about the advantages of using smartphones to shop for groceries, 60 percent of respondents said receiving personalized promotions on their favorite products would make online shopping easier, while almost 73 percent were attracted by the ability to compare prices via their smartphones. However, the survey also revealed that 88.5 percent of those polled had not yet used their smartphone to actually buy groceries during the past 12 months.
Of course, the lack of robust online grocery sites and options could definitely have something to do with this revelation. At the very least, it should serve as a wake-up call to the industry that consumers are actively looking for new ways to purchase groceries and there's a sizeable opportunity here for retail grocers. As for grocery pick-up and delivery options, 68.7 percent said they preferred traditional store shopping for groceries with 40.2 percent preferring to order online with home delivery. When asked if they would also like to be able to order their groceries and select the relevant pick-up or delivery service through a mobile app, almost half said, "No."
Leading warehouse automation solution providers are introducing new products and services to address the migration towards online shopping, which in turn impacts how orders are fulfilled by the warehouse. Dematic's order fulfillment solution set supports multi-channel distribution operations from receiving to shipping.
"The Dematic solution set for multi-channel distribution operations is centered around flexible modules that scale to changing operational needs and growth," explains Mike Khodl, vice president of solution development. "Most designs incorporate a storage buffer strategy that shares inventory across multiple distribution channels, but Dematic solutions have peak capacity flexibility built in to accommodate seasonal, promotional and weekly order surges."
The unique requirements associated with e-commerce have played out with various degrees of success across the retail sector. Amazon stands out as an early adopter of e-commerce who continues to amaze with the number of products it offers to online shoppers. On the other hand, the grocery sector's initial experiences were not nearly as successful.
"Many food home delivery services are going through a major transition as critical mass approaches—consolidating picking into dedicated distribution centers away from low volume, store-based operations," writes Eric Lamphier, Manhattan Associates' senior director, product management, in a recent Logistics Viewpoints column. "However, while the enthusiasm to address these challenges is important, recent high profile failures highlight the risks of investing in too much costly, fixed, inflexible automation. To achieve the goals of a multi-channel enterprise, agility is a higher priority than optimization to solve today's problems in such a fast moving sector."
Lamphier points out that the stakes are high for grocers when it comes to e-commerce. On the plus side, research shows that "online grocery shoppers end up buying more frequently and spending more money in each transaction as they come to rely on the service over time." But on the other hand, "In the rapidly changing retail environment, supply chain inefficiencies will be exacerbated by the continued growth of online shopping and home delivery."
Like Amazon, the giant multimedia retailer QVC is shaping the future of warehousing and distribution. Interoll provided various components, including rollers, conveyor belts and electric motors for a recent expansion of QVC's distribution center in Huckelhoven, Germany. The DC is one of the most modern logistics centers in Europe, sending 90,000 packages daily to various points throughout the continent.
During the recent ProMat 2013 show in Chicago, Swisslog introduced its Click&Pick system. According to a company press release, "Click&Pick is a storage and high-speed order fulfillment system tailored to the U.S. e-commerce market that provides unparalleled use of retail warehouse space for faster and more efficient order fulfillment."
It's all about speed, emphasizes Swisslog's senior vice president, Markus Schmidt. "As the e-commerce landscape goes mobile, we see more and more that the competitive edge will hinge on a retailer's ability to deliver customer orders faster with better retention of profit margins," he explains.
Mobile technology
Mobile technology in both the consumer and commercial sides of the business is another factor that is playing a role in defining warehouse automation. Indeed, the consumerization of IT in the enterprise is so profound that many have awarded it a "disruptive technology" moniker.
In simplistic terms, one of the best examples is providing the warehouse manager with a tablet computer, or allowing him or her to bring their own device, with the intention of liberating them from behind the desk and 'reacquainting' them to the warehouse floor.
To get an idea of how widespread this trend has become, a recent survey of nearly 1,500 IT executives around the globe found that approximately 70 percent of companies believe a "bring your own device," or BYOD strategy, improves work processes and will help them work better in the future, while an estimated 59 percent of IT executives think they would be at a competitive disadvantage without this ability.
Roger Bjork, director of enterprise mobility solutions for Dell Software Group, which commissioned the survey, stated: "We're seeing dramatic changes in the way users interact with technology on their personal devices and the critical role BYOD plays in transforming business and IT culture. This global survey confirms what we have long suspected—companies that embrace a user-focused approach to BYOD may reap the biggest rewards, face the fewest obstacles and deliver real and immediate value in terms of greater efficiency, productivity and competitive advantage. Those slower to support BYOD or constrained by a device-centric approach may deal with greater challenges, including the risk of being left behind from a competitive standpoint."
Hardware and software vendors alike are developing solutions to appeal to the mobile workforce. For instance, last month Infor debuted an enhanced version of its Supply Chain Execution—SCE 10.2. According to the company, "SCE 10.2 features an innovative iPad app called Warehouse Director, which provides managers with a real time view of warehousing activities from a simple and easy to use mobile platform. The app contains a color-coded metrics panel to better visualize management of incoming and outgoing workloads." In addition, "The location panel is equipped with inventory heat maps and zoom-able overviews of the warehouse floor," allowing users to keep tabs of critical functions while affording them the flexibility to work from a remote location.
Meanwhile, HighJump Software continues to add more apps to its HighJump App Station, which the company launched two years ago. Currently, the company offers over 50 apps that customers can browse and add to their warehouse management system (WMS) anytime. The App Station remains very popular with customers, says Chuck Fuerst, director of product strategy, "especially the safety equipment audit app," he told Food Logistics during a brief stop at HighJump's booth at ProMat 2013.
Honeywell continues to make improvements to its product offerings, too. The company recently rolled out the Thor VM2, its tenth generation vehicle-mount computer (VMC) targeted at the mobile workforce. A company press release states that the newly designed unit features a field-replaceable front panel, which "integrates the two most damage-prone device components—the keyboard and touchscreen—into a user-replaceable part. As a result, users can repair the most common forms of vehicle-mount computer malfunctions on the go, reducing maintenance cost and spare parts capital cost."
Workforce and sustainability considerations
Labor is an essential component in the warehouse. No matter how automated the operations, there will always be a human element, and this is particularly true in the food and beverage sector. However, labor is costly when it comes to wages, training, injuries and low productivity.
Schaefer Systems International recognizes its customers' desire to reduce labor costs while simultaneously minimizing a facility's footprint. Furthermore, the days of "throwing labor" at a problem are over, at least in industrialized nations. And warehouse operators share the same difficulty as trucking companies when it comes to attracting new entrants to the workforce, i.e. existing workers are getting older and new ones are seeking employment in other areas.
One of the solutions that Schaefer recently unveiled is its patented Goods-to-Person workstation under the brand-name ergonomics@work!, which promises up to 70 percent higher picking efficiency and over 1,000 picks per hour. The spherical design increases picking frequency and gives the operator a better overview.
"Ergonomics is certainly more than just going easy on joints and muscles," points out Dr. Max Winkler in a recent Schaefer blog. "It is also about logic, easy to follow work steps and stress-free processes. In relation to a distribution center, this means, for example, optimizing search and orientation tasks." He remarks that ergonomics not only contributes to a worker's well being, but also brings measurable and distinct advantages in productivity.
Meanwhile, maintaining a modest footprint is one of the goals Witron will adhere to for a new project it will undertake for Coop, the second-largest food retailer in Norway. The retailer plans to build a new distribution center with multiple temperature zones near the capital city of Oslo. Coop's executives were impressed with Witron's design plans regarding cost efficiency, energy efficiency, ergonomics and flexibility—all of which are extremely important in high-priced labor and real estate markets found throughout many European countries.
Sustainability and energy efficiency were also key consideration for Europe's Oberalp Group, a manufacturer of alpine sporting goods, which tapped TGW Systems to automate a new logistics center in Bolzano, Italy. Conveyor equipment fitted with energy efficient drives and stacker cranes that boast "energy recuperation" features helped TGW meet Oberalp's "highly developed sense for sustainability," says TGW's IT project manager, Albert Fischlmayr.
Automation for all, not just the few
One of the most attractive features about warehouse automation is that it's increasingly affordable, scalable, and flexible in terms of "fitting into" existing IT networks and facilities, even low bay structures.
For example, Westfalia Technologies is quick to dispel the myth that automated storage and retrieval systems (AS/RS) are only for high-rise warehouses. Dan Labell, president, explains that, "While our competitors focus on storing products only one, two or three deep, we have the technology to go from one to 12 deep. Depending on the SKU mix of fast, medium or slow movers, a high density, low bay automated warehouse system is feasible. It really comes down to the SKU mix."
The company has solutions for facilities as low as 20 feet with equipment that can work with packages, cans, bottles, baking trays, bags and more. Food and beverage companies are a key sector for Westfalia.
At the ProMat 2013 show, Daifuku Webb demo'd the Model 100ST SmartCart Automatic Guided Cart (AGC). "The Model 100ST is low to the ground, allowing it to tunnel under customized carriers," says the company. "It is available with an automatic hitch for coupling and decoupling carriers. SmartCarts are flexible, low cost Automatic Guided Vehicles (AGVs) that can be used in assembly lines, to deliver pallets to and from stretch wrappers, roller conveyors and palletizers, as well as to simply move loads around a facility. SmartCart's CartTools and Cart Management System software were recently enhanced making them even easier to use. Customers are able to make their own changes to the system and to troubleshoot problems without outside assistance."
ITW Warehouse Automation prides itself on being able to "start small" with a customer and then quickly and easily scale up when it's time to according to Scott Smith, director of marketing. That could mean starting with a case picking solution then graduating to an AS/RS.
Beer distributors comprise a significant portion of ITW Warehouse Automation's customer base. The proliferation of craft beers, in particular, is changing the market, as well as the warehousing operations that support it, says Smith, who says he's seeing more customers invest in warehouse automation. A primary objective is to help customers get the most efficiency out of existing facilities and avoid the cost of new construction.
As an independent system integrator, Retrotech's strategy is to identify warehouse automation solutions that meet the individual customer's business objectives. For companies who are relatively new to warehouse automation, this unbiased approach can help provide clarity in the decision making process and ultimately save the company from overspending or making the wrong investment for their needs.
Acquisitions, alliances and more
It's worth noting that a number of acquisitions and alliances have occurred in recent months. In general, this uptick in activity is creating some very interesting partnerships, not to mention companies who are now able to offer customers an incredible selection of products and services.
LogFire, a leading provider of cloud-based supply chain execution and warehouse management solutions, and Blue Ridge, which specializes in planning, forecasting and replenishment solutions, announced a strategic partnership in early January, just prior to the National Retail Federation's convention in New York City. According to a press release, the partnership will enable retailers to close the loop between demand-shaping activities and product availability.
Greg White, CEO of Blue Ridge, explained that, "Our companies share a vision of a completely connected supply chain that meets the needs of today's omni-channel retailer. Our multi-tenant solutions allow us to innovate at a rate never before seen in supply chain solutions; providing enhancements throughout the year instead of waiting for an annual release, or a large, risky, costly upgrade effort."
Diego Pantoja-Navajas, founder and CEO of LogFire, added that, "The cloud has enabled us to provide a cohesive supply chain solution, driven by consumer demand. By seamlessly connecting previously disjointed phases of the supply chain, we ensure that a company's supply chain management is tightly integrated and visible, increasing efficiencies and creating profit-driving opportunities. Our solutions are not just hosted versions of traditional licensed products, we offer true multi-tenant cloud platform solutions."
Reflecting on the advantages of the recently announced partnership between the two companies, Larry Ferrere, executive vice president of strategy, business development, and chief marketing office, told Food Logistics that until now, no other company has truly married planning and execution to this degree, "at least not in the cloud."
The partnership got off to a stellar start in January with a high profile, cloud-based warehouse management system (WMS) implementation by FarmaCorp S.A., Bolivia's fastest-growing and most recognizable pharmaceutical retail chain. The implementation took less than three months and caused zero disruptions to FarmaCorp's daily operations.
Suffice it to say that LogFire has been busy in recent months. The company also forged a strategic partnership with Voxware, which was made public during Promat 2013.
In December, automated material handling solutions provider Intelligrated announced that it had acquired Knighted, a provider of supply chain software solutions. The move bolsters Intelligrated's goal to deliver solutions that increase fulfillment velocity for e-commerce, multi-channel retail, 3PL, wholesale, consumer products and food and beverage industries.
Kronos Incorporated and Manhattan Associates announced a new relationship prior to the start of the ProMat 2013 show. "As brick and mortar and online retail channels merge, store operations executives are struggling with two key issues: visibility into incoming online demand and aligning this demand with in-store labor," the companies stated in a joint press release. "To overcome these issues, early adopters of omni-channel strategies are realizing that incorporating labor and store fulfillment can lead to greater profit margins."
Motorola Solutions' acquisition of computer manufacturer Psion last fall is giving Motorola a bigger presence in the enterprise mobile computing portfolio. Honeywell made a similar acquisition over the summer when it purchased EMS Technologies, the parent company of LXE. Then in December, Honeywell agreed to acquire Intermec, which not only strengthens Honeywell's scanning and mobile computing business, but boosts its presence in voice solutions (Intermec just recently acquired Vocollect) and barcode and receipt printing as well.
It's not likely that this flurry of activity will taper off anytime soon. "We expect to see lots more mergers and acquisitions and consolidation in the industry," surmises LogFire's Ferrere.
A Few Take-aways From the Trade Show Floor
It was bitter cold in Chicago during Promat 2013, but on the trade show floor, attendees and exhibitors were fired up about a lot of things. The willingness of customers to continue making investments in warehouse automation was one of them. Early signs of economic rejuvenation were evident at last year's Modex show and the momentum is still there it seems.
It's not just big-ticket items that are getting attention either. There was a lot of interest in keeping food facilities clean and energy efficient. Rytec was exhibiting its Powerhouse maintenance-free and rubber door, touted to deliver the lowest total cost of ownership of any rubber door ever built.
ITW Muller's Octopus rotary ring stretch wrapper was also in action at the show. The machine wraps up to 100 loads per hour, can accommodate a wide range of pallet load sizes, and is especially well-suited for food and beverage applications because the ring technology avoids oil dripping down on the product from an overhead arm.
A few aisles over, Keeahna Twomey, logistics manager of the Oklahoma Food Bank, was in Voxware's booth discussing the success the organization has had with Voxware VMS.
The forklift manufacturers were eager to talk about the latest enhancements to their products, which continue to set new standards for driver safety, ergonomics, reliability and energy efficiency. Jungheinrich's booth team said its developments in battery technology allow for two shifts to work on a single charge, which they described as "unprecedented" in the industry. In addition, the company's forklifts can be fitted with a cab to give operators more comfort in freezer environments.
During a meeting with Food Logistics in the press room, Crown's Tim Quellhorst, senior vice president, emphasized the company's ongoing commitment to operator safety. The QuickPick Remote Advance is a prime example. Described as a "game-changing innovation in low-level order picking" when it was introduced two years ago, the technology allows the order selector to remotely advance the truck to the next pick location, while he or she remains at a safe distance.
Marty Boyd, vice president of marketing, product planning and training for Toyota Material Handling USA echoed the focus on operator safety. He also talked about the fundamental importance of "listening to the customer." But his best comment came when he was talking about Automatic Guided Vehicles (AGVs): "We used to view them as a threat. Now we are embracing it." Boyd personifies the attitude of the leaders in our industry who see competition and challenge as an opportunity to innovate.
Companies in this article