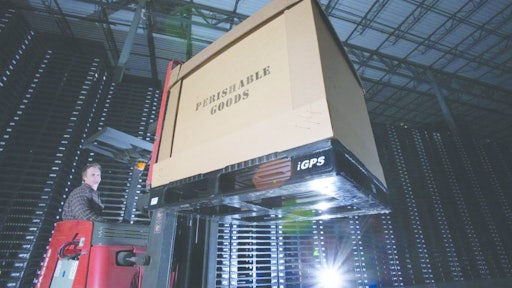 When it comes to pallets, there are a variety of choices available for warehouse operators, ranging from plastic pallets to steel pallets. A heightened focus on food safety, along with environmental trends, are driving new innovations.
So what does that mean for the pallet industry?
New regulations and trends
Recent regulations such as the Food Safety Modernization Act (FSMA) have shown to have an effect on the pallet industry. In order to assist in protecting consumers, the FSMA mandates more frequent inspections to make sure pallets meet cleanliness standards.
"Hygiene has become an increasingly important trend," confirms Bob Klimko, director of marketing and sustainability of ORBIS Corporation, Oconomowoc, Wisconsin. "Hygiene is becoming one of the cornerstones for any type of system and reusable packaging has an impact on that."
At the same time, Rex Lowe, president of Orlando, Florida-based iGPS, speaks of an emerging desire for temperature tracking. Since roughly 30 to 40 percent of produce will not be consumed due to a shorter shelf life or damage in transit, the increased awareness makes sense.
"There would be a substantial savings and a substantial need for the ability to monitor temperature more closely," says Lowe. "[Tracking] will allow retailers in that industry to put a priority on what to put out on the shelves first, based on what's coming in with the freshest codes."
Industry experts also note that there has been an increasing interest in sustainability initiatives and ways to reduce costs. One way a company can be frugal—and green—is to implement plastic pallets, such as those manufactured by Plastic Pallet Solutions. The company, based in Denton, Texas, offers customers the option to recycle a company's raw, plastic materials in order to lower the entry cost of plastic pallets.
"Plastic car bumpers, industrial plastic barrels, milk jugs and pill bottles make up some of the source material," explains Bob Noland, executive vice president at Plastic Pallet Solutions. "These pallets never have to be disposed of—they can always be recycled."
Another ongoing trend in the warehouse is a push for more automation. This results in greater product proliferation, reduces labor costs, and increases overall efficiency in the warehouse.
Resourceful pallets and services
Fullerton, California-based AL Pallet offers customers their aluminum Clean Factory Pallet, which is ideal for a sanitary environment.
"This particular model has no seams," says Young Lee, executive director of AL Pallet. "It is welded throughout the joints, which leaves the pallets with no pores or any openings."
This seamless pallet prevents bacteria buildup and makes it easier to clean. In addition, AL Pallets' aluminum pallets weigh much less than its wooden and plastic contenders. The 48 x 40 inch Clean Factory Pallet weighs less than 30 pounds, whereas a wooden pallet weighs about 45 to 70 pounds and a plastic pallet weighs about 60 to 120 pounds. "Beverage companies are looking for durability and lighter pallets," remarks Lee.
Similar to Plastic Pallet Solutions, AL Pallet also offers a recycling service to ensure that no materials will go to waste. According to Lee, aluminum materials have infinite recyclability and will not show any signs of degradation in quality.
Plastic Pallet Solutions offers customers plastic Beverage Pallets, which can have a positive impact on the environment due to the elimination of deforestation associated with the manufacture of wooden pallets. These pallets are nonporous, which is beneficial in order to prevent cross contamination. Plastic pallets are also tough. According to Noland, plastic pallets can last 15 to 40 times longer than wood pallets and they also come in various sizes.
"We currently have 20 different mold sizes that have non-skid grommets for load safety and pallet stability," says Noland. He adds that the company is "working on the ability to make any odd size pallet with recycled plastic lumber to supplement our current offerings."
Companies have also shown an interest in using Plastic Pallet Solutions' bio-based plastic, which has proven to be highly operational in a freezer environment. Up to 20 percent of bio-based plastics are used in their blend.
iGPS offers plastic pallets that are clean, durable, and approximately 33 percent lighter than its wooden counterpart; this can help companies save money on their fuel costs due to a lighter load.
Furthermore, iGPS's plastic pallets come with an embedded RFID chip, in order to assist a company with passively tracking pallets. iGPS's Spider Tag helps a customer know where a pallet is located and can send out a daily or weekly notification to help keep track of its location.
iGPS's Lowe mentions newer technologies are in the works. "We're currently experimenting with one tag that can be read as far away as 450 feet," he says. "It's an active tag with a seven year battery in it that can track temperature to within one tenth of a degree around the unit load that it's carrying and it can report back the temperature range every 15 minutes, which is going to be very important for a lot of our food shippers."
iGPS pallets are smooth and as a result there is no need for a slip sheet, which can help save food and beverage companies even more money.
Meanwhile, ORBIS has many unique plastic pallets that can meet various customer needs, such as their rackable, stackable, and nestable pallets. One of the benefits to utilizing ORBIS's Rackable pallets is having the ability to store products in various racking systems in order to gain floor space in the warehouse. Stackable pallets are ideal for static storage and stack loading. These pallets can hold up to 30,000 pounds and—like most plastic pallets—are 100 percent recyclable at the end of their life. Finally, ORBIS's Nestable pallets have the functionality to nest together after they're empty with the purpose of saving space in a warehouse or trailer.
"Caring about empty assets is a big deal," says ORBIS's Klimko. "Many people care about assets when they're full of product—we have to care about them always because that's what makes an efficient system operate."
ORBIS also offers a service called Reusable Packaging Management (RPM), which helps companies seamlessly manage their packaging fleet in order to help keep their focus on their core business. Asset tracking, included in RPM, contributes to maintaining an efficiently run business and gives companies greater visibility when it comes to asset tracking.
Complementing Your Operations with a Storage System and Spacers
Food Logistics recently had the opportunity to speak with associates from Quebec, Canada-based Espace/Max as well as New Concord, Ohio-based Paylode; whose products can help boost efficiency in the warehouse and help protect cargo in transit.
Paylodes' food-grade Bulkhead Spacers are a lightweight option designed to prevent cargo damage in the trailer. The Bulkhead Spacers are also an eco-friendly option manufactured from 100 percent recycled high density polyethylene (HDPE) plastics.
"There is an option to have a rubber-like layer coextruded on the surfaces to give it a nonskid property," points out Rob Zachrich, president and COO of Paylode. A nonslip grip can be beneficial, especially when it comes to safety, in a cold or slippery environment.
Aside from the option for a rubber-like layer, there is also the option to have a property identity strip fused onto the Bulkhead Spacers. Identity strips assist in preventing theft or mishandling.
The Bulkhead Spacers are also suitable for refrigerated or frozen loads. "This material is particularly well suited for cold chain applications because we use a high molecular weight (HMW) grade of HDPE plastic," says Zachrich. "The standard brittleness test for this material rates it at negative 105 degrees Fahrenheit before it becomes brittle."
Espace/Max's Flow-Rail pallet storage system can be installed on standard conventional racking and can be operated by using a lift truck. "The ability to reuse existing racking is certainly beneficial," says George Bally, sales representative at Espace/Max. "Not only from an economic perspective for the customer, but also from an environmental point of view."
In terms of managing products, companies are looking for capacity and efficiency, says Bally. The Flow-Rail system can offer a high capacity with the ability to go up to ten pallets deep.
Companies in this article