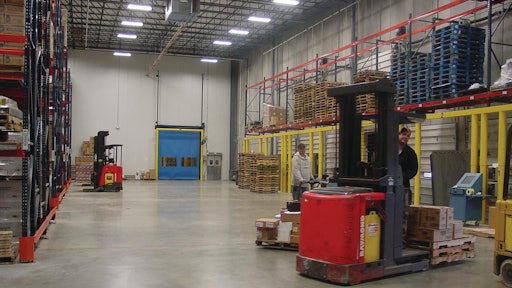 Consolidations, acquisitions, and buy-outs are typical occurrences in the business world these days, and the foodservice industry is no different. Many family-run companies face increasing pressure just to survive in the marketplace. However, a handful of them have figured out how to rise above the challenge.
M.J. Kellner Foodservice, based in Springfield, Illinois, is a great example, and they are the recipient of the 2011 Food Logistics' Golden Pallet Award in the small distribution category (less than 100,000 square feet).
A fork in the road
A little over five years ago, the foodservice market in the central Illinois region was undergoing major changes. A national company was buying out M.J. Kellner's two leading competitors, Bunn and Roberts Foods, explains Tracy Thompson, an executive assistant with M.J. Kellner.
"We realized that this was a great opportunity, and we couldn't let it pass us by," she says. "Even though we were the smallest of the three companies at that time, we believed our focus on customer service and quality was a foundation that we could build upon."
While the company's enthusiasm for taking on the challenge was undeniable, the physical infrastructure, including facilities and automation, where another matter, Thompson concedes.
"Our inventory and staff were located in two separate buildings a block apart in an industrial park. The buildings were older—one was at least 60 years old, and the other was a little newer—and they were both starting to show their age. Between the two facilities we had 36,000 square feet of dry, 1,800 square feet for produce, and 18,000 square feet for refrigerated and frozen with a two-door refrigerated dock and ten ambient dock doors. And, our SKUs were in the 5,000 range," she says.
Yet, with new business coming online, M.J. Kellner found itself straining to keep up with demand, Thompson says.
"When our sales force doubled, so did the number of SKUs we needed to carry and soon we had more than 10,000 SKUs packed tightly into every available space—occasionally including 53-foot reefers parked on our lot. In addition, the warehouse crew was split into shifts, working 24/7 and manually picking from floor to ceiling without a warehouse management system (WMS). The outbound error rate was 1 in 500 cases and inventory control was a nightmare with every picking shift searching for product."
Thompson remarks that, "At that point, we knew we needed to make a serious change in order to make this work. It was then that we decided to build a new facility."
Starting with a clean plate
It's not often that companies have a chance to 'start with a clean plate' and redesign a facility. But when it does happen, it affords them a chance to get everything right.
Of course, pre-planning is key. "We took the time to really study the problems that we were experiencing in our old facilities to figure out how to make our business more efficient," says Thompson. "We toured various facilities and also worked with companies that had experience in this area. Our staff took the information that we learned during this investigative process and came up with a plan that would work best for us."
One of the experts that M.J. Kellner consulted with was BFC Associates, which helped them put together a robust warehouse management system.
"The warehouse is the backbone of our business," Thompson emphasizes, and the company made sure that the new facility would be able to support it.
The company chose a site on the other side of Springfield for their new facility. It took roughly one year from the initial groundbreaking to move-in date. During that time, several employees began using the new WMS to become more familiar with the system and to help ease the transition once the move to the new facility occurred. The complete move-in took only three days, "with barely a hiccup," recalls Thompson.
Virtually no expense was spared in order to modernize and completely equip M.J. Kellner's new facility, says Thompson. "We now have a state of the art facility with fully automated dock doors, seven temperature zones, and a voice-activated WMS. There are 17 dock doors and a total of 84,000 square feet—38,000 dry, 12,000 refrigerated, and 34,000 frozen and more than 12,000 SKUs. Outbound accuracy rates are now 1 in 12,000 cases, inventory control is very accurate, and we run a rolling inventory. Truck loading errors have also decreased and inbound efficiency is much faster with appointments staying 'on time,'" she adds.
Sustainability as a secondary benefit
The new facility also provides M.J. Kellner with a number of secondary benefits, particularly on the sustainability front. "The new facility is definitely more energy efficient," Thompson reports. "For instance, the equipment that cools the freezers and equipment is also used to heat the warehouse during the winter," essentially recycling the heat that's generated from the cooling equipment. The result is that it now costs the company less to heat a larger facility than it used to for the smaller structure. Lighting, too, is automatic, which means sensors are used to turn off lights after an extended period of inactivity.
Thompson credits a lot of pre-planning along with extraordinary employee cooperation for the successful overhaul of M.J. Kellner's facility and ability to respond to a unique marketplace opportunity.
For starters, "The employees really embraced the new technology and they were very excited to be in the new facility, and that really helped make for a smoother transition."
As for the future, "there's no fear in taking on more business" says Thompson, "because we know we can handle it now. Our focus is on maintaining a very efficient operation and providing our customers with the absolute best service."
M.J. Kellner Snapshot
• Founded: in 1920 by Maurice J. Kellner
• The only locally family-owned foodservice distributor in the Springfield, Illinois area
• Service area: includes 100-mile radius from Springfield
• The company's separate Contract Division is one of the tops in the nation, and is focused on providing services to hospitals, prisons, mental health, and veteran's facilities on a contract basis in 10 different states.