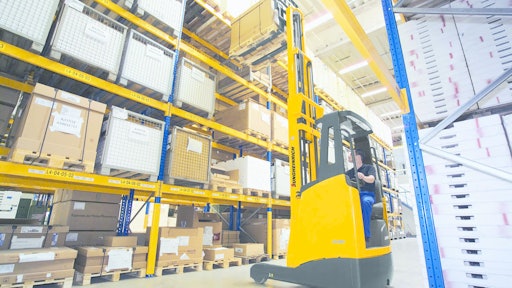 As with any type of machinery, there have been a number of improvements to the lift truck industry. Some of the most notable lift truck revolve around sustainability, electric fuel cell technology, improved ergonomics, and model updates. Keeping informed on the latest trends and technologies can help your company improve efficiency and operating costs.

Sustainability trends
Sustainability can mean numerous things in the lift truck industry. To some companies it can mean going green and lowering the carbon footprint; to others it means finding ways to save money.

Some companies, such as New Bremen, OH-based Crown Equipment Corporation, offer remanufactured lift truck parts as a viable way to save money and keep lift truck equipment up to date.

"There's a big trend toward the renewed components," says Jim Gaskell, director of global in-site products for Crown Equipment. "We'll bring those high ticket items back to the factory and take them through a remanufacturing process replacing all of the worn parts and putting updates into different units and controllers," he explains.

By taking advantage of renewed parts, companies are able to get the best of both worlds: a better price and the same warranty. Along with renewing lift truck parts, many experts believe revolutionizing the lift trucks battery is crucial in keeping up with current sustainability trends.
In addition, there are many ways to revolutionize the battery of a lift truck. One way is with Raymond Corporation's recent innovation called the iBattery module, which helps decrease downtime and overall cost. The iBattery monitors many different processors inside the battery, which includes the state-of-charge. By identifying the state-of-charge the battery is in, the iBattery can help avoid overcharging the battery, which will help to increase the runtime of the battery.

"If you maximize the battery your savings are at least 20 percent over a five year period," says Joe LaFergola, manager, business and information solutions at Raymond Corp. "You're also saving electricity because you don't have to charge the battery as frequently."
A popular option for batteries would be to switch to lithium-ion technology. "We get pretty good runtime on the trucks," says Michael Wiesenegg, product line manager for Mitsubishi Caterpillar Forklift America Inc. (MCFA), in Houston, TX. "Lithium is completely green and clean, although there's still a higher cost on them compared to conventional batteries."


Electric fuel cell technology
Another sustainability trend for fork lifts is electric fuel cell technology. Within the last few years, this technology has been gaining a lot of interest among the material handling industry. Electric fuel cell technology is a great way to lower a company's carbon footprint by not emitting any harmful contaminants when in use while offering a great source of energy. Currently, electric fuel cell technologies are manufactured by third-party companies and are an alternative to batteries. When deciding to utilize electric fuel cell technologies, there a several items a company should consider.

One important factor when deciding to utilize electric fuel cell technology is cost. Electric fuel cell technology is currently a large fleet solution because of the price.

According to Crown's fuel cell project manager, Ernst Baumgartner, "A multiple shift facility with 15 trucks or more is an ideal circumstance for considering trucks powered by fuel cells."

Although the initial cost is expensive (the U.S. Department of Energy estimates that fuel cell technology has a 1.5 times lower maintenance cost in comparison to conventional battery systems), fuel cell technology is eligible for a federal tax credit.

Another factor when deciding to use electric fuel cell technology is to make sure the lift truck is equipped for it. The performance of the fuel cell equipment should match the same performance standards as a battery.

It's expected that if electric fuel cell technology continues to garner more interest within the industry in the coming years, the technology will advance to an integrated design. According to Kenro Okamoto, Toyota Material Handling U.S.A. product support specialist, "We believe the next step in fuel cell technology would be to incorporate the components of a fuel cell within the lift truck."

Frank Devlin, manager, advanced technologies at Raymond, also sees potential for the future of electric fuel cell technology: "The fuel cell manufacturers are coming out with some new designs in the next few months that should be a little more cost effective and simpler in design."
Although sustainability trends are a popular movement among the lift truck industry, there's also continuing focus on enhancing an efficient work environment.


Better ergonomics
The latest innovations for maintaining ergonomics include wireless fleet and operator management systems. Crown Equipment's InfoLink is the company's latest wireless management system software and equipment offering. "It reports back to supervision," explains Crown's Gaskell. "It reports all of the data about the truck and what the truck is doing."

InfoLink provides the client with the history of each lift truck and operator on a user-friendly interface, which can be accessed via computer, tablet, or smartphone. InfoLink includes truck sensors, which can assist in tracking any lift truck impacts or accidents. When an impact or accident does occur, the sensor sends out an immediate notification to management and also provides a detailed history of previous impacts and accidents.

The product also helps improve sustainability by providing a thorough review of the battery, which includes features such as: how often the battery is switched out, how long it takes to charge the battery, and how long the charge cycles are. These features help to calculate energy costs and track battery usage while simultaneously decreasing downtime.
"Wireless devices on trucks are becoming more and more common," notes Raymond's LaFergola. "As far as a trend is concerned, I can see in the not too distant future where these things will actually be integrated into the truck."

Although lift truck equipment and accessories haven't had any recent landmark changes, there are some noteworthy developments that can help companies achieve higher levels of efficiency, safety, and cost effectiveness.


Model updates
There have been many types of model updates over the past few years. One worth noting is on-demand hydraulic systems. Yale Distribution of Chillicothe, IL is one manufacturing who has started to use on-demand hydraulic systems for their lift truck equipment.

"With some of our newer products, we've switched to on-demand hydraulic systems, which allows the vehicle to only operate the hydraulic pumps when they're specifically called for," says Bill Pfleger, president of Yale Materials Handling Corporation.

"In previous technologies, the hydraulic pumps operated all of the time even though there was no need or specific requirement of lifting or lowering," he continues. "This allowed us to improve our fuel savings and make the trucks more efficient."

The wheels and tires require the most frequent maintenance on lift truck equipment. There have been recent advancements with lift trucks' wheel technology, services, and traction control systems in order to lessen repairs and preserve a safe environment in the warehouse. One major way to lessen frequent repairs while preserving a safe workplace environment is to try and maintain a very clean floor.

"Typically, when the wheels fail, the most common cause is from running over some sort of debris that got embedded in the wheel, which eventually starts to destroy the wheel," says Crown's Gaskell. Along with promoting a safer environment, Crown offers an integrity wheel program to assist customers in getting the best wheel(s) possible for their lift trucks. "Our goal is to make sure the customer can maximize or optimize the life of everything—from the wheels all the way through to the whole truck."

Crown systematically analyzes various aspects of the lift truck and warehouse in order to provide the best wheels and tires to their customers. Some of these include:

• How often you will be using your lift truck?
• What causes wheel and tires malfunctions?
• What type of floor surfaces will the lift truck be using?

By analyzing these various conditions a customer will be guided toward the correct type of wheel and tire, which can range from a light duty application to a heavy duty application. Crown tailors their wheels and tires specifically to their customers' needs.

Raymond's innovation in the area of lift truck tires is called the Smoothy Tire, which is a line of polyurethane tires that are perfectly round. These tires help to reduce swaying when the lift truck's mast is raised up high. Raymond's LaFergola adds: "You're getting a great braking distance and you're also getting great riding comfort and longevity."

Traction control systems such as ASR, or anti-slip regulation, is intended to stop the loss of traction by slowing down the motor in order to take some torque away from the tires when they start losing control. "This helps you steer the truck better and it doesn't wear the tires as much," comments MCFA's Wiesenegg.
Companies in this article