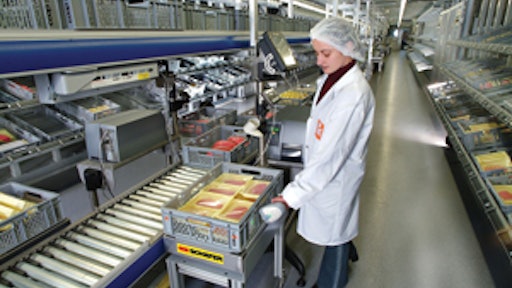 Higher production and efficiencies, lower operational and labor costs, and a smaller real-estate footprint might sound like a tall order, but this is exactly what automated storage and retrieval systems (ASRS) deliver.
Amazing technologies are the drivers of these dynamic facilities, displaying the marvels of 21st-century engineering, which offers operators reduced worker safety problems, less product damage and increased customer service levels through accurate deliveries.
The Magic Aisle
What if you were to go shopping and had to visit only one aisle where all the products you needed were waiting for you? "This is what companies are looking for in both piece and case picking, which we call product-to-person picking," says Rob Schmit, vice president of the automation and systems division of SSI Schaefer Systems International, Charlotte, NC. "They want the person consolidating an order to visit only those locations that are active for that particular order. This means you need powerful technology behind such a highly efficient system."
Crane technology drives such systems, along with pick-to-light, pick-to-voice and screen applications. "What you are doing is getting this system to do multiple things simultaneously," continues Schmit. "So you are using it for order optimization, replenishment and other optimizations, cutting out transports because of the automatic three-dimension functionality. While the crane does the walking, workers can utilize their time for higher-efficiency picking."
The main advantages of ASRS installations include maximum cube utilization, precision accuracy, greater efficiency and the capability of throughput sustainability, notes Schmit. "You can go higher with less tolerances and clearances. Significant contributors to the sale for such a system are the frozen and temperature-controlled environments because of the lower cost of real estate since the building envelope can be much smaller."
ASRS systems are often used in higher buildings, thereby decreasing overall building costs, adds Pieter Feenstra, of Swisslog Australia. "A manual storage facility is normally eight to 12 meters high, while ASRS systems can go up to 40 meters high, which means these systems are the solution in areas where square meters are expensive or scarce."
Because there are few human touch-points necessary, the chance of errors is almost non-existent. "With conventional systems, you need a lot of labor touching your products which can lead to errors," says Schmit.
Feenstra adds: "Mechanized systems are more accurate with higher stock reliability. For this reason, safety stock figures can be lower, which means storage costs will be reduced."
Automated systems run and keep running, so companies will have a constant pace of products coming in and going out, notes Schmit. "Manual operations can have many interruptions which reduce overall throughput."
ASRS installations connected to production facilities running multiple shifts can expect good paybacks, says Feenstra. "A storage system operating eight-hour days for five days won't receive decent payback on labor costs alone. But 24-hour operations can reduce labor costs significantly."
Automation's higher efficiencies benefit workers. "We're creating better ergonomic environments, which leads to higher retention rates," adds Schmit.
Perfect For Cold Environments
Customers want solutions that wrap around ASRS technologies, says Mike Khodl, director of supply chain services for Dematic, NA, Grand Rapids, MI. "What's new in the industry is coupling goods-to-man picking environments with ASRS technologies, particularly in the freezer environment."
Picking stations are located on docks outside of harsh freezer environments where temperatures are about 38 degrees. "This is much easier on workers and requires a level of automation and software to track the order composition and order execution system appropriately."
Ergonomic and temperature-acceptable picking stations are located on either the back or front end of an ASRS installation. The system examines the demand for each SKU associated with a particular order and those pallets are routed to the workstation. "The operator is presented with each donor pallet and picks the appropriate quantities to an order pallet based on either an RF, light, or voice system—or a computer screen," explains Khodl. The integrating technologies driving the cranes, conveyors and WMS make it all happen.
Joe Maas, vice president of production and operations at JTM Food Group in Harrison OH, says his Dematic ASRS installation is outstanding. "The improvements to our overall business have been remarkable in terms of production and no errors."
JTM, with $64 million in sales, services institutional and retail customers, with the bulk of business targeted at the national school lunch program. The cold storage facility, 90 feet tall, 70 feet wide by 180 feet long, holds 9,000 pallets and operates 24/seven at a temperature of minus 5 degrees Fahrenheit. The Dematic crane, a satellite system capable of carrying two pallets at a time, operates in a five-foot aisle with eight-deep racks on one side and four-deep on the other side.
Workers unload incoming trucks, putting pallets on one of two induction conveyors and inputting lot number, quantity and item numbers. Then pallets are scanned to ensure they meet system specifications regarding height, length, width, and weight and then the crane stores them away.
The ASRS diverts less-than-pallet orders to a manual picking area. Once there, it instructs workers what and how many to pick from a pallet. Workers instruct the system when the order is picked and the ASRS puts the remainder pallet away, correcting inventory on that pallet.
"This system requires only two dock workers who load and unload all my trucks," explains Maas. Before installing the ASRS, JTM was doing significantly less business, yet needed six dock workers. "My workers are much happier not having to work in the freezer and I have no turnover anymore." The integrated system uses a marquee display instructing dockworkers which customers for what particular pallets and on which truck to load them.
"Our inventory is nearly 100-percent correct all the time using this system," notes Maas, adding the manual method sometimes misplaced items so inventory was not always correct. "Our order fulfillment is nearly 100 percent, which increases customer satisfaction. We have no pallet rack damage in the freezer. Employee safety is enhanced because they are not working at extreme heights or with heavy loads."
The freezer's cubic area is well-utilized, filled almost 100 percent, Maas notes. "The doors through which the pallets go in and out of the facility are only large enough to allow a pallet to pass through. We also built ante rooms that act as temperature locks. We have few lights in the freezer so we don't introduce heat there. My refrigeration engineer was shocked at the load reduction and feels a similar-size freezer would use three times the energy."
Look, Ma, No Lift Trucks
Coca-Cola Amatil (CCA) commissioned Swisslog to plan and construct an automated bulk warehouse and distribution center, which will begin operation by mid-2008 in Northmead, Australia, on the same site as CCA's bottling plant. CCA is Coca-Cola's largest bottler in the Asia-Pacific region.
Thirteen automated stacker cranes capable of carrying two pallets at a time will serve the facility, which will house a double-deep racking system over 30 meters high, with 55,000 pallet locations and automated loading docks. Pallet conveyor systems and a monorail system will connect various areas of the facility.
Pallet conveyors will introduce pallet loads to the system and the monorail system will deliver pallets to the aisle selected by the Swisslog WMS. Pallets will be stored in pairs. Pallets from outside production facilities will be unloaded manually and put onto a conveyor and automatically stored. Loads destined to large customers or to CCA's new distribution center nearby in Eastern Creek will be loaded automatically into designated trucks. Smaller deliveries will be buffered in a large expedition area on conveyors, and then manually loaded into side-load trucks.
The system can handle about 350 pallets per hour into the facility and 500 pallets per hour out. The facility will operate 24/seven and will not require any forklifts. The facility's footprint is about 14,000 square meters. Feenstra of Swisslog notes this type of warehouse is the only possible choice to store this number of pallets on this site. CCA had great success in the automated warehouse and distribution center it built two years ago in Melbourne, leading to the choice to build two similar ones.
"CCA claims its Melbourne facility increased stock reliability and customer service levels dramatically and has saved the company millions AUD per year," says Feenstra. The company is spending a total of $250 AUD on its Auckland automated warehouse and DC, which will begin operation by year's end.
Big Ticket, Bigger Payback
Vendors and end-users alike note some drawbacks of ASRS solutions. "The initial investments are higher than they would be for a manual warehouse, but these investments should be paid back after time, depending on the business case," reports Feenstra. "Most ASRS systems have quite a fixed installed performance, which makes them more suitable for high-production operations, but with some relation between average and peak figures. For example, with peaks not more than double the average flow—or there must be alternative scenarios like extending operational hours to cover peak periods."
"The number-one drawback is you are completely out of business if your crane is not operational," adds Maas at JTM. "This means you must be on top of your maintenance and there is no middle ground with one crane. You are either loading trucks or you're not; so ongoing maintenance has to be followed religiously."
Phil Keeney, plant manager at Hershey Creamery Co., agrees. "The key to the system is good preventative maintenance, which is what we do with weekly PMs. Our disruptions are minimal because we maintain a staff for preventative maintenance."
Companies also contract with their vendors for preventative maintenance. For instance, Swisslog maintains staff onsite at CCA's Melbourne facility. To eliminate disruptions, Feenstra notes companies have backup computer systems in place, or they distribute stock over aisles so if one crane breaks down, stock can still be retrieved from another aisle.
Before making a decision, vendors suggest first getting a conceptual design study comparing manual solutions with semi-automated or automated solutions to compare investment, operating and stock-holding costs so the business case can prove itself.
Companies in this article