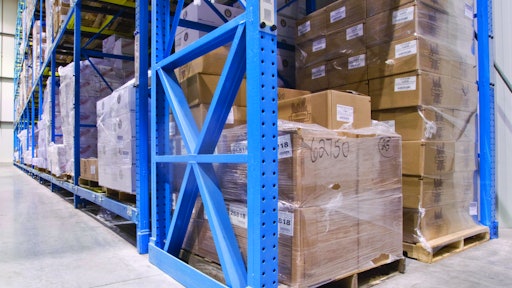 Status Report: Warehousing
Designed to give maximum protection without intruding into the aisle, this rack design uses double columns front and back with C channel construction in all lower X brace panel sections. A welded side panel floor plate completes this space efficient design, giving full length protection and hidden anchors for extra stability.
STATUS REPORT: Warehousing
RACKING UPDATE
Warehouses are no place for the faint-hearted. They are bustling hubs of high-velocity activities where truck lift accidents can cause some serious damage to products, pallets, racking systems and truck equipment. Just ask John Baran, senior design engineer for Konstant USA in Rolling Meadows, IL, who worked with the inventor of the Konstant Grocery Truss: Tony Konstant.
The Grocery Truss was developed in the mid-1980s after Konstant continually heard from people in the food industry who were concerned about the damage they were experiencing in their warehouses.
"First of all, it takes a salesman who really understands the industry and who asks a lot of questions about the kinds of damage," says Baran. "Then you need to have an engineer who is as gifted and who is as excellent a designer as Tony Konstant was to be able to develop such a product. We were very receptive to helping our customers find a solution to the problems they were having. Tony developed many, many firsts in the industry and he was truly a unique genius when it comes to racking."
The Grocery Truss is a high-impact-resistant truss whose design evolved over a number of years to help customers eliminate damage at the end of warehouse racking rows and in cross aisles, explains Baran.
"These are high-traffic areas with a lot of throughput. In many companies, workers are paid at a piecework rate, so the more workers put through, the more they get paid. So there I a lot of quick movements with lift trucks involved. And the areas of contention are always at the end of the aisle or at the cross aisles," he says. "This is particularly so in grocery warehouses, where workers are picking using double-pallet jacks that have to swing around. The thing is they usually catch an upright or a column."
So Konstant set about developing a product that would be highly resistant to that kind of abuse and that would bring some value to a racking installation, Baran says. "Using the Grocery Truss is a good alternative to having to build and install a ballard, which is costly and requires a lot of work. This also creates a situation of protrusion into the aisle. Our Grocery Truss is an option that warehouses can exercise."
Baran notes that one of the first customers to use the Grocery Truss was Supervalu Inc., where the product proved its functionality and durability in the retailer's numerous huge warehouses.
"Food distribution centers and refrigerated sites are some of the most demanding warehouse environments," notes Baran. "Our Konstant Grocery Truss is designed for the heaviest and most frequent impact that can be typical in those applications. The rack design uses double columns front and back with C-channel construction in two lower X-brace panel sections. There is a half-inch-thick base angle to provide full-depth protection and four one-inch-by-six-inch anchors to resist truck impact and add extra stability to the system."
Konstant develops customized solutions for its customers and the trusses can be anywhere from 42-inches deep to 84-inches deep, depending on the application. A truss can be built to a height of 40 feet, depending on the number of levels of storage.
The truss design is extremely sturdy, with a horizontal member at every 24 inches, providing exceptional stability. "Normally, designs on other systems might place horizontal members at 42-inch or 48-inch intervals," Baran explains. "But at Konstant, we group the horizontal members tightly together to provide strength and stability to the entire assembly."
"The main feature of the Grocery Truss is its resistance to abuse and impact," Baran says. "The other benefit to warehouses is the fact that using these trusses does not take up any additional space as would installing a ballard, for example."