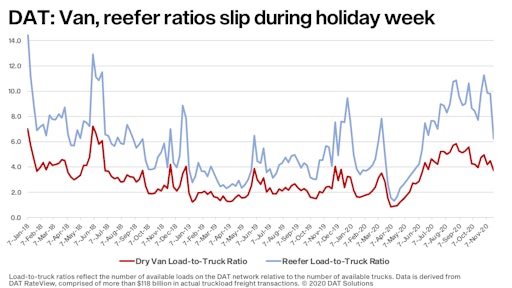 DAT
Spot truckload freight activity declined sharply last week, with carriers, brokers, and shippers taking time off for Thanksgiving. Freight that did move was priced at a premium, with rates rising on most high-traffic lanes.
The overall number of van, refrigerated, and flatbed loads posted on the DAT load board network fell 43% while truck posts dropped 27% during the week ending Nov. 29, in line with expectations for a holiday-shortened shipping schedule.
National Average Spot Rates, November
Van: $2.45 per mile, up 5 cents compared to the average in October.
Refrigerated: $2.69 per mile, up 11 cents from October, fueled by Thanksgiving food demand.
Flatbed: $2.44 per mile, up from the previous week but down 1 cent from the October average.
These are national average spot rates for the month through Nov. 29, including a fuel surcharge, based on actual freight transactions.
Trendlines
Rates hold firm: Spot van, refrigerated, and flatbed load-to-truck ratios all fell last week. Vans averaged 3.8, down from 4.5 the previous week; reefers were at 6.3, down from 9.7; and flatbeds averaged 24.9, down from 30.0.
Multi-point declines in load-to-truck ratios typically indicate lower pricing but that wasn't the case last week with more truckers using spot freight to position themselves close to home for Thanksgiving and most of the week's delivery activity scheduled no later than Wednesday, creating a sense of urgency among shippers.
Indeed, the number of loads moved was down on 95 of the DAT MembersEdge top 100 van lanes last week but the average rate was higher on 62 of those lanes. Some of the biggest increases were out of markets were rates are typically low, like Seattle and Denver.
Reefer-freight transitions: Harvest and food-processing activity is increasing in southern Arizona, the nation's "winter salad bowl." Lettuce is highly perishable, which means the challenge for growers is to pick it, pack it, and get it to consumers. The reefer lane from Yuma to Los Angeles rose 17 cents to an average of $2.04 a mile last week.
Produce volumes are up in the Lakeland, Fla., market where outbound reefer volumes increased 6% week over week. Tight capacity in Lakeland sent the average outbound rate up by 18 cents to $1.61 a mile.
Overall, the number of reefer load posts was down 48% week over week although volumes are 55% higher compared to this time last year. Truck posts decreased by 19% week over week and are at the same level as they were a year ago. The average rate was lower on only six of DAT's top 72 reefer lanes by volume.
Christmas trees are moving: Christmas tree-shipping season is short but intense, a five-week period peaking around Thanksgiving. We're seeing high demand for trucks in Oregon and North Carolina, which together account for 56% of the annual Christmas tree harvest in the United States. Oregon should average about 450 loads per day, while North Carolina will run around 360 per day.
At the moment, the demand for tree shipments coincides with produce season for apples, potatoes, and onions in the Pacific Northwest, and sweet potatoes in North Carolina. Expect demand for trucks in these states to remain elevated in the short term.
Flatbed markets cool: Volumes in DAT's 10 largest markets for spot flatbed freight dropped by a combined 39% compared to the previous week. Only four of the 135 markets DAT tracks each week reported increases in the number of available loads. Still, flatbed load post volumes are almost triple what they were at this time in 2019, and the national average spot flatbed rate is 44 cents higher.
Key flatbed lanes last week:
Houston to Fort Worth: $2.37 a mile, down 1 cent
Fort Worth to Houston: $2.40 a mile, down 2 cents
Lakeland to Miami: $2.77 a mile, down 1 cent
Atlanta to Lakeland: $2.91 a mile, unchanged week over week
Los Angeles to Phoenix: $3.34 a mile, up 4 cents