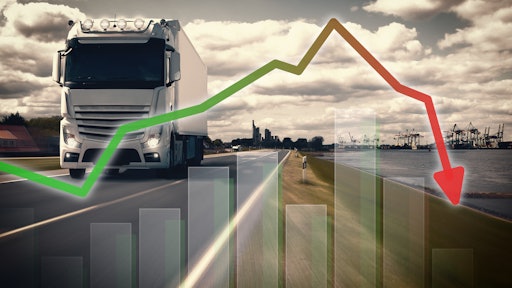 Olaf Simon AdobeStock_350588461
2023 has been a year of uncertainty, but there were not many major shifts in the trucking market. That may change as early as Q1 2024, as the supply of trucking capacity goes down and becomes more balanced with demand for goods, according to recent data from Motive.
"Transportation, retail, and logistics leaders can focus on enhancing operational efficiency by gaining visibility into major cost areas, such as fuel spend and fleet operations. This is true for every business, but especially for the freight market as it heads into another uncertain year and continues working through the complexities brought on by the COVID-19 pandemic. Plan for uncertainties by assessing cost structures and creating realistic contingency plans for your company's best, most likely, and worst-case scenarios. A key element of this is proactively identifying areas to improve efficiency. This can include leveraging cost visibility platforms and conducting software audits to eliminate wasteful spend that is not serving your customers," according to Motive.
Key takeaways:
Consumer prices have remained relatively stable, even with the overall increase in diesel prices in 2023 due to excess capacity. But that may change soon.
Carrier starts and exits continue to show a market contraction that will likely persist into 2024 until demand and capacity are more balanced.
Retail trucking visits saw significant jumps in October, closing much of the gap compared to 2022 as top retailers start to normalize their restocking efforts leading up to the holidays.
Leaders must plan for uncertainties by assessing cost structures and creating realistic contingency plans for their company's best-, mid-, and worst-case scenarios.
Diesel is one of the biggest expenses for carriers, but right now it isn't a cost carriers can pass to retailers or consumers to maintain their thinning profit margins. Excess trucking capacity compared to demand for goods means freight prices haven't been able to rise to make up the difference.
However, as carriers exit the market and trucking capacity falls to a level that's more balanced with demand, these costs will be easier to include in freight prices. That will likely mean higher prices for consumers.
Nearly 3,168 carriers left the trucking market in October, keeping pace with the average for 2023. Simultaneously, registrations for new carriers dropped 7.5% month over month, hitting their lowest levels of 2023 — and since the peak of the pandemic in June 2020.
Motive's Big Box Retail Index jumped by 7.6 points in October. Retailers that sell durable goods such as larger appliances or furniture saw an even bigger rise of 8.6 points compared to September. The Top 50 retailers are now down just 4% from 2022 levels of activity, a significant improvement from the 15% year-over-year decline seen in June.