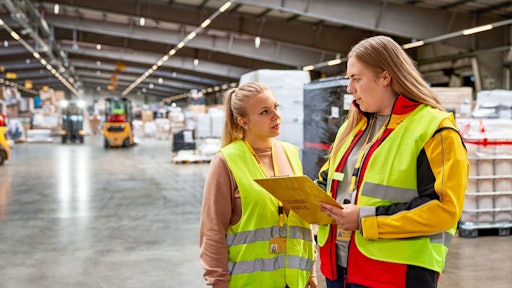 DHL Supply Chain
From enhancing visibility, building resiliency and mitigating risk to leveraging smart technologies and automated software, a digital supply chain means different things to different companies.
Yet, digitization itself presents the same benefits across the board in moving temperature-controlled foods in a safe and efficient manner.
Marina Mayer, Editor-in-Chief of Food Logistics and Supply & Demand Chain Executive, talks exclusively with Omer Rashid, VP, Ops Ex, automation, innovation, analytics for DHL Supply Chain, about how digital transformation requires new ways of thinking and focused change management.
CLICK HERE to read the article in full.
Food Logistics: What is a digital supply chain? What does it mean for you/the cold food chain?
Omer Rashid: Digital supply chain is defined by interconnected supply chain processes, enabled by digital technology to provide near real time visibility and control. Processes and devices are connected throughout the supply chain via the Internet of Things (IoT), allowing for track and trace, quality monitoring and network visibility. This means that data provided throughout the product lifecycle, including external factors, allows for anticipation of issues and quicker, more sound decision making; resulting in reduced production to shelf timing, better quality product and lean inventory. The data also allows for advanced data models and development of AI tools to assist in forecasting and resource planning.
Food Logistics: Describe some technologies and solutions defining the future of digital supply chains.
Rashid:
· Smart sensors – providing track and trace capabilities, temperature monitoring, etc.
· Robotics – collaborative robots assist in materials handling and production, using optimization and machine learning to continually improve on processes, resulting in safer, more efficient operations.
· Artificial intelligence – Availability of data from warehouse management systems, sensors and robot applications allow for building of data models that can simulate, model and predict outcomes that help in decision making. Ultimately, providing agility in supply chain design and execution.
Food Logistics: Where to start? How do companies start the journey toward a more digital supply chain? Outline some good first steps.
Rashid: Digital transformation will require new ways of thinking and require focused change management. The first thing needed is to define your digital strategy. Once you have determined what you are trying to achieve (whether that is reduced costs, improved lead times, more accurate inventories, fresher product, etc.) that will guide your approach and solutions.
The best way to start from zero is to partner with experts. There are many options for technology and understanding the fit and effort required is crucial.
Then I would suggest a practical approach. Dip your toe in to get comfortable with solutions that you know can scale, understand value propositions and develop talent that can harness the technology while continuing to execute.
Food Logistics: What sectors (i.e., agriculture, frozen foods, etc.) are more impacted/affected by digitalization than others and why?
Rashid: No one sector is more affected than the other. A digital supply chain will allow for more efficiency, higher quality through cold chain monitoring, speeding up time from farm to table, and reducing waste.
It should be noted however, that agriculture products (vegetables, berries, meats, fish, etc.) have the most to gain from IoT monitoring of storage and transport conditions. Whether it is the differentiating point of "freshness" or the reduction of "waste" lost in the supply chain through spoilage. Monitoring conditions and optimizing through digitalization has the most promise.
CLICK HERE to read the "Breaking Down the Digital Supply Chain" article in full.
Food Logistics: From food production to the retail and/or foodservice outlet, how does a digital supply chain transform the way food is moved from Point A to Point B? This could also entail fleet, warehousing etc.
Rashid: In the food supply chain timing is critical. Whether its compliance, such as: HACCP requirements, or fresh and reduction of loss or knowing the demand created as it is consumed, prevents over production. Knowing timing of deliveries allows for efficiency of processing in production or movement to the retail shelfs/displays.
o Robots assist in production
o AI enables planning to reduce waste and produce for need
o Transportation and routing is optimized in near real time, with product quality measured while in transit Fleets are optimized to ensure efficient use of resource
o Lean inventory processed by robotic fulfillment in warehouses that are closer to the consumer.
Food Logistics: Describe some other trends and challenges with regards to digital supply chains.
Rashid: Ongoing labor shortages, difficult working conditions and fluctuations in demand and supply will continue to drive need for automation and robotics.
Rising prices mean consumers making more informed decisions such as buying less but at greater frequency which in turn requires smarter inventory decisions (how much, where).
Returns and re-commerce continue to increase, creating the challenge of how to manage these flows while reducing waste and driving sustainability.
Continued move to e-commerce, especially in grocery requires new fulfillment models and distribution networks to ensure profitability.
Food Logistics: What are some things not addressed above that may be pertinent to our readers?
Rashid: Digitalization is no longer the future, it is here. Companies should embrace digital technologies, otherwise, they run the risk being left behind.
Cold chain warehouse infrastructure is aging. New infrastructure (warehousing) is expensive and coming online very slowly. As products are developed with cold chain requirements, business solutions are far and few in between with reasonable time frames.
CLICK HERE to read the article in full.