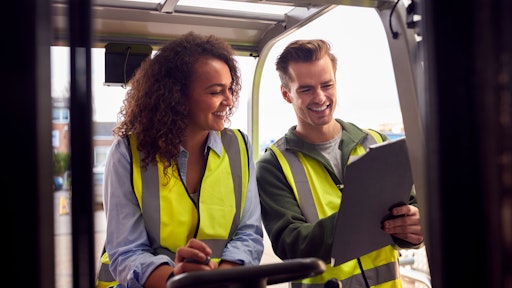 Monkey Business AdobeStock_494483310
The Next Generation in Trucking (NGT) Foundation announced plans to launch a first-of-its-kind NGT Curriculum Companion to support high school commercial driver's license (CDL) programs nationwide.
"Imagine how different our industry would look and feel if trucking was a first career choice for more people. Ten years from now, we'll look back at this point back as this defining moment in the trucking industry when high schools took a proactive approach and provided the highest level of training for our students," says Dave Dein, co-founder of the Next Generation Trucking Foundation and teacher at the flagship high school CDL program in Patterson, Calif.
Key takeaways:
The Curriculum Companion is free to NGT members and sponsored schools.

It provides five parts of online modules aligned with ELDT standards, along with easy-to-use classroom activities, videos, handouts, and assessments for educators. The Curriculum Companion supports high school teachers in facilitating a year-long CDL course and prepares high school students to successfully complete the CLP exam after they turn 18.

Developed with Education Development Center (EDC) and funded through a grant from Knorr-Bremse Global Care North America and the PepsiCo Foundation

, the new online resource is designed to be used in conjunction with online ELDT courses for adult learners, while adapting materials for high school students and providing supportive hands-on activities.

The course materials equip students to have long, healthy careers with the incorporation of SafeWork Training: Powered with Worklete (injury prevention) and The Supply Chain Fitness Company (health and nutrition) and supporting healthy driving practices for the next generation of truck drivers.

The course includes lab hours with driver simulation training and golf cart backing skills. It also features field trips, guest speakers, and industry engagement opportunities.