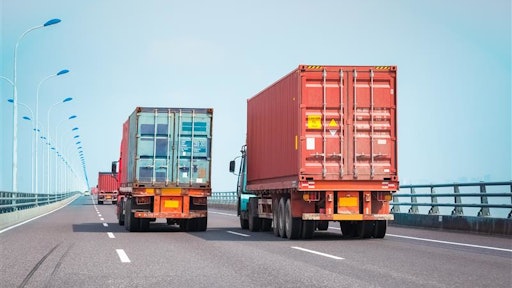 chungking - stock.adobe.com
Several economic indicators are pointing toward significant disinflation, especially in the goods sector, as outlined in a recent Uber Freight study. At the same time though, consumer spending on goods remains healthy, indicating that a soft landing is more likely than not. However, the wholesale and manufacturing sectors are still repressed by excess inventories.
The less-than-truckload sector is currently experiencing severe disruptions, but these are happening at a time when the market is extremely loose.
Other key takeaways:
Truckload demand rose by 0.8% in May following a 0.4% increase in April. However, demand was still down 3% from a year ago. On the other hand, truckload supply grew by 0.4% as long-distance truckload employment increased and truck sales maintained momentum. Aggregate supply was 3% higher than where it was in May 2022.

Spot rates increased in May and June. This year, rates only increased by 6 cents per mile, less than 3% from May's average.

Diesel prices fell by about 11 cents per gallon in June, and were almost 34% lower year-over-year. However, prices surged in the past few weeks, surpassing $4.1 per gallon for the first time since April.

Forward-looking indicators were mixed. The personal savings rate fell in June, and was still below its pre-pandemic levels. Manufacturers' new orders of core capital goods remained flat (adjusted for inflation), but were down year-over-year. Containerized imports remained flat in June, but on a seasonally adjusted basis, rose by 1.8% and were slightly above their pre-pandemic levels.

Trucking authority revocations fell sharply in June, but still outpaced new authorities, indicating the seventh net reduction in the carrier population in the last 8 months.

Mexico became the top ranked U.S. trading partner in January through May

.