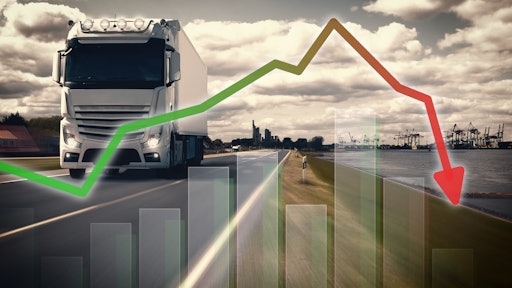 Olaf Simon AdobeStock_350588461
July brought another month of contraction in the number of authorized carriers, and a larger portion of them were fleets of 5 vehicles or more (from 12-17%), according to new data from Motive.
In fact, early in the freight recession, smaller carriers got hit hardest by changing retail diesel and freight spot market prices, but as conditions continue, the larger fleets are feeling the effects more significantly.
Oher things to note:
Trucking jobs have decreased in consecutive months (June and July) for the first time since early in the pandemic, but there are also fewer opportunities for displaced drivers.
Trucking visits to warehouses for the Top 50 retailers in the United States dropped in the last two weeks of July, showing a year-over-year decline of 15%.
According to recent data from the St. Louis Federal Reserve, the downturn in e-commerce retail sales growth has actually brought it back in line with pre-pandemic 10-year averages.
July data showed continued declines in U.S. carriers, but with a key difference; fleets of 5 vehicles or less that are exiting fell by 5%, meaning more exits were mid-sized to larger fleets than in 2023.
Data reveals the current rate of contraction to continue, and more truck drivers could be unemployed as a result.
Retail demand trended back downward post-July 4th, showing a 15% year-over-year decline.
The freight recession may be a "detox" from the pandemic's artificial demand highs, as e-commerce growth is now back in line with pre-pandemic 10-year averages.