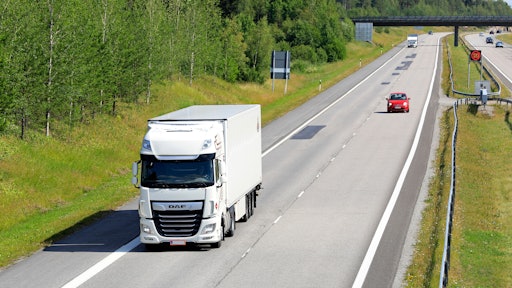 Taina Sohlman AdobeStock_331508680_Editorial_Use_Only
Consumer lifestyles changed dramatically during the pandemic, yet even with less travel and less eating out, the trend of more beverages being consumed between Memorial Day and Labor Day continued like before.
One thing markedly different from the pandemic years though is the demand for drop-trailer shipping, including for temperature-controlled products. While shipping volumes for beverage season are up 3%, demand for drop trailer is up 32%.
Four factors are driving that trend.
1. A return to pre-pandemic norms
Global supply chain disruptions during the pandemic meant that food and beverage makers made a lot of compromises in the name of expediency. Sometimes they had to grab production-line time wherever they could get it, even if the site was outside of their normal distribution network. With raw material shortages, labor shortages and load-to-truck ratios at record highs, they shipped whatever they could whenever they could. And they pivoted to more live loading to get product off the docks faster and service their customers faster.
Now that supply chains are functioning more normally, food and beverage makers are trying to restore efficiencies in their operations by getting back to their optimal ratio of drop trailer to live load.
2. Expanded SKUs
Instead of still water that can be enhanced with a flavor packet added later, there's a trend toward offering it to the consumer premade in many flavors. The popularity of malt beverages and wine in cans has extended into new varieties of mixed drinks in a can. Energy drink companies are experimenting with new ingredients like alcohol and cannabis. And as always, beverage makers continue to test size, calorie and sweetener options.
That means they're running many different production lines at once and can reach a point where they've literally run out of floor space for everything when it comes off the line. Drop trailers provide a temporary storage solution until the product is ready to move.
3. Saving on labor costs
In C.H. Robinson's latest customer research study, 87% of shippers said that finding ways to take costs out of their supply chain is critical to success this year. Food and beverage makers are no exception. When grocery bills are higher and consumers are more price-sensitive, shrinkage and price increases have their limits. At the same time, labor costs are rising and low unemployment makes it hard to fill many jobs.
That's where drop trailer plays a role in cost savings. With greater flexibility in loading outbound product, a shipper can optimize their warehouse labor and potentially even run fewer shifts.
4. Preparing for a change in the market
Shippers are eager to secure enough transportation capacity before the trucking market inevitably tightens again. That's another theme that emerged in our latest research study, with customers identifying it as the second-biggest risk their supply chains are facing.
Though trucking capacity has been plentiful for the past year – oversupplied, in fact – the market is beginning to shift toward more of a balance between supply and demand.
When loads available to haul decrease and trucking rates do too, independent owner-operators start getting out of the business and the larger fleets start scaling back their hiring. Eventually that tips the balance, capacity gets tight again and rates go up again.
Savvy shippers know that now is the time to build greater resiliency into their supply chains and solidify their carrier relationships. Drop trailer is highly attractive to carriers of all sizes, because it solidifies relationships for them too. Whether the market is tight or loose, they don't have to chase spot freight when they have committed freight.
If you're thinking about expanding your use of drop trailer, talk to a logistics provider with a nationwide carrier network that can flex with your needs.