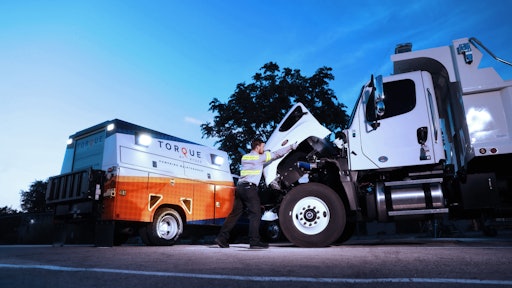 Ryder System, Inc.
Ryder System, Inc. launched Torque by Ryder, a new service offering retail mobile maintenance at a business' location with no long-term contract.
"Combining the convenience of mobile maintenance with the simplicity of a transactional model allows us to deliver a superior service to retail maintenance buyers," says Jordan Wagner, VP and general manager at Torque by Ryder. "Torque by Ryder is the future of uptime for commercial fleets that do not want to commit to a long-term maintenance contract, while still receiving a service that is backed by Ryder."
From BusinessWire:
All services offered through Torque by Ryder are easily accessible and transacted via desktop or a mobile device to schedule, receive, track, and pay for maintenance solutions.

Torque by Ryder provides a portfolio of maintenance solutions with its fleet of fully equipped mobile maintenance trucks and professionally trained technicians. The retail mobile maintenance solutions include preventive maintenance services to trucks, trailers, and liftgate applications, as well as maintenance for tires, lighting, brakes, A/C, exhaust, suspension, door, camera, electronic logging device, and collision avoidance systems.

Torque by Ryder, a first-of-its-kind retail maintenance solution, operates separately from Ryder's existing fleet maintenance locations and with a separate vehicle technician workforce, allowing for a transactional experience. In addition, Torque by Ryder is positioned to provide off-hours maintenance, minor repairs, and Federal DOT inspection services for fleets and trailers.
"Driven by the growing demand for agile technology-based solutions, Torque by Ryder was created to provide fleet managers with a new and more convenient way to procure retail maintenance that maximizes fleet uptime," says Rob Pluta, VP and chief technology product officer for Ryder's Fleet Management Solutions business unit. "In addition, self-service capabilities are at the forefront with Torque by Ryder, enabling a seamless retail maintenance interaction between customers and industry-leading Torque by Ryder technicians."