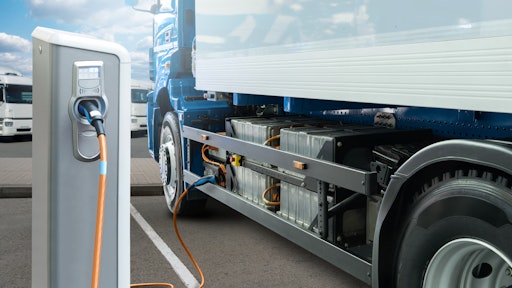 scharfsinn86 AdobeStock_460441554
U.S. trucking companies are buying more new, low-emission diesel technology than ever before. In fact, research from the Diesel Technology Forum (DTF) shows the number of new near-zero emission diesel trucks on the road increased 10.2% between 2021 and 2022.
"Nearly 7 million new technology diesel trucks are on the roads, delivering our goods and services with near-zero emissions," says Allen Schaeffer, executive director of DTF. "Nationwide, for every electric commercial truck on the road, there are nearly 1,100 powered by internal combustion engines."
"According to this most recent analysis, internal combustion engines (diesel, gasoline, natural gas, and propane) power about 99.91% of the nation's trucking fleet. As the trucking industry explores new fuels, including all electric and fuel cell technology, it is clear that diesel and other internal combustion engines are going to continue to play a dominant role for years to come," he says.
From GlobeNewswire:
Near-zero emission trucks are advanced diesel technology manufactured in the 2010 and later model years.
For the largest commercial trucks (Class 8) in operation that are 2010 or later model years, 95.4% are advanced diesel technology; 2.1% are CNG, 0.3% are electric, and the remainder are gasoline or other fuels.
For the entire (Class 3-8) commercial truck population of over 15 million vehicles, 75.6% are powered by diesel, gasoline (22.9%), compressed natural gas (0.46%), other (ethanol, fuel cell, LNG, propane, 0.85%) and electric (0.09%).
Illinois is the state with the fastest-growing registration of new advanced diesel technology Class 8 commercial trucks, up 4.6% as of December 2022 as compared to 2021.
Near-zero emissions diesel technology comprises 57% of all commercial diesel trucks (Class 3-8) on the roads today. These trucks are equipped with particulate filters and selective catalytic reduction systems (SCR) that achieve near-zero levels of emissions. That's a 10.2% increase in one year (2022 vs. 2021).
65.7% of all commercial diesel trucks (Class 3-8) on the road are 2007 and newer and are equipped with particulate filters so they achieve near-zero emissions for particulates.
Indiana ranks first of the states for the highest percentage of registrations of 2010 and later model year near-zero emission diesel trucks (73.2%). Next in the rankings is Utah (66.2%), Pennsylvania (66.0%), the District of Columbia (65.4%), Texas (63.6%), Oklahoma (62.6%), Florida (62.3%), Illinois (60.6%), Louisiana (59.2%), and Wisconsin (59.1%). California lags the national average, taking the 35th spot (51.6%).
There are 125 times more new generation advanced diesel trucks on the road in California than electric trucks.
"Decarbonizing the economy will take time and require many different types of solutions for different sectors. There isn't a one-size or one-fuel fits all answer. In the meantime, accelerating the turnover of the existing fleet, continued improvement of internal combustion engines and utilizing low-carbon renewable fuels is just as important as a zero emission vehicle approach to help achieve meaningful progress toward climate goals," says Schaeffer.