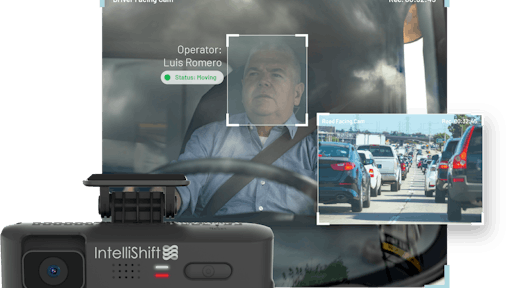 IntelliShift
IntelliShift announced the AI Dash Cam 400, which includes optimized hardware with rapid install technology using plug-and-play connections that enable fleets to keep their vehicles on the road to yield an even faster time to value. This all-in-one solution offers tight integration of video, artificial intelligence (AI), advanced telematics and engine diagnostics to provide real-time access to unified data that unlocks efficiency, visibility and safety.
"When developing the AI Dash Cam 400, we went beyond creating a product that offers a faster installation and an intelligently designed form factor. Our development was rooted in ensuring we could deliver tangible ROI through every possible avenue by solving many of the problems that the first-generation AI video solutions left out," says Ryan Wilkinson, chief technology officer at IntelliShift. "Additionally, we evolved our approach to supply chain to get product into users' hands quickly and at scale."
From IntelliShift:
IntelliShift

prevents siloed analytics and reporting, which often results in mixed signals about the next step to take to improve fleet business processes.

IntelliShift's

single-source data, built on a common architecture, is always in-sync across video and telematics, ensuring accuracy and fairness in post-accident fault determination to exonerate innocent drivers and reduce settlement costs.

The

AI Dash Cam 400 captures video of the road and driver simultaneously,

providing proactive in-cab driver coaching to prevent dangerous behaviors.