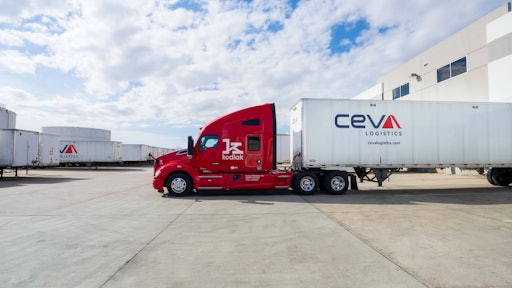 CEVA Logistics
CEVA Logistics teamed up with Kodiak Robotics, Inc. to deliver freight autonomously between Dallas Fort-Worth and Austin; and Dallas-Fort Worth and Oklahoma City. Through this partnership, Kodiak and CEVA are what is said to be the first-ever companies to deliver freight autonomously in the state of Oklahoma.
"CEVA is committed to working alongside leading automation and robotics suppliers – like Kodiak with its proven autonomy technologies – to unlock value for our customers' supply chain operations," says Shawn Stewart, president and managing director, North America, CEVA Logistics. "At CEVA, we define innovation as the implementation of new ideas with business impact, and our partnership with Kodiak will deliver more business value to our customers, especially in light of the current supply chain crisis and the ongoing driver shortage."
From CEVA Logistics:
CEVA delivered its first load with Kodiak in November 2021 and is moving goods weekly on the 200-mile freight lane between Dallas-Fort Worth and Austin, Texas.
The route runs 200 miles between a CEVA facility in Dallas and the delivery point in Oklahoma City. On both routes, a Kodiak autonomous tractor pulls a CEVA trailer filled with consumer products.

Kodiak is also developing the Kodiak Driver, self-driving technology designed to make trucking safer and more efficient.
"CEVA is at the forefront of global logistics innovation and has recognized early on that the trucking industry will see the first widespread adoption of self-driving technology," says Don Burnette, founder and CEO, Kodiak. "Kodiak and CEVA are focused on serving Dallas-Fort Worth, Austin, and Oklahoma City, because they cover some of the richest freight corridors in the U.S. As Americans grapple with pandemic-related supply-chain issues and the long-term truck driver shortage, CEVA is leading the industry in adopting new technology that will benefit its customers."