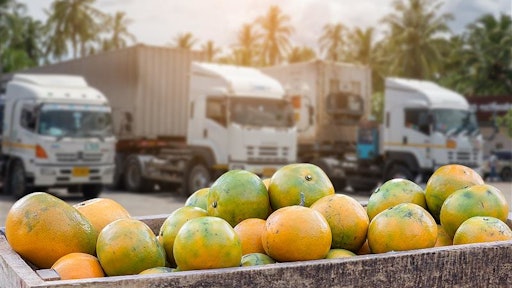 kamonrat/stock.adobe.com.jpg
Logistics is now an imperative part of retail and brand strategy, as supply chain disruptions continue to arise at the same time consumer demand pushes for faster and faster delivery times. The last mile is an exceptionally important part of this conversation, but ground transportation as a whole is something companies now take great consideration on.
There are different methods of tackling ground transportation. We hear the term third-party logistics (3PL) quite a bit while the name "trucking companies" often dominates headlines. But, what is the true difference between the two and when should a company go with a 3PL vs. a trucking company?
For starters, the main difference lies with who holds the assets. 3PLs can manage the entire shipping process from warehousing to last-mile delivery, but these companies rarely hold ownership over assets such as the fleet of trucks themselves.
"A 3PL typically is managing transportation on the shipper's behalf, and doing so for several shippers, providing access to a deeper pool of capacity than the shipper could access on their own in most cases, and spreading out the cost of service among several clients," says Greg Orr, president, CFI Temp-Control. "Shippers who outsource to a 3PL for cold chain transportation do it to gain management resources and expertise – this is the 3PLs core competency – and to leverage multiple sources of capacity and rates. A 3PL also typically is 'asset light' or non-asset based, essentially 'renting' trucking capacity from those who own and operate trucks. As well, the shipper may engage with a 3PL for a wider variety of supply chain services, not just transportation.
"A trucking company, on the other hand, typically is 'asset heavy,' owning and operating a fleet of assets – drivers, trucks, trailers and terminals. That's their core business, providing the equipment, capacity and management services to execute cold chain transport from Point A to B. Providing reliable capacity and running those assets in the most optimized manner is the trucker's core competency," says Orr.
Technically, a 3PL is not a legally defined entity but in actuality a broad-based term meaning outsourced logistics services, according to Ron Leibman, McCarter & English, LLP. Today, 3PLs become a more common part of the supply chain industry as companies push their logistics processes further and further while attempting to keep operation costs low.
Trucking companies, on the other hand, provide transportation via the road only using leased or owned vehicles with employees or owner-operators. There are significant compliance aspects to pay attention to as a freight forwarder.
Which do I choose?
So as a shipper, which form of logistics process should you choose? Well, the answer to this question, like so much in the supply chain, is that it depends.
For shippers that want to control most of their logistics processes in-house, which many major food outlets have chosen to do recently, contracting a trucking company to handle only the ground transportation and take responsibility for the goods during physical transitions is key.
But motor carriers are limited to their capacity and the size of their fleet, while 3PLs can partner with numerous carriers and companies in addition to their own in-house staffing.
One important notion is the cost of in-house vs. a third-party. For instance, the cold chain market continues to exponentially grow, but owning, operating and maintaining reefer transportation units and equipment can be expensive. In this case, some shippers may choose to go with a 3PL that specializes in the cold chain to help keep healthy bottom lines.
However, this does not mean that trucking companies lack the ability to ship cold products. Motor carriers are often equipped with reefer trucks or vans and can do a quality job in the transportation of temperature-sensitive products.
The conversation surrounding perishable goods transportation will continue as the cold chain market increases, during and after the Coronavirus (COVID-19) pandemic. According to a report from ResearchAndMarkets.com, the North American cold chain market reached a value of $59.1 billion in 2020 and is expected to grow at a CAGR of around 8% from 2021-2026. The report explains that as more North American consumers become conscious about wellness, the greater the increase in demand for fresh produce and temperature sensitive products.
When it comes to deciding between a trucking company and 3PL, other things to take in consideration would be the availability of resources and technologies. Choosing a 3PL may allow shippers access to greater resources without having to spend budgets on bringing these technologies in-house. This is especially important now as the supply chain continues to experience major constraints, says Tory Bass, VP, temperature-controlled solutions, Nolan Transportation Group.
However, from legal and communication perspectives, shippers have more control and closer access to who is actually transporting their goods when using a motor carrier.
"In today's market, where there are capacity shortages, one issue is availability," says Leibman. "Some shippers look to brokers as they generally have access to a wide range of small truckers that a shipper might not necessarily be able to access or approve under their compliance guidelines. Other shippers like the convenience of not having to find and manage a carrier base. On the other hand, direct use of truckers by shippers implicates Title 49 regulations and protections, allows for better and direct knowledge into the quality of the trucker and its operations and personnel, provides for direct communication and avoids the insurance gaps that occur with broker use.
"In either case, shippers heavily weigh service provider tracking, tracing, visibility and data management capabilities. In the cold chain, this would include in-transit, real-time temperature availability. The general rule, certainly for larger shippers, is that a broker is not a substitute for a motor carrier, but an additive source of capacity. It really is not one size fits all, and both have their place," adds Leibman.
Trends in trucking and 3PLs
One interesting trend that will affect 3PLs is major food companies taking back their logistics processes in house for greater quality control. For instance, in 2019, Chick-fil-A made waves when it brought its distribution in house with full-service permanent facilities. If this becomes a growing theme, it will affect the 3PLs as this directly competes with their business.
But, as disruptions and greater demand continue to push the supply chain, logistics strategies will continue to change. Shippers are likely to use both 3PLs and trucking companies to find anyway possible to get their products to the end destination as the supply chain crisis upends things.
It is also likely there will be continued mergers and acquisitions, as shippers will invest in 3PLs especially if they own portfolio companies that have large transportation spends, says Bass.
Additionally, cutting-edge forms of technology will push forward both now and in the future.
"Regarding current trends, we forecast continued technological developments in fields such as load tendering and tracking visibility," Bass adds. "In addition, bots are bidding – and will continue to bid - on freight.
"Regarding future trends, autonomous vehicles will become more commonplace in the trucking industry as will the use of drone delivery," adds Bass.
These failures push the industry to innovate and collaborate to alleviate the gaps that both the industry and consumers are now unfortunately extremely familiar with.
"I believe every aspect of the supply chain is being scrutinized due to the failures that have plagued the world during the pandemic," says Mike Edwards, VP of sales at Sleek Technologies. "Companies will need to evaluate and alter their programs and processes drawing from new technological advancements in robotic automation and agile carrier procurement to safety stock levels and shipment methods. The world moves too fast to think long-term; short-term incremental success driven by mid-term goals is better than having to throw away a long-term plan because something happens like a pandemic."
The driver shortage will remain one of the top disruptions in the supply chain, especially as more legacy drivers reach retirement age, younger workers lack interest in the field and regulations continue to change, adds Orr.
"Continued advances in truck technology, particularly engines, drive trains and trailer refrigeration systems and advanced driver-assist systems," Orr says. "These have clear safety and environmental benefits, but significantly increase the cost of new equipment. Poorly maintained and under-invested highway infrastructure and increased congestion, all of which make the job harder and increase driver stress. Inadequate overnight parking for drivers.
"Nevertheless, for many, the future of trucking and logistics is exciting. With capacity tight and rates climbing, fleets are finally seeing consistent, strong profitability," says Orr.
The future for both trucking companies and 3PLs will see continued growth in the cold chain as well as technology advancements to help move the industry forward. The technology growth is likely to help with shifting disruptions like the aforementioned driver shortage. Whether you opt for a 3PL, a trucker or both, the choice is yours.