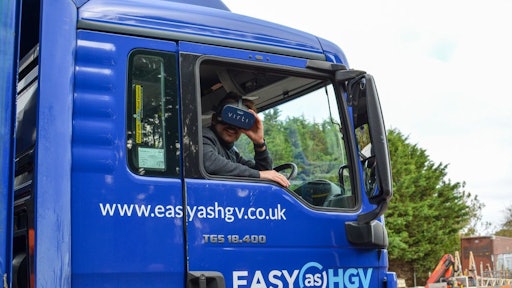 Virti
Easy As HGV partnered with Virti to develop a new heavy goods driver (HGV) driver training program using fully immersive virtual reality (VR) simulations and 360-degree video content.
"It's no secret that the HGV sector is in crisis. We desperately need to train up more drivers and fast. We're being inundated with enquiries and people are incredibly keen to learn. It's therefore crucial that we can innovate to allow more people to come through the system, but that we use tools that uphold our commitment to safety and quality," says Tom McGhie, managing director at Easy As HGV.
"This VR training is going to be invaluable as it will enable candidates to revise and practice the skills they learn in our training course before they take their test. It's far more effective than having them read a textbook or watch a standard, non-interactive video. The tech has been designed to test and challenge our candidates, so that they're better prepared for the test, and research indicates that they'll retain this crucial safety information much more effectively as a result," adds McGhie.
From Virti:
Easy As HGV works with over 90 driver training centers across the UK and train up to 500 drivers per month.
The VR simulations have been designed to make it easier for candidates to learn and practice some of the core skills required to acquire their HGV license.
The VR training simulations allow trainees to follow an instructor through the walkaround pre-drive safety checks, the process for coupling and uncoupling the cab and load and how to carry out reversing maneuvers. The simulations can be accessed from anywhere using VR/AR headsets or on desktop or mobile devices.
The new simulations have been created to train candidates for the Category C+E test, which is the license required to operate lorries that weigh over 3,500 kg and a trailer that weighs over 750 kg.
"For a long time, people tended to associate VR with gaming. But, it's in teaching and training scenarios that the technology really comes into its own. At Virti, we specialize in helping companies build data-driven, immersive deep learning tools to transform how people learn and help them remember skills and information for longer. We're really excited to be working with Easy As HGV to help them respond quickly and effectively to the HGV driver shortage," says Dr. Alex Young, CEO and founder of Virti. "We've built a set of simulations to speed up and improve the training process and qualify candidates more quickly using virtual reality. There's no better way to embed learning and build confidence than to give people repeated opportunities to immerse themselves in the training scenario. Candidates will be able to access the new training tools using VR headsets or their mobile device, meaning they can easily access training sessions remotely and on the go.