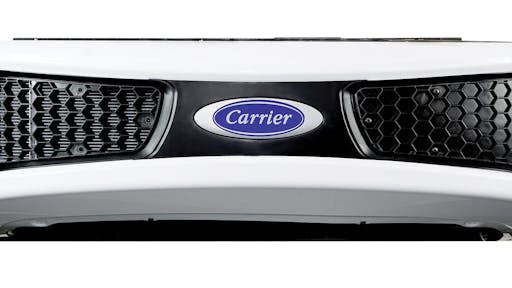 Carrier Transicold
Carrier Transicold unveiled its revolutionary new zero-emission electric truck refrigeration technology today. The Supra zero-emission, engineless technology can be applied to battery electric vehicles (BEVs) or run autonomously with conventional engine-driven trucks, making it ideal for businesses in California that must introduce zero-emissions truck refrigeration units into their fleets by the end of 2023.
"Carrier Transicold has a solid record of developing industry-leading sustainable refrigeration technologies for the safe transport of perishable and frozen goods, and our new electric Supra concept builds on this legacy with its quiet emissions-free design," says Scott Parker, product manager, truck products, Carrier Transicold. "The Supra zero-emission design completely removes the diesel engine from the equation. It takes advantage of many of the system design, performance and efficiency enhancements that we recently introduced with our diesel-powered Supra series platform. As we upgraded our Supra line, we had an eye on the future, anticipating that the road ahead would require more sustainable, zero-emission technologies."
From Carrier Transicold:
The electric Supra unit uses E-Drive technology, a uniquely all-electric refrigeration architecture that couples efficient performance with reduced maintenance requirements.

The electric Supra unit requires a direct-current power supply.