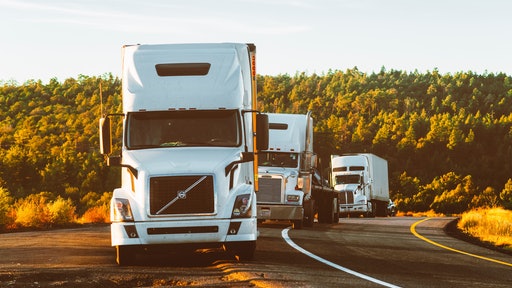 Pexels
On average, if food manufacturers have experience in logistics management, they will incur freight-related costs at 5% of the expenses of goods sold, or near 3% of sales. This percentage takes a hit when there are fluctuations in the market due to supply and demand shifts, yo-yoing fuel prices, labor market changes and myriad other variables.
Rate volatility adds a significant layer of complexity to the process of predicting and managing freight costs. Business intelligence and efficient communication across vendors and internal departments can help anticipate these changes and facilitate adjustments to reduce margin erosion.
The pandemic factor
By the end of March 2020, the Top 500 U.S. companies experienced a reduced valuation of a combined $3 trillion. Nearly 10 million people who had jobs at the start of the year lost them by the end of March 2020. The loss of millions of "frontline" workers caused an extraordinary disruption in all components of the supply chain, from farmers to value-added manufacturers to people trying to access packages or access material for those packages.
At its core, the food industry relies most heavily on human labor to move food from harvest. The strength of the sector itself is dependent on the power of its workers. Companies began reducing inventories throughout the entire supply chain, reducing pay and reducing structures and spending. So, as opposed to building resiliency and investing in those mechanisms that could create value, companies were pushing for reductions in costs.
The industry experienced considerable disruptions in terms of food and food delivery, specifically because consumer behavior changed. People were buying food through online sources at exceptional rates.
That drove a pause in service at restaurants. Food trucks were parked and locked. Sports stadiums, entertainment venues and crowd-reliant locations all suspended food service. Every conceivable way that consumers were leaving their homes and accessing food in January 2020 all stopped. That put immense pressure on food suppliers, farmers and the entire supply chain to increase the number of goods sold through the retail channel, primarily in grocery stores.
There are many lessons from the pandemic. For shippers in the food and beverage industry (and every other industry really), it became clear how vital business intelligence is to making better and faster business decisions. Proactive companies gain an edge if they can quickly pivot to protect profit margins with network changes, even despite freight volatility. By engaging with an experienced third-party logistics (3PL) provider, business optimization specialists can give the insight needed to manage transportation costs, while your employees focus on their core competencies.
Hone your data to reduce variables
Business intelligence tools help you understand any gaps in your current freight management strategy. You can drive efficiencies with both hard and soft costs across truckload, less-than-truckload and parcel transportation.
A good transportation management partner will suspend judgment and come to you with an open mind. After reviewing processes, your logistics provider should laser focus on optimization in all areas of your business, including transportation networks and any administrative functions related to your supply chain. Start with questions, not answers:
· How will you define partnership success?
· Are you trying to enhance your brand?
· Do you want to gain better control of inventory?
· Are you offering fast or free delivery?
· Are you trying to improve the customer experience?
Maybe the answer is "all of the above." A 3PL provider should have the resources and best relationships needed to help you meet your unique business goals.
The main driver in optimizing processes is reducing the variables you do not understand to limit margin erosion. Standardize processes to minimize potential variation in all areas. It may sound counterintuitive, but you need to know what you know. Your data is indeed a goldmine, but you have to mine it.
With business intelligence, you want to measure what matters. By collecting and analyzing real-time data from order fulfillment technologies, you facilitate better decisions about responding to changing customer requirements. Today, that means addressing consumers' spike in demand for solutions that keep them out of grocery store aisles in favor of curbside pickups and at-home deliveries.
The best business intelligence tools are scalable and provide a complete view of your logistics network, as well as the ability to adjust it. These tools should track business trends, help you understand cost/service profit impacts and identify performance issues – all the facts you need to make optimal business decisions.
Employ a transportation management system
Freight management technology helps shippers protect their margins by helping:
· Secure the most market-competitive rates to move unique shipments.
· Aggregate rates across all service providers.
· Upload rates to improve visibility and offer flexibility.
Multi-modal options are essential during fluctuations in capacity and network disruptions.
A transportation management system (TMS) plugs into the warehouse control systems, which plugs into the ordering systems, which plug into how you go to market and deliver goods to consumers. It is all in one place, with everything "talking" to itself.
While a TMS certainly is not a "cure-all," it is a crucial arrow to add to your quiver. By collecting data from a TMS application and coupling it with data elements harvested from freight invoicing, you develop a much deeper understanding of trends and their effect on transportation costs. This knowledge is critical to decisions that reduce the profit risk caused by freight volatility.
Understand and predict ROI
When can you expect to see a return on investment once you engage a 3PL provider? It depends.
Some return is almost instant. For instance, some logistics advisers give customers access to a private bid board. That can drive rates down on Day 1. Realizing and measuring more significant savings across the whole network is a process, and it takes time. You can usually start to see a clear impact on your bottom line in half a year.
Over time, the right food company will experience an 8% decrease in costs with the help of transportation management experts and a 3PL provider partnership, regardless of standard rate volatility.