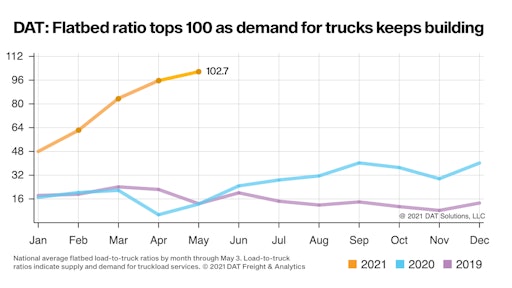 DAT
Spot truckload rates are nearing an all-time high in the week ending May 3, just one year after the economy bottomed out because of the Coronavirus disease (COVID-19) pandemic.
According to DAT, the seven-day average line-haul rate for dry vans was $2.27 - $.95 higher than the same period in 2020. Meanwhile, spot refrigerated freight was up $.94 compared to last year at $2.61 a mile.
There is an expected boom to occur this coming week as the country celebrates Mother's Day. According to DAT, the last two weeks saw nearly 70 truckloads per day leaving Miami, where 80% of all flora volume is handed, by three carriers. Outbound reefer volume from Miami last week increased 31%, averaging out at $3.70 a mile to New York City. Miami to Chicago average $2.74 per mile, Miami to Atlanta averaged $2.77 per mile and Miami to Los Angeles averaged $1.86 per mile.
With a fuel surcharge, the national average spot van rate was $2.68 a mile during the first three days of May. The reefer rate was $3.10 per mile and the flatbed rate $3.02.
Flatbed load post volume on the DAT network increased 3% week over week while the number of available trucks fell 7%.
In the 10 largest flatbed markets, the rate increased by 18 cents per mile on average compared to the previous week despite a 7% decline in available loads.
After falling for the previous three weeks, the national average reefer load-to-truck ratio increased to 10.7 loads per truck.