aicandy AdobeStock_568961906
In April, the California Air Resources Board (CARB) approved the Advanced Clean Fleets rule, a first-of-its-kind ruling that requires a phased-in transition toward zero-emission medium-and-heavy duty vehicles by 2045.
What this means is, fleet owners operating vehicles for private services such as last-mile delivery and federal fleets will begin their transition toward zero-emission vehicles starting in 2024. Other fleet owners will have the option to transition a percentage of their vehicles to meet expected zero-emission milestones. For example, last-mile delivery and yard trucks must transition by 2035, work trucks and day cab tractors must be zero-emission by 2039, and sleeper cab tractors and specialty vehicles must be zero-emission by 2042, according to CARB.
As a result, fleet owners are projected to save an estimated $48 billion in their total operating costs from the transition through 2050.
But what does this mean for the cold food chain? How does this ruling impact how temperature-controlled foods and beverages move across state lines?
For starters, while much of the focus is on power units, companies in the cold chain should know that CARB also updated its standards for transport refrigeration units (TRUs).
"CARB's Airborne Toxic Control Measure now requires lower-GWP refrigerants on truck and trailer units, and the zero-emission truck TRU rule requires fleets operating in California to phase out at least 15% of their diesel-powered truck TRUs annually over seven years until none operate in California on or after Dec. 31, 2029," says Bill Maddox, senior manager, product management, Carrier Transicold. "These new provisions affect fleets based in California or doing business in California. They also provide a standard for fleets that want the flexibility to operate in California in the future or have their own rigorous sustainability goals."
Something also to consider is how to collect, measure and analyze the data from fleets converting to zero emissions.
"The future of sustainable fleets in the supply chain must start with data. When setting sustainability targets, data should pave the way. An integral step is quantifying current vehicle emissions, inclusive of miles driven, EPA vehicle rating and the CO2 output these vehicles are producing, which most businesses don't have insight into. This would include both company-owned fleet vehicles as well as grey fleet vehicles, those that are personally owned by employees but that are driven/utilized for work-related purposes," says Jon Bernstein, VP of product management at Motus. "Collectively, without a baseline understanding, it truly becomes difficult to accurately project their sustainability efforts, which can lead to setbacks, poor results and wasted costs. The goal of moving towards medium-and-heavy duty vehicles with zero-emissions starts with companies analyzing their current vehicle program data."
However, the challenge with data is that it can be difficult to understand the measurable impact on emissions, particularly when it comes to miles driven and the CO2 impact those miles have on the environment, Bernstein adds.
"In addition, driving behavior can have a material impact on the amount of emissions being placed into the environment. That's where a data collection and management system can be critical. Accurate and visible data is vital. By consolidating into a single source of truth, better data will be produced and help accurately plan for future initiatives, as well as track against current ones. In addition, optimization of route planning can play an important role to ensure those vehicles that are sub-optimal from an emissions perspective are being utilized in the most efficient and effective way," he adds.
Infrastructure also plays a role in how quickly and easily companies can transition their fleet accordingly.
"Two of the biggest challenges in operating a sustainable fleet include ZEV infrastructure and the cost of new EV equipment," says Jeff Jackson, EVP, dedicated contract carriage, Penske Logistics. "We are hopeful that utilities, energy suppliers, governmental agencies and private entities will work effectively together to solve the infrastructure challenges. To solve some of the infrastructure challenges, Penske Truck Leasing has done an excellent job of creating a charging network to support EVs in California for light-, -medium and heavy-duty trucks. Penske is also actively seeking grants and other available funding to offset the costs of equipment."
How and where to start
For those companies just starting to assess their fleet's options, it's important to understand how and where to start.
For its part, Penske Logistics has been testing various sustainable technologies for its fleet and customers.
"We are currently operating Freightliner eCascadias and Orange EV yard tractors for food and beverage customers in California. We also recently announced that we are working with ConMet eMobility as the first 3PL to pair their zero-emission refrigerated trailer with an eCascadia, to the benefit of a quick-service food retail customer for their daily delivery routes," says Jackson. "Penske is also an active participant in a robust tire retreading program, which offers sustainable solutions on multiple levels. A key connector to our EV fleet's success is the Penske Truck Leasing electric truck charging network that has been well established in California."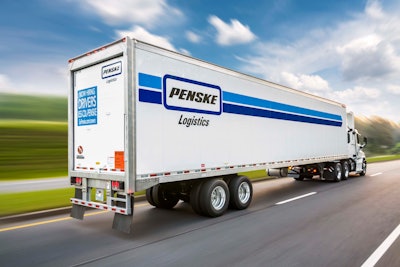 Beyond the fleets is a change that involves the use of low-GWP refrigerants. R-452A has a global warming potential 45% lower than that of R-404A, the traditional TRU refrigerant, is non-toxic, non-flammable and delivers similar performance to R-404A.
"Carrier has made R-452A standard across our TRU product lines for trucks and trailers," says Maddox.
What's more is, diesel-powered TRUs have cleaner, more efficient engines.
"The latest trailer products in our X4 and Vector series use an advanced version of the smart engine used throughout our existing trailer platforms. Its common-rail fuel injection optimizes fuel delivery, reducing fuel consumption by 5% to 10%, and a new third speed, called 'eco speed,' adds to the fuel savings by automatically decreasing TRU engine RPMs during intervals where conditions permit," adds Maddox.
Investing in a sustainable fleet
An Accenture survey found 61% of companies are planning to increase their investment in sustainable supply chains over the next three years.
For some companies, like Penske, this translates to expanding its carbon-neutral, energy-efficient facilities program, Jackson says.
For others, like Carrier, it means introducing new CARB-compliant products, such as the X4 7700 single-temperature trailer refrigeration unit; the Vector 8700 single-temperature trailer reefer unit; the Vector 8800MT multi-temperature trailer reefer unit; and the Supra e11 all-electric unit for medium-duty straight trucks.
"Carrier is collaborating with other industry leaders to advance the development of all-electric refrigeration technology and help fleets comply with CARB's requirements for the adoption of zero-direct emission truck refrigeration technologies in the state," says Maddox. "In May, PFG, Navistar, Great Dane and Carrier launched a commercial evaluation program using all-electric refrigeration technology on a battery-electric truck for sustainable, direct-emissions-free refrigerated and frozen food distribution."
Maddox also emphasizes the importance of implementing telematics, and how doing so can "help fleets create automatic records to demonstrate the use of plug-in electric standby power when TRUs are stationary, which can be an emissions compliance strategy in California," he adds. "TRU telematics can support fleet operations more broadly, helping to capture data regarding fuel use, dwell time and maintenance matters that may arise while a trailer is in use."
The cold food chain continues to adopt and implement measures, equipment and technologies to better achieve a sustainable fleet, and with the help of the Advanced Clean Fleets rule, will eventually see benefits such as lower operating and maintenance expenses, other state and federal financial incentives and providing an overall better, cleaner place to live and operate.