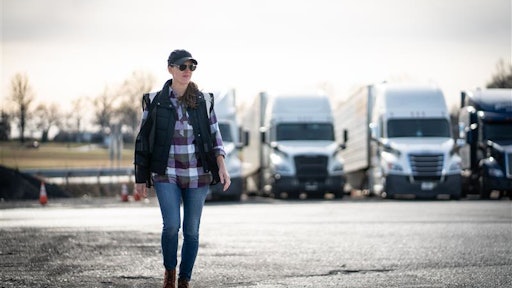 5m3photos - stock.adobe.com
No one is more important to our nation's supply chain than truck drivers. Yet, historically, there have been massive pay disparities in the salaries and benefits available to those who chose to drive for a carrier and those who chose to drive independently.
While the average salary of a long-haul company driver is $52,000 per year, some large companies have raised their driver pay offerings. For example, Walmart recently announced drivers could earn as much as $110,000 per year to start, with higher salaries based on tenure. Other companies, like Sysco, are offering four-day work weeks to increase driver retention. However, while there may be economic fluctuations that impact this number temporarily, even after maintenance, repairs, fuel, tires, and other expenses, independent drivers can earn $120,000 or more.
With escalating perks for company drivers, the industry is asking: Is it better for a driver's bottom line, and more importantly, their well-being to be an independent trucker or work for a mega-carrier?
Of course, the answer is subjective and based on individual needs and circumstances. However, it is important to understand that independent drivers commonly exceed company-backed and mega-carrier salaries as owner-operators, with the added–and substantial–lifestyle benefits of operating as one's own boss.
While some of these perks from mega-carriers may sound tempting, there are meaningful trade-offs to consider, such as the inability to determine schedules and pick which types of freight to haul. As an independent operator, drivers can choose the type of freight they want to haul, the lanes they want to operate in and whether to do long-haul or short-haul loads. Drivers can also switch up their preferences whenever they want, manage their own schedules and determine the benefits best suited to their own lifestyles. Most importantly, they decide when they get to be home.
Entrepreneurialism driving the opportunity for independent operators
There's been a battle in truckload freight between mega-carriers with their fleet, technological, and informational advantages and owner operators with their ownership structure and impressive work ethic. As the technology playing field is leveling out, the advantage is shifting to owner operators. Nothing explains the advantage more than comparing driving times. Mega-carrier drivers commonly drive about 7 hours a day as dispatched. Owner operators can drive longer hours on the days they choose to do so, bringing in more revenue, when and how they want to, with less days on the road overall. Simply put, the enterprising owner operator has more opportunity to outperform the mega-carrier driver and maintain a better work life balance. Mega-carriers may have the structural advantages that allow for a broader array of services and contract rates, but as virtual fleets of owner operators arise, the magnitude of that advantage will reduce.
Of course, this shifting dynamic does not alter the economic fact that greater profitability motivates more participants to enter the market, which is certainly what we have seen since early 2020 as spot rates increased, per the FMCSA Motor Census Data. This relationship also exists when rates decline, which we have seen as the growth in new authorities has decreased after rates peaked in January. While these fluctuations will continue to exist, they will become less pronounced, and overall the percent of the over-the-road (OTR) market represented by owner operators will increase, as drivers look to become their own bosses.
Other benefits for independent truckers
Besides pay and schedule flexibility, other benefits allow independent drivers to manage their own trucking businesses successfully:
● Authority options. As an owner-operator, drivers have options about how they want to work. They can operate under their own trucking authority or lease onto a motor carrier. When leasing, the carrier is responsible for finding loads and may help cover some expenses, such as fuel, repairs and insurance.
● Financial mobility. Independent drivers can grow their revenue bases by expanding their businesses from one driver to managing a small trucking fleet, allowing for more upward mobility in the industry and greater earning potential.
Drivers now seemingly have to choose: Do you want to be your own boss?
The decision to be a company driver vs. an owner-operator has always come down to personality and the risk-reward tradeoff. Given the technology solutions available, with many more in development, the risk-reward tradeoff is, and will continue to be, less of an issue. Which means, more and more, the main question becomes: Do you want to be your own boss?
Mega-carriers, in response to the empowering solutions available to owner-operators, are doing their best to make that choice more difficult with sign-on bonuses, raises, relay operations and promises of more home time. These changes are not offered out of kindness and are a public acknowledgement that the status quo is not adequate. Ultimately those perks from mega-carriers can't compete with the independence and flexibility that comes with being an owner-operator, and more importantly, mega-carriers simply can't compete with the entrepreneurialism that comes with ownership. Long-term this means mega-carriers' OTR truckload operations will become less profitable and will be composed of less experienced drivers, and the transition that increasingly focuses on dedicated, brokerage, intermodal, power-only, warehousing and even sometimes LTL, will continue as more and more drivers become their own boss.