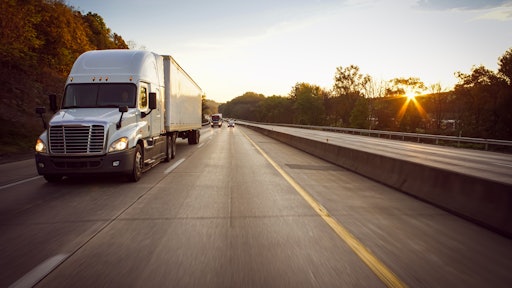 5m3photos - stock.adobe.com
The trucking industry is an indispensable link in the perishable food cold chain, helping to transport fresh produce, meats and frozen goods from producers to cold storage facilities, restaurants and grocery stores. But for the last two years, the trucking industry has been beset with a perfect storm of unanticipated challenges — from supporting historic increases in food retail volumes at the onset of the Coronavirus disease (COVID-19) pandemic to adapting to the realities of a post-COVID-19 economy.
In addition to the known supply chain shortages, the current trucking industry challenges are having negative impacts on cold chain integrity, increasing the potential for temperature excursions that could accelerate the degradation of perishable food quality and safety. Yet, despite the emerging complexities of this new trucking industry landscape, cold chain stakeholders have access to data analytics, tools and services to help them maintain their strict quality standards.
Driver shortages and increasing owner-operator headwinds
Perhaps the most significant disruption to the trucking industry is the growing shortage of drivers. Many owner-operators opted to change jobs or retire early during the COVID-19 crisis, leaving an urgent need for new drivers to take their place. According to trucking industry research, peak unemployment reached 12% in June 2020, and has left a gap from which the industry has yet to fully recover.
Unfortunately, the subsequent economic downturn, inflation and price of gas (and diesel fuel) have only created additional headwinds for new and existing owner-operators. Like the automotive market, the cost of used tractor trailers has risen significantly over the past two years, forcing many drivers to purchase much older vehicles than they would prefer. Today, 2008 is the average model year of trucks driven by owner-operators on the road — roughly 14 years old.
But for those using refrigerated trailers (or reefers) to transport goods throughout the perishable cold chain, every year of use may represent a 5% loss in a trailer's insulative capabilities. Thus, a 10-year-old truck and reefer trailer has lost up to 50% of their original insulation capacities. The older they get, the more likely they are to have wider temperature variances among different sections of the trailer — sometimes up to 15-25°F.
For many would-be owner-operators, the sheer increases in fuel prices, maintenance and the costs of truck ownership have driven them out of the market. Ninety percent of fleet operators have six or fewer trucks, giving them less leverage than large transport companies to increase their rates in hopes of offsetting prices at the pump.
In addition, those that have managed to stay profitable have been forced to adapt to a changing marketplace that's shifting from a freight on board (FOB) business model to a more flexible less-than-truckload (LTL) approach that caters to smaller, individual deliveries. But this LTL approach can add to the mileage and costs of deliveries while compounding the complexities of managing the proper temperatures of the various types of perishables onboard.
The lack of truck drivers on the road — combined with the aging fleet of reefers with sub-optimal insulation capabilities — is not only contributing to product shortages but is also placing new strains on the perishable cold chain.
Mitigating cold chain impacts with cold chain solutions
It's no surprise that the combination of poor insulation and LTL shipments can have a detrimental effect on food quality and safety. From an owner-operator's perspective, their biggest operational risk is to have perishable loads rejected upon delivery; it's both a loss to their profitability and a potential long-term stain on their reputation.
For foodservice and food retailer customers, the abilities to maintain and ensure proper perishable temperatures throughout the food cold chain underpin their quality assurance (QA) processes. It enables them to offer fresh menu items and keep product on shelves for as long as possible without sacrificing food quality or safety.
In many instances, the in-transit conditions of the transport trailer is the primary contributing factor to perishable quality. Perishables that have been exposed to temperatures which deviate from their optimal storage setpoints (i.e., temperature excursions) can experience a variety of issues, including:
- Ripening past peak quality
- Rotting and/or spoiling
- Formation of bacteria or foodborne pathogens
Fortunately, cold chain stakeholders have access to the tools and technologies that can help them to avoid these pitfalls. These solutions are based on a combination of in-transit temperature tracking devices and advanced cloud-based data analytics software that can deliver real-time and historic insights into cold chain performance — for both food retailers and owner-operators. Equipped with these tools, companies can start to transition from reacting to problems as after-the-fact to relying on data to prevent them from happening in the first place.
For example, stakeholders can be notified immediately when shipper temperatures deviate from ideal setpoints and verify the truck is set to a continuous set mode, and then take an alternate course of action before any damage to the perishables can occur. Using data points from previous shipments, the software can perform a much more detailed analysis to reveal deeper insights and long-term trends, such as:
- Shippers or shipping lanes where temperature excursions seem to occur most frequently
- Products that are most susceptible to temperature issues
- Producers that have a history of poor quality
- Seasonal and geographic factors that impact reefer temperatures
- Distribution centers (DCs) that may be allowing careless cold chain management
Most importantly, data provides an objective record of cold chain temperatures in-transit. In challenging times like these, where truckers and retailers simply can't afford the negative impacts of rejected loads, data serves as an arbiter of supply chain disputes. It takes emotion out of the equation by providing indisputable proof of precisely when and where temperature excursions occur.