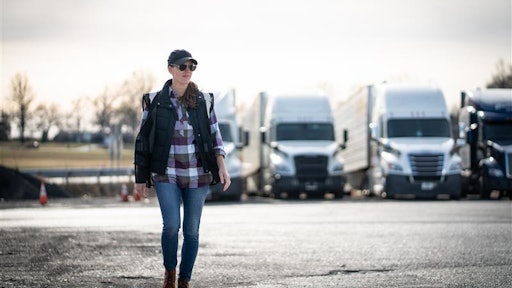 5m3photos - stock.adobe.com
Earlier this year, the Canadian Council of Motor Transport Administrators (CCMTA) announced that the so-called "soft enforcement" period of the Electronic Logging Device (ELD) Mandate has been extended to Jan. 1, 2023.
This enforcement window, centered on "elevated education and awareness," is intended to help fleets gain an understanding of the rule and how to comply with its technical requirements.
In their announcement, the CCMTA stated that their monitoring of progress had determined that an extension of the transition period was required. It also noted that this should allow sufficient time for fleets to purchase and install certified ELD devices and conduct training to be compliant.
Although January 2023 may seem like a way off, migrating to an ELD is a change that food and beverage fleets need to start managing right now. No matter where you are in the ELD migration, there are three key reasons why you shouldn't wait to make the transition to compliant technology.
Preparing drivers and back-office personnel
Whether you're on paper logs today or utilizing a legacy electronic logging solution like an automatic onboard recording device (AOBRD), the move to ELDs requires more than just a flip of a switch. An important aspect to consider is allowing drivers and back-office personnel time to get familiar with this new technology.
When it comes to drivers, training will be key to ensuring the fleet's success. Similar to the ELD mandate in the United States, the Canadian regulation allows for two special driving categories: yard moves and personal conveyance (PC), although how PC is defined is different in each country's ELD regulation. If these driving categories can be applied to your food and beverage fleet, making the move now gives drivers more time to familiarize themselves with how they work and when to utilize them in their workflows.
In addition to understanding how to utilize an ELD, fleets should also help drivers understand how the mandate impacts editing driver records as well as off-duty use of trucks (personal conveyance). Additionally, if a malfunction or diagnostic event is noted on the ELD, they must notify the motor carrier immediately – unlike in the United States where there is a 24-hour grace period. Focusing on these topics now will help avoid driver questions and reduce the likelihood of needing to edit a driver record after the fact.
Another area to keep in mind is the roadside inspection process. It is imperative that drivers understand what might be expected of them during roadside inspections, including how to display logs and transmit them to enforcement.
Likewise, back-office personnel will need to be familiar with how the ELD platform works so they feel empowered to monitor driver hours, understand how and when to propose edits and annotate records (if needed) and build reports. In the event of an audit, it's imperative that back-office staff understand how to run reports and gather information.
Installing new equipment
Training drivers and back-office staff is an essential part of the ELD migration, but so is rolling out compliant hardware across your vehicle base. Each fleet's situation is unique, so a fleet may require new displays, new vehicle gateways or a combination of both.
Considering a comprehensive installation strategy is something fleets should do immediately. The process of uninstalling old equipment and implementing new hardware will take time and will likely require close collaboration with either a fleet's maintenance team or a third-party installer. Creating a plan now will help ensure you can roll out any necessary equipment well ahead of January 2023 and minimize vehicle downtime inherent to the process.
With ongoing macroeconomic trends such as the microchip shortage and other supply chain-related challenges, it is crucial that fleets work with their ELD provider to also ensure they have the hardware they need to successfully migrate before the deadline.
Realizing the benefits of ELDs
While the use of ELDs may be mandated, operating on this technology can provide more benefits than solely ensuring compliance.
Utilizing ELDs can enable fleets to manage drivers' collective hours more readily, helping to pinpoint potential violations before they may occur. The rich amount of driver data can also allow you to make more informed decisions about the utilization of drivers and vehicles, helping maximize fleet's uptime and boost your bottom line.
The data generated by ELDs can also be beneficial to integrate into other key back-office platforms such as payroll software, transportation management systems (TMS) and maintenance solutions. By creating a seamless flow of information, you can break down silos within your business and optimize all parts of your organization.
Whether you operate solely in Canada or have cross-border operations, food and beverage fleets need prepare for this mandate. Taking the time now to plan out an ELD migration strategy will ensure your fleet is certified for rule sets in both the United States and Canada come January 2023, so you can focus on maximizing the safety, compliance and productivity of your fleet.