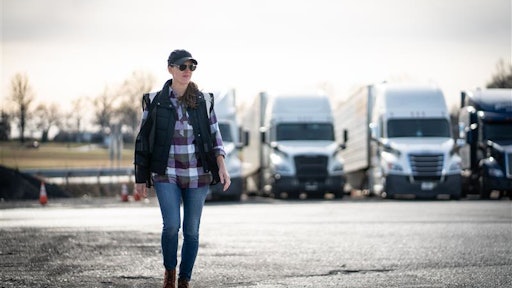 5m3photos
Just over a year ago, no one could have predicted that a worldwide pandemic would bring unprecedented consequences for our health, not to mention the economy and global supply chain.
In the global supply chain, being prepared for the unexpected can make a huge difference. Take for instance, the Suez Canal saga, when a mammoth cargo ship with more than 16,000 containers on board got stuck, creating a bottleneck never seen before. Indeed, for almost a week the cargo ship Ever Given was stuck in the canal, a canal that carries more than 10% of all global trade.
All the more reason that preparedness should never be taken lightly.
Last April, I detailed how the trucking industry was dealing with the Coronavirus disease (COVID-19). At the time, the United States was only a few weeks into the pandemic. Companies were eliminating social interaction amongst drivers, minimizing paper flow at head office and getting pandemic planning teams in place.
And, then the closing of the U.S.-Canada border, which happened not long after COVID-19 reared its head and continues to have major implications.
That border may not be the Suez Canal, but it does see $2.7 billion in goods and services crossing every day. This is not small potatoes.
Canada and the United States are each other's major trading partners, and what happens at the border has huge impact on both countries. A year later, and the border still remains closed to all non-essential travel. But, freight is still moving despite the continual spread of the virus, and more recently, its deadly variants.
The effect has been surges with some products and shortages with others.
The upshot for carriers and logistics is that the industry surges in different verticals, and either way, it is always best to be prepared. And, while no one has a crystal ball, technology can be a big help. Here's how IT can get a handle on pandemic planning:
·      Install remote systems that operate with minimal IT user interventions.
·       Have a user community work remotely at home or at an alternate location set up as a safe site.
·       An internal messaging system that deploys emergency information out to the user communities, and an external system communicating with multi-media outlets.
·       COVID-19 safety plan – containment procedures ready for areas of infection within facilities.
·       Alternate chain of command procedure in case of executive absence.
These are all fine and good, but now that we're one year down the road and still in the pandemic, it's clear that adapting to the New Normal is not a stop-gap process. It's an ongoing process. Job No. 1 for any company in trucking, transportation and logistics is to get their key people (i.e., drivers) vaccinated as soon as possible. And, even after vaccinations, there are other aspects of this New Normal that must be addressed. This includes social distancing, wearing face masks and frequent hand washing, especially for frontline workers.
Add to that are HR policies and sound communications with the right kind of messaging, and not only for drivers, but for everyone in the organization. Put together a pandemic planning team that includes senior management (chief financial officer, chief operations officer, chief technology officer, chief human resources officer), along with others who handle IT, customer care, safety and marketing. Implement a COVID-19 safety plan. And, hold Town Hall meetings with workers around the country. The idea is that nobody gets left out at such a difficult time.
This pandemic has taken a toll in the area of workplace mental health, which is why having the best care possible of staff for mental health assistance is absolutely crucial. This means constant communication between teams and departments throughout the entire organization. And, of course, this also should include your customers, partners and other stakeholders.
Another important aspect of dealing with the pandemic is ongoing education in the area of cyber security. In fact, the importance of proper training to educate your team about cyber security has never been higher than it is right now. Companies are getting hacked, and the transportation and logistics industry is certainly no exception. Learning how to recognize potential scams and breaches is yet another prime ingredient of the new normal.
No doubt, there will be some permanent changes in the way we do business because of COVID-19. Being able to adapt to the New Normal and quickly adopt any necessary measures will be crucial to your success.