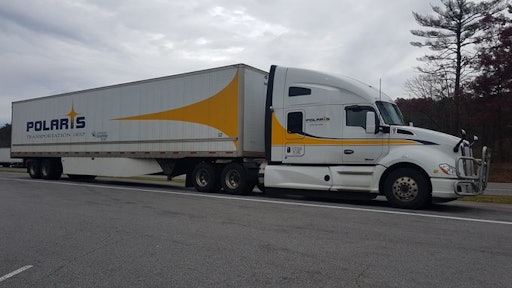 Polaris Transportation Group
In mid-March, the Canada-U.S. border was closed to all non-essential travel as both countries took measures to try and stem the spread of the Coronavirus disease (COVID-19). This border is not only the longest land border in the world, but is also essential, as Canada and the United States are each other's major trading partners. Indeed, some $2.7 billion in goods and services crosses that border every day, and any glitch at the border would have huge repercussions in the supply chain for the food and beverage industry, not to mention the supply chains of other industries.
Fortunately, trade continues to flow despite the economies of both countries, not to mention the rest of the world. But, so far there's not been a significant dip or notable change in the volume of traffic and goods being carried by those trucks moving across the border. Goods being moved by truck could very well be the best way to go in an emergency like this, but that doesn't mean companies shouldn't be diligent about adapting to present realities.
Here's an outline of steps companies can take to combat the COVID-19 crisis and adapt to the "New Normal."
For starters, while one could argue truck drivers readily adapt to the concept of self-isolation since they are alone in the cab, the fact is, those drivers and the goods they carry are not immune to the virus.
And, for companies where the vast majority of employees were not already working remotely, it's important to implement social distancing. This includes eliminating the morning coffee that drivers may pick up at the customs office. This includes minimizing the amount of paper flow at the head office by having drivers scan all their pick-up and delivery documents directly into the system.
As for goods being moved, it's crucial to ensure that everything your employees touch is palletized, which means a skid on a forklift. In short, employees aren't actually touching anything. There is no physical hands-on interaction.
Companies are also encouraged to create a pandemic planning team with company executives and directors who take part in a video conference call every afternoon. At Polaris Transportation Group, Canada, it's called a "daily pandemic call," and includes members of management team, including the chief financial officer, chief operations officer, chief technology officer, chief human resources officer and others responsible for IT, customer care, safety and marketing.
For instance, human resources plays a large role in helping get the right cadence and "tone" for any internal communications sent company-wide. These messages must be friendly, consistent and to the point. What about external communications? The marketing team ensures that customers know your company is still open for business and ready to support their needs.
As for IT, consider this scenario. Your CEO gets a call from operations leaders and learns that a member of the IT team is infected and must go into quarantine. If that's not bad enough, all the order processing and email systems are down. What do you do? Who do you call? How do you deal with clients and all your partner networks?
Proper planning means to prepare for unexpected emergencies, and COVID-19 is no exception. This is why it's important to establish procedures and policies that will prevent critical systems from being infected or breached. That goes for people as well as technologies.
While COVID-19 has everyone on edge, if we think of ourselves as "systems" and want to protect the health of our people, we must do the same thing with our computer systems. This is why it's important to have in place a pandemic plan that allows companies to function and operate all critical business systems, while keeping people safe.
Plus, it's best to implement some form of digitization, automation and robotic process automation. Doing so allows companies to automatically read emails and process attachments, create broker packages and send them to brokers and conduct machine learning to facilitate classification of required documents and data extraction.
Taking your business digital leads to a cleaner order-to-cash process and removes typical bottlenecks and obstacles. This can be a huge advantage to a company involved with the supply chain, as it creates a better experience for internal customers, and creates a better experience for external customers.
Here's some IT-related steps to implement in order to achieve pandemic planning:
· Install remote systems that operate with minimal IT user interventions. This means integrated systems with clients, partners and staff all operate with minimal intervention and are managed remotely, hence, not requiring physical staff on-site.
· The entire user community works remotely either at home or at an alternate location set up as a safe site. This way everyone has full access to files, key applications and core systems.
· With communication platforms, it's best to set up an internal messaging system that deploys emergency information out to the user communities, as well as an external messaging system that communicates with multi-media outlets. This includes everything from SMS (text) to email to social media applications.
· Prepare containment procedures ready for areas of infection within the facilities. For instance, a digital lab that can be sealed off and used as a command center that keeps users safe, provides cleansing stations and ensures that any infected user equipment is contained and quarantined for sanitization purposes, or at the very least, safely disposed of.
· Have an alternate chain of command procedure in case of executive absence, with all responsibilities outlined and communicated for key decision-making responsibilities.
When preparing for a pandemic of any kind, it's important to involve technology, talent, customer centricity, safety and the community in any and all preparation plans.