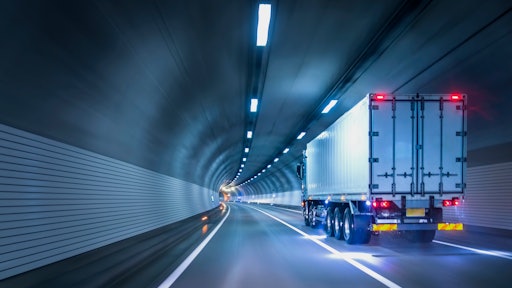 Getty Images
Over the past year, the spotlight has shined on truck drivers and the critical role they have been playing throughout the Coronavirus disease (COVID-19) pandemic, and rightfully so. In addition to helping ensure that grocery and retail remain stocked, their contributions have allowed people to stay home while still having access to the everyday items they need like medicine, healthcare supplies and food along with other essential items.
In 2019, Transport Canada announced that by June 12, all federally regulated commercial trucks and buses operating in Canada need to be equipped with certified electronic logging devices (ELDs) to better track drivers' hours of driving, work and rest. Currently, motor carriers and drivers self-report in a daily log, and the impending ELD mandate is designed to help ensure driver safety through more accurate reporting.
While the Minister of Transport, the Honourable Omar Alghabra recently softened this date due to the COVID-19 pandemic in order to "give sufficient time for industry to obtain and install certified electronic logging devices without penalty as of June 12, 2021," it is still imperative that all commercial trucks and buses have a plan to meet this mandate.
A call for safety
It is important that all ELD providers are held to a certain standard and are putting safety first. Transport Canada is also taking steps to help ensure truck drivers' safety, which this federal regulatory requirement will help accomplish.
As part of the mandate, ELDs operating in Canada must be tested and certified by an accredited third-party certification body. This is important to note for Canadian fleets – this includes those that have been self-reporting and now need an ELD provider, and those that have been operating across the U.S./Canada border and currently have an ELD in place. Even though ELDs are already required in the United States, U.S.-based fleets that travel into Canada will now need a Canadian-certified ELD. This means that, if an ELD manufacturer in the United States does not go through the Canadian certification process, then the carrier using that manufacturer's devices will need to switch to a different vendor in order to operate in Canada.
In the United States, the ELD mandate has been in full effect since December 2019, but roadside driver inspections with Hours of Service (HOS) violations have already dropped by more than 50% since the ELD rule's initial December 2017 compliance date, according to the Federal Motor Carrier Safety Administration. The ELD mandate in the United States continues to be successful, as the lion's share of the nearly 8.9 million roadside driver inspections conducted through the end of last October passed inspection, with less than 1.25% resulting in a driver being cited for not using the appropriate method to record HOS, including not having an ELD when required.
Balancing supply and demand with safety
While the ELD mandate impacts all industries, there are nuances to its impact on food and beverage supply chain logistics that touch consumers' everyday lives in a big way.
The COVID-19 pandemic and the stay-at-home orders of March 2020 created a tremendous change in consumer demand and expectations. From toilet paper and alcohol wipes to non-perishable items, fresh meat and produce, many consumers began to expect same-day deliveries for virtually everything. With so much innovation in the technology industry, expectations have grown for timely and efficient deliveries. So, while supply chain system reliance will undoubtedly continue, the pending ELD mandate will require fleets to factor in time to identify and equip their vehicles with certified devices in order to ensure compliance.
Additional regulations will almost always impact an industry in some way, especially when they're related to personnel and technology, both of which are inherent to the ELD mandate. One area of concern that's relatively specific to the food industry, and one where the industry can meet delivery fleets halfway for the benefit of all involved, has to do with turnaround times. Once a driver arrives, any time spent waiting to unload and/or load cargo counts against the driver's daily HOS limit, so coordination between fleets and retailers is vital.
In addition to the ELD mandate requirements, telematics support for exemptions and rulesets can provide added value for both fleet managers and drivers. For example, using an ELD provider that is able to efficiently and effectively manage aspects such as unassigned logs is beneficial in streamlining operations. Being able to provide fleets with custom capabilities such as identifying zones around a fleet's home base where fueling, maintenance, loading, etc. that may take place independent of the actual driver can help provide fleets with important insights into how to better manage efficiency and hours in these zones.
In conclusion
Regardless of any logistical challenges, fleets already using ELDs in the United States that also operate in Canada can start taking steps to ensure a smooth transition when the Canadian mandate goes into effect. It will be important that fleets speak with their ELD providers to understand if they plan on applying for Canadian certification and how it may impact them as a customer. For instance, log formatting requirements are different between the United States and Canada, so ELD providers should be able to meet the log format requirements for both countries and seamlessly display these details so that once a driver crosses the border, their log will reflect the new country's requirements.
Because the Canadian ELD mandate rules vary from those in the United States, carriers should look at choosing an ELD vendor that supports both the Canadian HOS rules and is committed to achieving third-party certification. Either way, ELD vendors can have their Canadian ruleset available as part of working toward fulfilling compliance requirements for the Canadian ELD mandate, so that food delivery fleets will be ready to meet the requirements mandated in both countries when the time comes.